Councillors tear into Thames Water over Finsbury Park flooding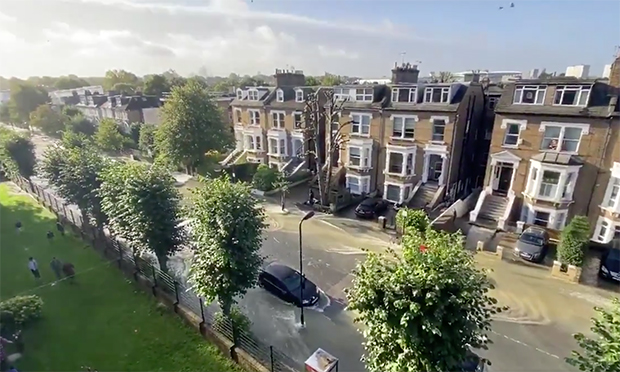 Hackney councillors have delivered a blistering assessment of private utility company Thames Water over the way it handled the flooding near Finsbury Park last October.
A 36-inch mains pipe burst in the Queen's Drive area, damaging 177 homes and leaving thousands of people without water.
The company has now disclosed that a valve which could have stemmed the tide was faulty, meaning water continued to flow out of the pipe for hours.
Despite the burst being the third of such severity in north-east London in as many years, it was revealed at a public meeting held with Thames Water this week that following the Lea Bridge flood in 2018, the company had ignored offers from the council to co-operate in training for such emergencies.
Cllr Sharon Patrick (Lab, Kings Park), who chairs the Living in Hackney scrutiny commission, said: "We did ask Thames and the council to get together and learn the lessons, and it seems like it's taken a third flood for that to happen.
"Three floods in just over three years is quite enough. I don't want to have to chair another meeting and hear from residents who have had their lives turned upside down by the floods, because even if everyone gets the compensation they're due and your homes are fixed and all the rest of it, that can't replace all the stress that everyone's been through.
"I think it's extremely lucky, when some people live in basement flats, that no-one was killed or seriously injured. If this had happened in the middle of the night when people were asleep, we might now be talking deaths and corporate manslaughter."
The company has said that there is "no clear and obvious reason" for the failure of the pipe, which was laid in 1892.
The trunk main, which is used to move 50 to 60 million litres of water a day from one reservoir to another, is understood to have split along its length.
Steve Spencer, chief operating officer of Thames Water, said: "It might seem like hollow words, but I want to offer my sincerest apologies on behalf of Thames Water for everything that's happened.
"The size of these trunk mains and where they run – to replace that while online, we would have to close most of Seven Sisters Road, for example, for a year.
"You can imagine the disruption that would cause across London if we were to try and replace these trunk mains. We are doing some, but on that basis it would be very difficult to work through London and not cause massive disruption to the city and repalce them in a more traditional way."
Spencer added that, while the age of pipes is not necessarily a deciding factor in the risk of a burst, the company would not be using a similar cast-iron pipe if it was laying a new one.
The COO told listening residents that there were a number of possible reasons for the burst, including repair work done 50 years ago, pressure from traffic, or a fault at the time of its manufacture in the 1890s.
Spencer went on to apologise for the length of time it took for the flood to be stemmed, but explained that the company was attempting to balance returning the affected areas to normal while not cutting off supply to critical sites such as hospitals and prisons.
It is understood that the company has found other points on the trunk main with which it is "not happy", and are working to repair these before bringing it back into service.
Hackney Council's director of public realm Aled Richards told those listening that there had been problems with how Thames Water shared information with the council on affected residents.
Thames' customer experience director Kelly Macfarlane admitted that the company's response on the day had been "chaotic", with a lack of clarity over who was on site to support residents and a failure to distribute adequate bottled water.
Cllr Patrick told Macfarlane: "It's a shame you didn't pick that up at Lea Bridge, because we had the same issues at Lea Bridge. I understand that you're going to do something in the future, but I can't imagine the stress that residents must have been under."
Residents who have stayed in their properties are receiving £300 in compensation, with those suffering major disruption getting £5,000.
However, Macfarlane also went on to apologise for the way compensation to residents has been handled, saying that the company had failed to anticipate basic issues such as whether there are multiple tenants in the property, or the relationship between tenant and landlord, with some complaining of late or incorrect payments.
Macfarlane added: "Despite our best intentions, I am sorry that we've further frustrated people with something that we tried to do with positive intent."
Councillors went on to rubbish the £300 offered to residents who had not moved out of their homes, pointing out that the choice for people to remain had in fact saved Thames money.
Despite quizzing from Cllr Clare Potter on whether the company would now take into account the number of people in a property when making compensation payouts, Macfarlane could only commit to assessing claimants on a case-by-case basis.
Cllr Sade Etti (Lab, Clissold) said: "One thing still stands out. Thames is still about profit, and they really don't care about their customers. When it comes to the health and wellbeing of people, that is the last thing they really care about. I think that is a concept that needs to be changed.
"What amount of money would you quantify in terms of compensation to someone whom you have put in this situation? When you're looking at £300, that is ridiculous to a human life and to the care of people.
"When people don't pay the bills, it's easy for you to send bailiffs after people. Lessons need to be learned, and this needs to be done and fast."
Lea Bridge councillor Ian Rathbone has made calls for the £10,000 offered as a goodwill gesture to the community to be given to the flood-hit Grade II-listed Old School House, though warned that the Buddhist charity currently occupying it might not accept the payment due to their negative experience dealing with Thames.
The Town Hall is still supporting residents suffering not just from not being able to return to their homes, but from a range of other issues including concerns over asbestos disturbed by the water, investigations around vermin flushed out by the flood, and people with post-traumatic stress.
Hackney's councillors themselves seem to be nervous. In one revealing moment, when Spencer explained that Thames' oldest pipe dates back to 1802, borough reps interrupted each other in their haste to quickly confirm whether that pipe is in Hackney. Spencer was unable to confirm whether it was or not.
Community safety chief Cllr Caroline Selman (Lab, Woodberry Down), said: "The concern and the frustration is that there have been assurances about lessons being learned before.
"We've touched on the fact that there has been more than one scrutiny session, as well as those in Islington. One of the recommendations coming out of Islington was having a consistent policy around discretionary payments. There seems to be a disconnect.
"The key thing is understanding how this commission can be reassured that things that have been agreed to previously have actions be taken and why should there be confidence that they be taken now?"