Hackney behind surge in number of mental health first aiders in London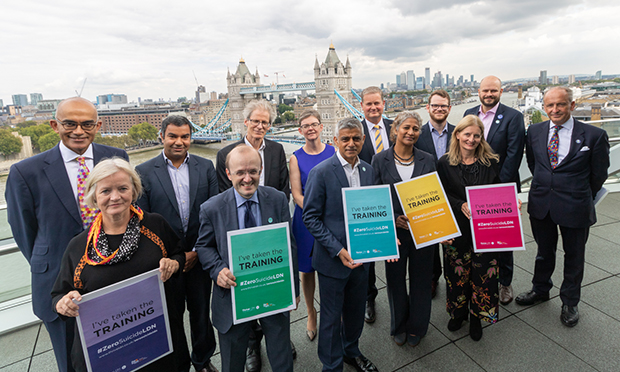 Mental health first aid training delivered in Hackney and focused on supporting young people contributed to a 100 per cent rise in the number of instructors in London and the South East last year, a report from a city-wide wellbeing movement has shown. 
Thrive LDN, which works to improve Londoners' mental health with help from Mayor Sadiq Khan, revealed the increase in its annual report on its Youth Mental Health First Aid (MHFA) training programme, developed in collaboration with MHFA England.
In 2019, 101 new Youth MHFA instructors were trained, adding to the 100 instructors trained by MHFA England as of 2018.
The new instructors went on to deliver training to more than 1,300 educational staff across all London boroughs. 
Four Youth MHFA courses were held in 40 Hackney schools between June and September last year, training 57 people, including 52 school staff.
The courses, facilitated by the Hackney Learning Trust, are set to continue after the recent approval of funding for the Youth MHFA programme until 2021.
Philip Glanville, Mayor of Hackney and Thrive LDN co-lead, said: "Youth MHFA teaches people the skills and confidence to spot the signs of mental health issues in a young person, offer first aid and guide them towards the support they need.
"Personally I took part in a Thrive LDN-supported MHFA course last year in Hackney, seeing first-hand the impact it can have in building a deeper understanding of how we all have a role in supporting good mental health and wellbeing.
"The Youth MHFA programme for London Schools, funded by the Mayor of London's Young Londoners Fund, is a great example of the partnership approach that Thrive LDN is taking in London to ensure that the correct support is being offered to children and young people who begin to feel vulnerable or mentally unwell."
He added: "Our shared goal is to provide every London school with access to a member of staff with appropriate mental health training by March 2021."
YMHFA courses aim to teach anyone working with, living with or supporting young people aged 8-18 to spot the signs of mental health issues and direct them to support.
Instructors are also provided with the skills to set an example by looking after their own mental health. 
The MHFA England website says: "Our courses won't teach you to be a therapist, but we will teach you to listen, reassure and respond, even in a crisis – and even potentially stop a crisis from happening."
Thrive LDN's annual report was released ahead of a meeting of the London Health Board chaired by Sadiq Khan on 8 January.
Mayor Glanville said the report highlighted the positive difference made by multi-borough collaborations between communities, the NHS and council leaders.
He said: "Thrive LDN has found a way of bringing a range of communities together to explore ways of empowering Londoners to improve their mental wellbeing and build strength and resilience."
However he added: "This is the tip of the iceberg, we encourage more people and organisations to get involved and take action to ensure every Londoner has the opportunity to thrive."
The report's other key findings showed that more than 200,000 people took part in events organised by Thrive LDN to tackle mental health and inequalities.
More than 450 young people attended the World Mental Health Day Festival, while 1,200 attended a series of film-based events for communities in London including BAME and LGBTQI+ people.
Research featured in the report shows that the one in four Londoners who live in poverty are two to three times more likely to develop mental health issues than those in high income households.
Black Londoners and lesbian, gay and bisexual people are up to twice as likely to suffer from poor mental health.
The Zero Suicide London campaign also launched free, online suicide prevention training, which has been completed by more than 35,000 of the capital's residents.
The report also highlighted the work done by projects supported by Young London Inspired, a grants scheme offering funding to projects for young people at greater risk of suffering mental illness.
Four projects in Hackney currently benefit from the grants, including St Mary's Secret Garden on Pearson Road, where the Buzzin' project helps young people with mental health challenges and learning difficulties develop transferable life skills through beekeeping.
In October, three of the project's participants won prizes for their produce at the prestigious National Honey Show.
For more information, head to thriveldn.co.uk