Sweet victory: Young beekeepers triumph at National Honey Show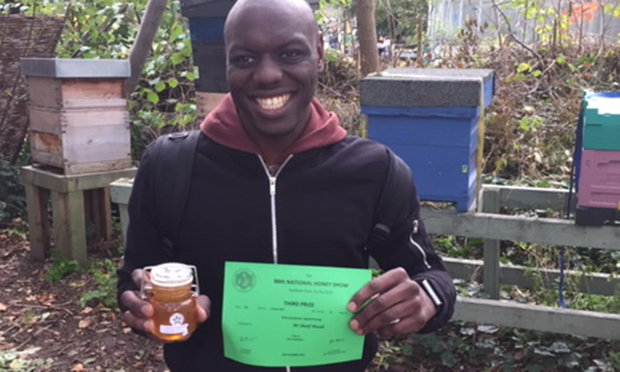 A Hackney beekeeping project that supports young people with mental health issues and learning difficulties caused a buzz at the 88th National Honey Show by taking home three prizes.
Participants from the Buzzin' project, which runs weekly sessions at St Mary's Secret Garden on Pearson Road, entered jars in the category for liquid honey displayed in a novelty container at the annual event at the Sandown Park Racecourse in Surrey last week.
Youngsters Sluub Khalid, Sharif Musah and Junyan Zheng won second, third and very highly commended prizes respectively in a field of 15 contestants.
They presented their harvest in a Kilner jar and glass bottles with cork stoppers, with judges also taking the quality of the honey into account.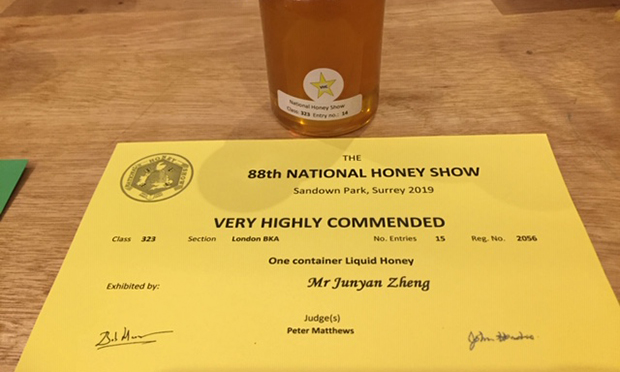 Mark Patterson, resident beekeeper at St Mary's, said: "There were around 40 entries in this class, so they did really well to win something as they are competing against seasoned beekeepers, some of whom are full-time professionals. 
"For kids new to beekeeping with learning challenges this is a really big deal for them and a huge boost to their confidence."
The project has benefited from funding from Thrive LDN, a wellbeing movement supported by the London Mayor's office, and Team London.
Dan Barrett, Thrive LDN director, said: "We're delighted that Khalid, Shariff and Junyan all won prizes at the National Honey Show for their efforts. 
"The awards go to show the positive impact that community-based projects like this can make to young Londoners' lives, giving them the skills and confidence to be active members of their communities and lead happier, healthier, more fulfilling lives."
He added: "We can also confirm that the honey is very tasty."
Buzzin' has been running since May and offers 20-30 participants between the ages of 12 and 25 the opportunity to learn the craft of beekeeping, besides many other skills.
Participants have gained retail experience from preparing and selling their own honey jars, and one recently got a job in a cafe.
The group also works with corporate sponsors including the Stock Exchange, Chancery Lane law firm Lewis Silkin and asset management firm Nomura, looking after beehives kept on the companies' roofs and also building 'bee hotels' to provide natural habitats.
Patterson, a full-time beekeeper who has also worked with Nando's to produce a honey beer which won a bronze medal at this year's show, describes the project as "like beekeeping therapy".
He said: "It's not just about training them to be beekeepers, it's more about transferrable skills that they learn, helping them get jobs and overcome their difficulties through looking after the bees."
The National Honey Show features talks and lectures from industry experts as well as opportunities to buy beekeeping equipment and a range of honey produce, as well as hundreds of competitive categories for both professional and amateur beekeepers.
Visitors to St Mary's Secret Garden can buy honey created by its bees at the shop, and keep up with goings-on at the garden, including Buzzin's work, on Facebook, Instagram and Twitter