Fat White Family, EartH, live music review: 'Electrifying night of high intensity'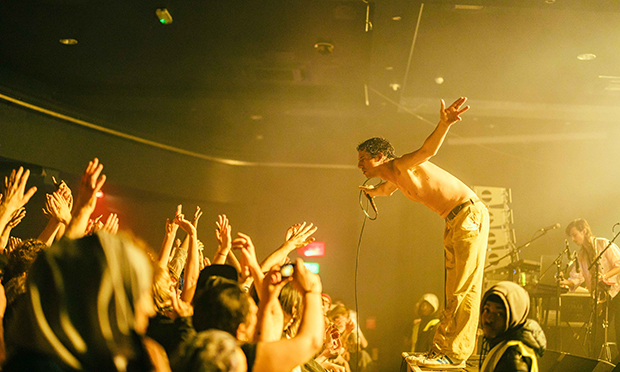 Fat White Family recently played at EartH in Dalston as part of a run of gigs in support of their new record Serfs Up!.
The south London rock band, along with support acts Muck Spreader and Pregoblin, produced an energetic, electrifying night of high intensity performances and skilled musicianship.
Muck Spreader performed an evocative set of songs that had the feel of an improvisational jazz performance – an enigmatic form of alternative music with wall of sound guitars, cryptic vocals and trumpet melodies.
The song intensity and magnetism had echoes of Nick Cave and the Bad Seeds.
The final support act, Pregoblin, ignited the crowd further with an infectious mix of electronic and Abba-like disco.
On top of driving bass lines, a thumping kick drum and catchy melodies, the quality of the duo's singing elevated the whole crowd.
Jessica Winter and Alex Sebley sang with power and range, and their soulful set was a delight.
Fat White Family then came on to huge cheers, and played with an immediacy and rawness that induced a frenzy in the audience.
During the punkier songs, members of the crowd formed a mosh pit, and when lead singer Lias Saoudi leapt in, the energy reached fever pitch.
Saoudi sang and performed with a hypnotism that enlivened the whole room, and the rest of the band (Saul Adamczewski, Nathan Saoudi, Adam Harmer, Alex White, Sam Toms and Adam Brennan) played with enigmatic intensity.
A particularly affecting moment was when Saul, a favourite among fans, played guitar and sang whilst the rest of the band ducked offstage briefly.
The ballad was about Goebbels, and is indicative of Fat White Family's sardonic sense of humour.
Irony and political and social parody are common themes for the band, whose pronouncements on such topics as white supremacy and capitalism have gained them a cult following amongst music fans.
The set crescendoed breathtakingly into the final few songs, with Lias crowdsurfing and throwing water on those at the front.
The gig ended with rapturous applause and it seemed that everyone in the room had felt a part of something truly special.
The venue itself, EartH, offered an intimacy reflective of the band's devoted following.
The support acts mirrored the passion of the crowd, playing and singing with heart and beauty.
And Fat White Family put on one of the best live performances that I have seen.