Thames Water to make £10k community donation as 'way of saying sorry' for flooding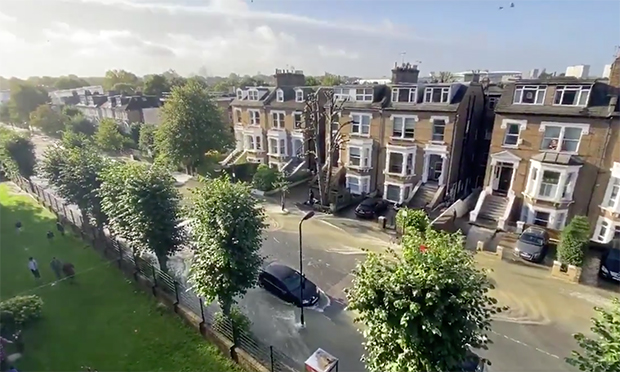 Thames Water has revealed it will donate £10,000 to the Hackney community as a "gesture of goodwill" after a burst pipe triggered massive flooding in Finsbury Park last year.
Queen's Drive, Brownswood and King's Crescent Estate residents were hit in October, with 177 homes damaged and water supply to thousands of people cut off.
The Town Hall will be holding a public meeting at Parkwood Primary School at 7pm on Tuesday 14 January to quiz Thames Water on the floods, as well as the water main burst which deluged Lea Bridge in 2018 and the management of its network in Hackney generally.
Kelly Macfarlane, director of customer experience for Thames Water, said: "Following a careful review, we would like to donate a sum of £10,000 to the community as a gesture of goodwill.
"I recognise a monetary value cannot take away from the immense stress and disruption caused.
"It is our way of saying sorry and trying to contribute to something positive for local residents to enjoy, moving forward."
It is understood that the council has been asked to decide how the money is donated.
People who moved into temporary accommodation after experiencing major flood damage in October were previously given £5,000 by Thames Water.
The company admits that some recipients are "dissatisfied" with the amount, as well as the fact the payment was per household.
Twenty-five thousand homes in the area had little to no mains drinking water on the day, when water poured into still-active electrical substations and submerged basement properties.
Thames Water said there was "no clear and obvious reason" for the failure of the 36-inch diameter pipe, though the company theorises that a decades-old repair on the joint at the location of the burst could have created a weak point.
The water supplier paid out £65m in 2018 after regulator Ofwat found its board did not have "sufficient oversight and control of its leakage performance".
Ofwat strategy directors John Russell and Carl Pheasey will be present at next week's meeting at Parkwood, along with Thames COO Steve Spencer and customer experience director Kelly McFarlane.
Ofwat said: "Following our initial assessment of company business plans for the forthcoming five year period, Thames Water was one of only four of the seventeen largest water companies to be assessed as requiring "significant scrutiny".
"We intervened in a wide range of areas to require the company to improve its plans and provide for more efficient delivery and greater ambition in its plans for improved service for customers.
"Ofwat remains concerned by Thames Water's performance in London, and will continue to press the company to improve both its underlying asset performance and its ability to respond effectively where operational disruptions occur, including through improved communications with customers and with borough and city governments."
Thames Water has missed targets for its leakages for the last three years, and has admitted that communication on the day with the Town Hall's emergency planning department "could have been improved", with confusion over bottled water stations and the prioritisation of vulnerable people.
Despite the company promising to better its emergency response following the Lea Bridge floods, it admitted that flood victims were "unsure who on site could help with their individual issues".
Many families are still staying with friends following October's flood, while others live on in the undamaged areas of their own homes or on the floors above those destroyed by water.
Next week's meeting will also hold Thames to account for the still-ongoing aftermath of Lea Bridge's flooding, with local councillor Ian Rathbone demanding answers for one of his constituents who was forced to sleep on her floor with no belongings after she returned home in October 2018.
Cllr Rathbone has claimed that the Lea Bridge Road resident has "become the subject of some kind of back and forth game" with both Thames and housing association Clarion, with each denying responsibility for storage of her possessions.
The resident is said to still have been without a working cooker, washing machine, table, chairs or floor coverings by last October.
Cllr Rathbone added: "They need to be brought to account for this and other matters, and for an investigation made of their performance in the aftermath of the flood in dealing with all the residents seeking compensation and restitution.
"The damage to this community has been immense and people are still
apprehensive and anxious that the water main could burst again at any time
and flood their area once more.
"Where is the emergency plan Thames promised they would provide? Where is their forward plan of works in this area to deal with the fractured main and the continued replacement of Victorian pipes beyond the junction of pipes at this point?"