Diane Abbott retains Hackney North as fellow candidates call for voting reform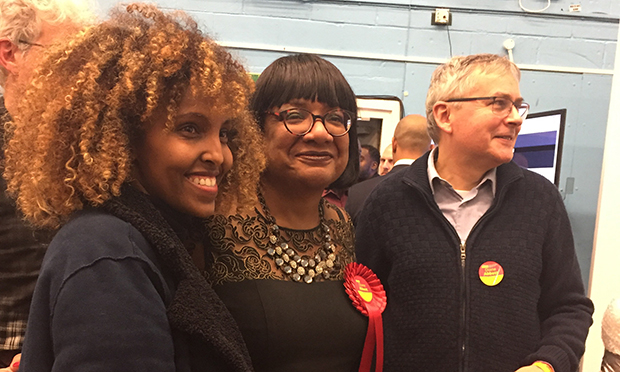 Labour's Diane Abbott has been re-elected as MP for Hackney North and Stoke Newington with a huge majority of 33,188.
The shadow home secretary received a total of 39,972 votes, giving her a vote share of 70.3 per cent – almost five per cent less than at the last general election in 2017.
Turnout also fell by almost five per cent, from 66.2 per cent in 2017 to 61.5 per cent this time.
Conservative Benjamin Obese-Jecty was the runner-up with 6,784 votes, followed by Alex Armitage for the Green Party with 4,989 votes.
In her victory speech, Abbott said: "I would like to thank my political opponents for a clean fight in this election.
"I am sorry I can't say the same about the national Tory party or sections of the media."
Abbott repeatedly declined interview requests throughout the count.
She added: "I also want to thank the people of Hackney, who yet again have humbled me with the faith that they have placed in me."
The Conservatives won the general election as Labour sustained huge losses across Britain.
During the call for Hackney South and Shoreditch Diane Abbott hears from an aide that Jo Swinson has lost her seat, responds with an enthusiastic "get in" #GE2019 pic.twitter.com/P2Sv6B0ifv

— Elizabeth Rushton (@emrshtn) December 13, 2019
Liberal Democrat leader Jo Swinson also lost her seat to the SNP – when the news was relayed to Abbott by an aide, she was seen to punch the air, saying 'Get in'.
Questions have been raised over the immediate future of Labour leader and Abbott's close ally Jeremy Corbyn, who has said he will not lead the party into another election.
Abbott said: "I will carry on fighting for what is right, Jeremy Corbyn will carry on fighting for what is right, and the Labour Party will stand up for what is right, for the many, not the few."
Asked early in the night about the tenability of Abbott's position as shadow home secretary, runner-up Obese-Jecty said: "If the results reflect the exit poll, it will be interesting to see what it means for the entire top tier of the Labour Party."
He added on his party's national success: "The message has cut through that the country wants to get Brexit done – whether people voted Leave or Remain, everybody now agrees that it's time to progress past Brexit and focus on the issues that are really driving the country, like police, hospitals and public services."
Third place candidate Alex Armitage said the national results showed a need to transition to a system of proportional representation, and called on Labour to support such a move.
He said: "We know from our canvassing of people who tactically lent their votes to Labour, despite our protestations that this is a safe seat and you can vote Green.
"This system has served them well up 'til now and drowned out minority voices… It makes me angry that they're still supporting it."
Whilst he said the election in Hackney had been viewed as the "anti-Tory election" rather than the climate or Brexit election as others had dubbed it, Armitage said he had seen a shift in discussions on the doorstep around climate change.
He added: "This election I've felt much more comfortable bringing up [the climate crisis] as an issue on the doorstep I expect people to know about."
Brexit Party candidate Richard Ings, who received 609 votes, also favours a move away from the first-past-the-post system, saying: "We've got a problem with people being disengaged from politics, thinking their vote doesn't matter, particularly when there's been such hell to get the referendum vote recognised, and that trust that needs to exist between ruler and ruled is at breaking point."
Ings added that the Brexit Party could face a dramatic "rebranding" over the next few months if Boris Johnson's EU withdrawal deal passes by the end of January.
He said: "If we keep going on about Brexit when the vast majority people have understood it to be what Boris Johnson says it is, we will come across as nutters.
"There is no doubt to me that the Brexit Party in terms of its name will have to evolve."
Haseeb Ur-Rehman of centrist party Renew hopes Labour's poor results will open up opportunities for small parties like his.
He said: "I think what's going to happen is a lot of Labour people, particularly young voters, will be disillusioned with this whole experience so I think they will gravitate towards more central, more rational parties."
Ben Mathis was listed on the ballot paper as the Liberal Democrat candidate, despite being dropped by the party over old tweets containing offensive language.
Asked whether Hackney North's Lib Dem voters would be let down by not being able to vote for a candidate recognised by the party, Mathis said: "I think having a Tory majority government and a hard Brexit is going to be a letdown for Lib Dem voters."
Most importantly of all: what musical instruments would @lorelixenberg recommend to Johnson, Corbyn and Swinson? pic.twitter.com/w7hTBLsMj6

— Elizabeth Rushton (@emrshtn) December 13, 2019
The final candidate was Lore Lixenberg, a professional opera singer who ran as an independent candidate after she failed to register her Voice Party on time.
Stating her belief that music could be a "force for unity", she sang all her answers in interviews – and was eventually asked to leave the hall so as not to distract the vote counters.
The Voice Party believes all schoolchildren should have free access to music lessons, and asked what musical instruments she would recommend the main party leaders try their hand at, Lixenberg said: "I would recommend Boris Johnson to play the ocarina because he's simple. Jeremy Corbyn I would recommend the tuba because it can be quite avant-garde. I think Jo Swinson would suit the piccolo very well."