Extinction Rebellion's Hackney South climate hustings turns into Brexit debate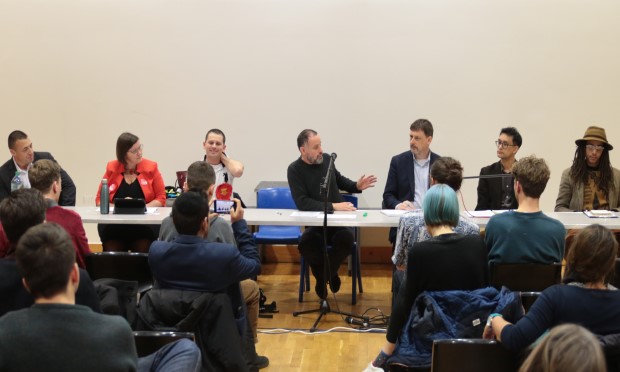 Candidates at the borough's second Extinction Rebellion (XR) hustings last week ended the debate by focusing their attentions on the implications of Brexit.
The debate between representatives from six parties, held at the Urswick School and chaired by local ecologist Russell Miller, intended to hold candidates to account on their policies relating to the climate emergency.
The discussion began to revolve around the decision to leave the EU when candidates were questioned by a member of the audience on if there was "any point" in debating any issue "if the powers that be won't [put into] effect what we say would like to happen".
Labour's incumbent in Hackney South and Shoreditch, Meg Hillier, sees the issue as a "clash of representative democracy, which is what we live in, and direct democracy through a referendum", and stressed that if Labour was to be elected, she would campaign to remain in the EU.
Hillier said: "Nobody in 2017's general election was really talking about a second referendum in strong terms, because there was an assumption that a government with a majority would go some way to delivering on the referendum result.
"Three and a half years later we're in utter chaos, and this is doing nothing for our country. We need to offer that choice – a deal about how we stay so you know what you're voting for, or remaining.
"The dog that has not yet barked in this election is that we're not going to get a trade deal. If the Tories were to get in, they will not have a trade deal sorted by this time next year, we'll be crashing out next year, and then what?"
The Labour MP, who has been Hackney South's MP since 2005, went on to criticise government initiatives such as green deal loans, the Green Investment Bank and the roll-out of smart meters in favour of Labour's own policy of a "Green Industrial Revolution".
Conservative candidate Mark Beckett defended his party's record on climate change, saying that the Tories are "leading the world in setting targets for climate change, but need to do better", going on to tell listeners that trade deals with the rest of the world can be "an influence for good".
Beckett, who executively directs Conservative group The Enterprise Forum, said: "Absolutely we should support democracy and that's why we would leave the EU with a deal. We do need to be very careful when we have trade deals to make sure we have the same standards, and that's how we make real change with the rest of the world.
"It's important that we have a close relationship with the EU, but when it comes to a second referendum I think the choice being put by the Labour Party is not really a choice – it's stay in the EU, or stay in the EU without any MEPs.
"If a second referendum did happen, then the choice needs to be a better one than the Labour Party are putting up."
Beckett, who told the crowd that he has a health condition as a result of air pollution, found common ground with Hillier on the pride he felt in the school climate strikers, and spoke of his "excitement" at and support for a green aviation industry enabled by future fleets of electric and biofuelled planes.
Liberal Democrat candidate Dave Raval, who also ran against Hillier in 2017 – which, in one slightly awkward moment, he had to remind her about – attempted during a discussion on trade deals to bring the debate back to the climate emergency, calling for less-carbon intensive trade with neighbouring countries.
Raval said: "I think we live in a third rate democracy, one that's not fit for the 21st century. The lack of proportional representation, the number of votes cast is only loosely correlated to the people that get elected, and it's possible for the party with the most votes to come second.
"The print media in this country is controlled by billionaires, so there is no such thing as a free press in that respect.
"In theory you can't buy elections like in the USA, but guess what it's so weakly enforced that all you end up with is a slap oin the wrist a little while later."
The Lib Dem added that his party were promising to "reinvent democracy", as well as calling for a return to an animist society in which humans live in harmony with the environment rather than attempting to exploit it.
In full agreement with Raval on democratic reform was Green candidate Tyrone Scott, who called for proportional representation as way of "making votes matter", while communicating both his anger at how long action on the climate emergency has taken to emerge, with hope at the engagement and action of young people on the issue.
Scott said: "Democratic reform is so necessary. We need to make votes matter, so we need proportional representation. We need to change the way we're looking at democracy, and getting people involved more.
"I love the push for citizens' assemblies by XR, and we need to look to do that more. I do understand the anger about the second referendum, but I do not think that it's reflective of democracy when we were fed a lot of lies about what was happening in 2016.
"I think it's important to have a second referendum to confirm the result – that's democracy working. I don't think revoking Article 50 is correct, though I do very much wish to remain in the EU. If we trusted people to have their say first, we should trust them again, but then hopefully we'll remain."
Scott warned that, were Britain to leave the EU, the country would in his opinion have little choice in its trading options and would have to "go running over to America", and signalled his opposition to the expansion of airports based on environmental as well as social inequality grounds, arguing that the only people impacted by such restrictions would be the rich.
Robert Lloyd, who is standing for the Brexit Party, used his platform to call on the environmental movement to abandon its alignment with "the Remain resistance", adding his "concerns" over hitting carbon-producing companies by reducing their subsidies as potentially increasing the cost of living in Hackney.
Lloyd said: "The environmental movement and the EU has been weak in obtaining popular consent. Concern is widespread in society, and it should be mobilised. Brexit Party has proposed citizens' initiatives referenda, where if you get five million votes, you can support a policy if it wins.
"The worst thing about the Remain resistance is their contempt for the votes of 33 million people, and to the Green movement, I would urge you to put your faith and trust in the people, not the EU. I can understand why you're attracted to it – the three trillion euros offered under the Green New Deal is a great temptation, but just look at what is actually happening. That is the carrot – it is a massive expansion of the fiscal power of the EU.
"We have a class of politicians who simply don't have the proper responsibility for the remit that they pretend to have. Out of the EU, very cleanly, please."
Lloyd added that he was optimistic that humanity would "meet the challenge" of the climate emergency, pointing to miniaturisation and smartphone technology as empowering individuals globally through access to information.
Workers' Revolutionary Party (WRP) candidate Jonty Leff was the only representative on show who disputed whether climate change comes as a result of human activity, making further and similar calls to Lloyd for a break with the EU without a deal.
Leff said: "We don't live in a democracy, we live in a dictatorship of capital over people's lives. You've got a Liberal Party that are for the EU dictating over our lives, you've got Conservatives wanting five years of more negotiations, and you've got Labour saying that they want a second referendum.
"Three and a half years and all they're going to say is, we don't care what you actually voted for. Well, if this is not resolved by Parliament, people will find another way of expressing themselves and that will be on the streets. We say break now, no compensation, and no deal.
"It's the break-up of EU capitalism. Good riddance to this system, and let's go forward to a higher level of society that's not about profit."
Leff's calls for the death of capitalism were met with (possibly ironic) smiles and cheers from some Labour activists at the meeting, with the WRP prospective MP going on to call for other countries to exit the EU to form a new United Europe as a workers' socialist state.
Candidates had been told at the beginning of the meeting to debate each other with respect "despite understandable feelings of grief" at the climate emergency by the XR organisers, and notwithstanding the wildly opposing views on display, all participants obeyed.
Click here to read about how the hustings in Hackney North went.
Click here to register to vote.