Celia Paul, Victoria Miro Gallery, exhibition review: 'Sombre yet uplifting gaze into the human condition'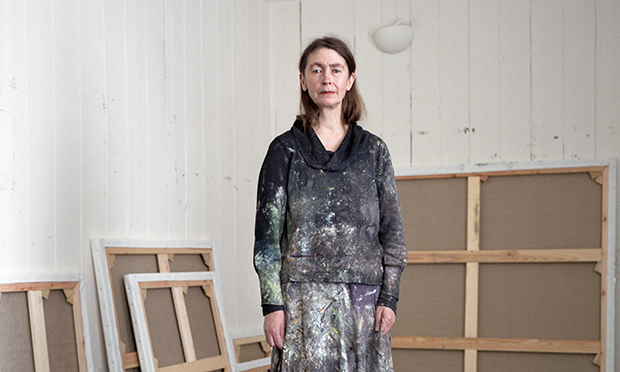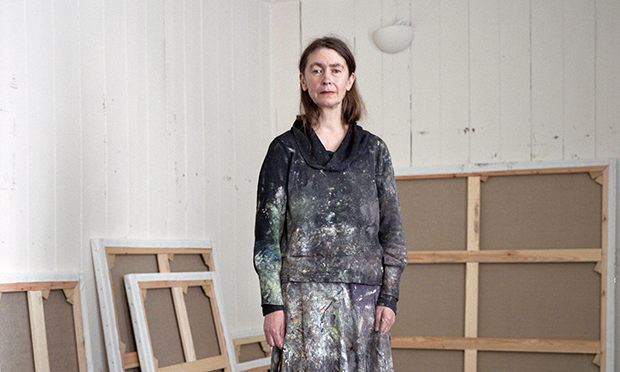 Celia Paul's exhibition at the Victoria Miro gallery in Hackney is an intensely intimate and affecting collection that touches on such themes as grief, time, death, and spirituality.
There is a palpability to the emotional intensity of the work, like a scream barely suppressed or tears quietly withheld.
Born in South India in 1959 to missionary parents, Paul spent her formative years living in North Devon and then Haworth in West Yorkshire. It was during this time, when her father was Bishop of Bradford, that Paul would visit the Brontë family parsonage at Haworth.
On these excursions Paul would cement a lifelong interest in the Brontë sisters, whose creativity and religious heritage Paul and her sisters seem to have mirrored.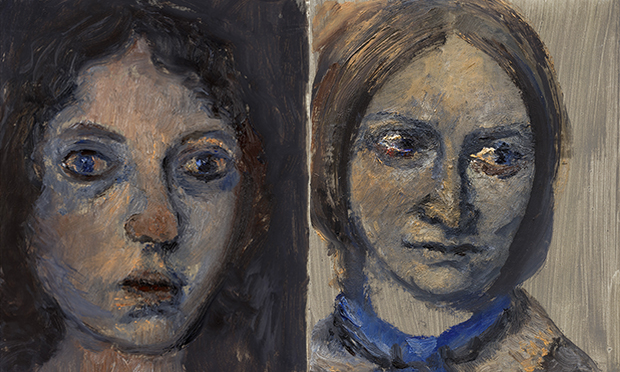 This interest is displayed in the two portraits entitled Emily and Charlotte, both 2019, as well as The Brontë Parsonage (With Charlotte's Pine and Emily's Path to the Moor), 2017.
Yet, this interest in the Brontës indicates a deeper relation than mere surface similarities.
Paul shares with the Brontë sisters the deeply transformative religious upbringing that seems to have left a lasting imprint on her life and art.
In My Mother and God, 1990, Paul paints her mother sitting in darkness and shadow. The empty space above her head signifies the Silence of God, and yet the penetrating dabs of white light suggest God's presence nonetheless.
It is a deeply moving and subtle depiction of faith and God.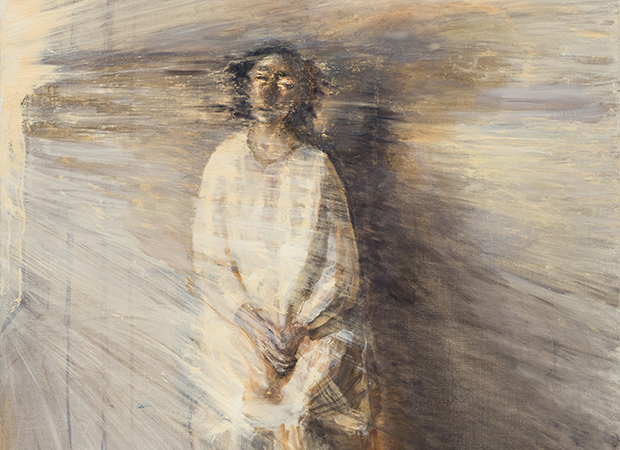 Aspects of the spiritual appear elsewhere in the collection.
Represented again by light, in Self Portrait, Early Summer, 2018, the presence of something ethereal, comforting and loving, shines through to wash over a seated Paul.
This comforting presence appears in other works, such as Kate in White, Spring, 2018, and suggests not only the constancy of spiritual forces, but also cleverly alludes to their form as well as their warmth.
The absence of light, then, suggests a darker presence, the presence of an all encompassing grief.
Paul's mother died in 2015 and the heavy atmosphere pervading many of the paintings hangs in the shadowy backgrounds like a spectre.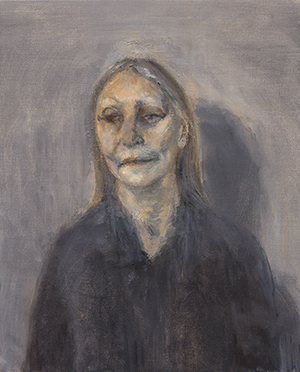 The shadow behind the subject in Lucy, Autumn suggests this darkness as something tangible and pervasive. Shadow perhaps also suggests an absence? Shadows fall upon Paul's grieving sisters in My Sisters in Mourning, 2015-2016.
The absence of their mother, who appeared in the companion painting Family Group, 1984-1986, which depicts the Pauls mourning the loss of her father, is especially noticeable.
If the interspersed paintings of trees, flowers and sea and lakes seem incongruous with the rest of the artwork, I would suggest that these bright depictions of life and growth are very much an integral part of the collection's examination of mortality and grief.
For within such cycles there is also life and renewal. In particular, Hawthorn Blossom Tree, 2019, and Shoreline, 2015-2016, use light and brightness of colour to wonderfully enlivening effect.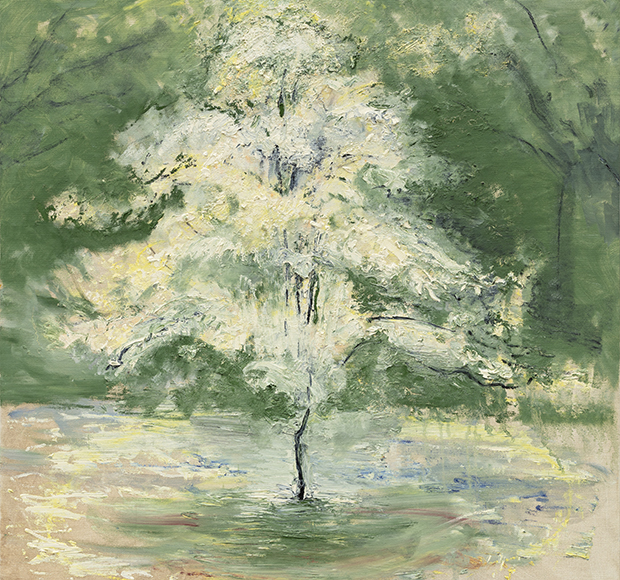 As the times of production, and the seasons depicted, jump around within the collection, the process of grief and mourning leading to growth and renewal is shown to be an ongoing process integral to the human life.
Celia Paul's current exhibition at the Victoria Miro gallery is a sombre, and uplifting, gaze into the human condition.
Celia Paul runs until 20 December 2019 at Victoria Miro Gallery, 16 Wharf Road, N1 7RW.