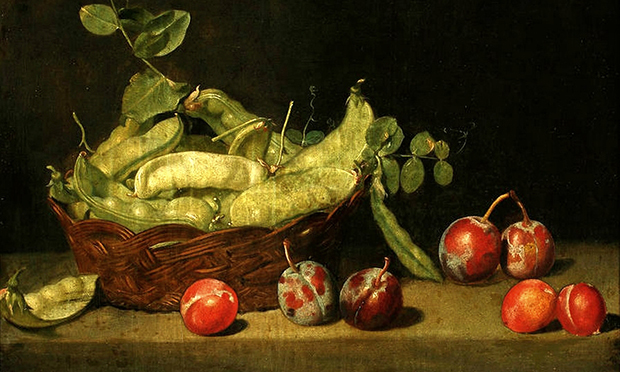 When it turns cold, we want warming food. There are two ways to get it – cook something comforting at home, or go for something best done by professionals.
Turn the kitchen into a blast furnace of greed and gratification with pots and pans roaring and bubbling away, steam, smoke and splatterings of fat perfuming the whole house, as Chairman Mao's Red- Braised Pork, or one of Rachel Roddy's fry-ups, or Dutch Green Pea Soup, are brought to perfection.
Or you can wrap up well and totter out into the murk of Hackney to sink your face in a bowl of Pho, or a Korean version of Pho, Miyeok-guk, seaweed soup, or get inextricably tangled up in Biang-Biang noodles (don't wear your best shirt) or go for the massive cholesterol rush of a hefty serving of roast beef marrow bones at St John (bone marrow is mainly tasty fat and some nutrients, greatly in need of the austere parsley salad served with it), or Dishoom's way with lentils, black dahl, which can induce cooling perspiration in a hot climate or a happy glow in our autumnal chill.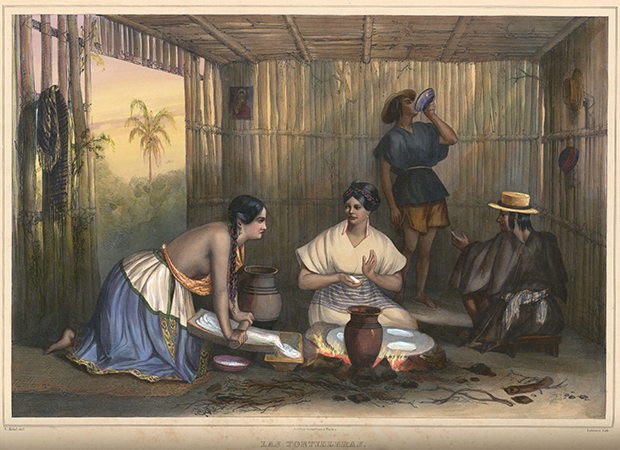 On the home front, stirring a jar of the Cool Chili Company's Mole Poblano sauce into some tasty stewed chicken will give you time to get out the tortilla press and two comals and enjoy the warming task of making your own tortillas from scratch with masa harina.
Once you get the hang of it, it takes no longer than peeling and cooking a batch of mashed potatoes, and the result is more fragrant and pliable than the mass-produced tortillas which might be lurking in your freezer.
When toiling over a hot stove is not a chore, but a nice way to get warm, bashing spuds or stirring polenta becomes a pleasure. Potatoes baked in their jackets in a hot oven can warm the whole house, and the aromas from Fuchsia Dunlop's version of Chairman Mao's Red-Braised Pork perfume the air.
You start by caramelizing some sugar in a little peanut oil, then adding agreeably fatty pork belly cut into bite sized lumps, and some Shaoxing cooking wine, cinnamon, star anise, ginger and chillies, top up with water and simmer until done. Go cook this from the detailed recipe on page 78 in Revolutionary Chinese Cookbook, it's a winner. The other winner is the hearty soup made from green split peas which a surprising number of countries claim as their special national dish.
The erwten soep of the Netherlands is the apotheosis of what has always been a subsistence dish using up green split peas and whatever vegetables happen to be around – carrots, onions, celery, and above all celeriac. To these you can add fresh pork, a ham bone, some smoked streaky bacon, fresh sausage, smoked sausage, and simmer them along with herbs and spices, to make a luxury dish for which every family has its own recipe or secret ingredient. The result can be runny, with the peas still whole, or mushy and stiff enough to for a spoon to stand up in it.
It is only recently in the long history of the pea that the fresh young pods we almost take for granted became an expensive luxury. A field crop of dried long-keeping pulses, with the discarded foliage used as cattle fodder, was the norm, and the garden peas that Madame de Sévigné raved about in seventeenth-century Paris were a fashionable craze.
The bowl of yellowing pods with their hard round peas, a contrast to the delicate newly opened roses, painted by Giovanna Garzoni for Ferdinand II de'Medici in the 1660s indicates what ordinary people were eating.
Poland has a fine split-pea soup, grochówka, remembered for its use in military field kitchens. The best quality smoked bacon and sausages to use in any green pea soup recipe can be found in the many Polish food stores in Hackney. Don't be baffled by the huge language problem, point at a possible sausage or two, and then wallow in a whole new world of pork products.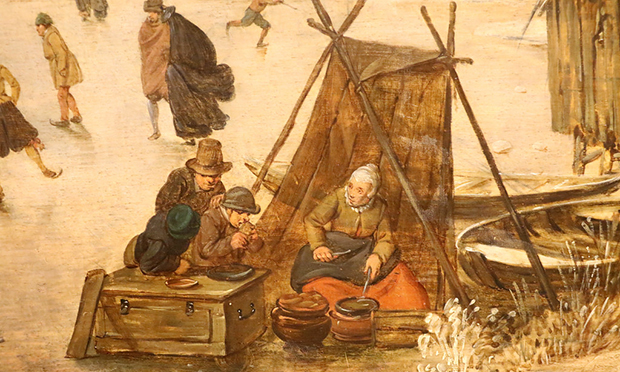 When the lakes and canals of Holland froze over in the 'Little Ice Age' of the 16th century, people kept themselves warm by skating on the ice in a convivial way, stopping now and then to refuel with a pancake or two. Some art historians can spot an old lady making poffertjes in many a winter scene; in the one above by Esaias van de Velde she is in the foreground, sheltered from the wind with sailcloth, making these little yeasted puffed up fritters in a frying pan like a muffin tin.
She is alive and well in many Dutch street markets today, so that we too can spill melted butter and icing sugar all over our shoes as we munch on this winter snack.