Beyond jam and Jerusalem: A different side to the Women's Institute in Hackney Wick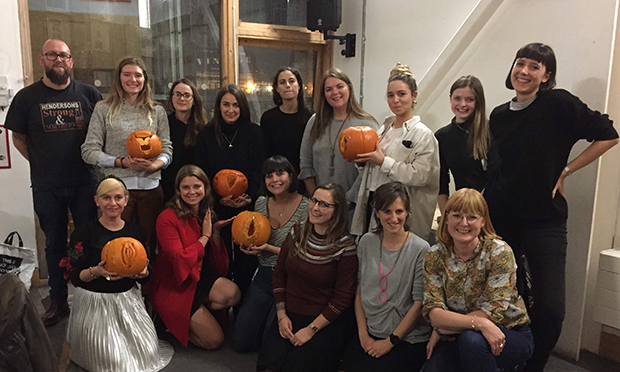 There are perhaps few better crystallisations of the image of quaint, rural England than the Women's Institute (WI) – the network of community groups which for over 100 years has brought women together under the banner of craft, baking, and famously, jam.
Even the Queen is a member, and attends the Sandringham branch's January meeting every year. 
Meanwhile, at Hackney Wick's Hub 67, members of the Hackney Wicked Women WI are spending a Wednesday evening carving pumpkins. With designs inspired by the female reproductive system.
At first glance, the group breaks the mould of the conventional image of a WI unit – at the 'Pumpkins and Privates' event in aid of the WI's pro-smear test campaign '5 Minutes That Matter', women in their twenties and thirties form the majority of the group of 15 participants. In honour of Halloween, everyone enjoys a homemade 'Witch's Brew' rum cocktail.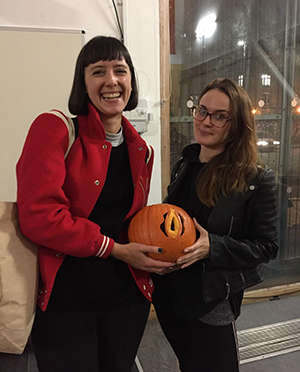 The group has been meeting monthly for almost six years as of November. Some of their programme of activities, like the pumpkin carving, might seem a step removed from an ordinary WI itinerary – previous meetings have seen cocktail mixology, a 'Pankhurst and Pimms' walking tour tracing the history of East London's suffragettes and a burlesque workshop.
But the more traditional WI activities of crafts and baking still have a part to play – the group will be learning the art of bottling and pickling home produce at their November meeting, and their December activity will see them put a contemporary spin on a classic craft when they will make Christmas baubles from upcycled materials.
Hackney Wicked Women are far from alone in their endeavours. Speaking as those around her precisely traced the outlines of uteri onto pumpkins, the group's president Chloe Higgins, 38, described East London's WIs as "a bit of a different breed", with similar groups active in Dalston and Shoreditch. 
She said: "I think a lot of young groups around the country are starting – you'll find that in some areas there'll be an afternoon group and then an evening group as well, and the afternoon group's probably a bit more traditional.
"Obviously this is pumpkin carving, it isn't a traditional craft, but we make sure we do plenty of that kind of stuff and wrap up some other stuff in it as well."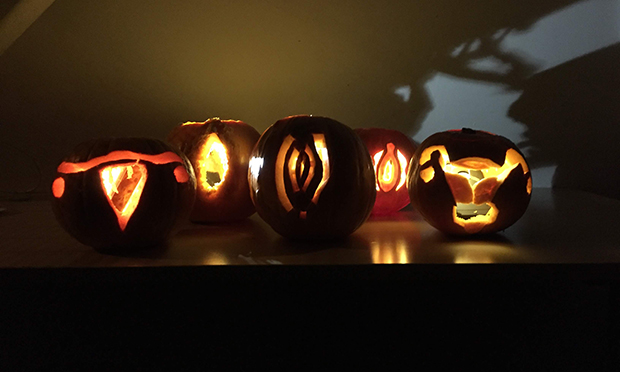 As unorthodox as it may seem, the activism-inspired choice of the aesthetic theme for the evening's activity was continuing the WI's proud history of campaigning, where previous causes have included equal wages, AIDS, microplastics and mental health.
'5 Minutes That Matter' aims to encourage more women to attend their scheduled smear tests as attendance rates are at a 21-year low. Before the meeting got into its creative flow, member Rachel Harding, who has worked as an obstetrician and gynaecologist for 12 years, gave a talk on the facts of a routine smear test and why it's nothing to worry about.
Speaking on the campaign, Rachel, 35, said: "I think it's good. There's been a decline in uptake of smears and every so often you get a blip like when Jade Goody died, and something needs to happen to make people attend more and if the campaign can do that then that's great."
The death of Big Brother star Goody from cervical cancer in 2009 was linked to a 12 per cent rise in women aged 25-64 attending their smear tests that year.
However numbers have fallen recently – statistics released by the WI show that 71.4 per cent of eligible women attended their smear tests as of March 2018, which was the fourth year in a row when attendance numbers decreased. 
Attendance is lowest among over-50s, women from ethnic minorities and lower socio-economic groups, women with learning disabilities, and lesbian and bisexual women. Just over 60 per cent of women aged 25-29 attend their screenings, despite cervical cancer being the most common cancer among women under 35. 
It is estimated that 70 per cent of cervical cancer deaths are prevented every year by routine cervical screenings, equivalent to 5,000 lives. The WI says this figure could rise to 83 per cent if all eligible women attended their scheduled tests.
As part of the campaign, WI materials are encouraging members to have open discussions to dispel myths about smear tests, and also provide instructions for making a calming lavender pouch to take to check-ups.
Besides Hackney Wicked Women's new spins on traditional activities and continuation of WI activism, the group remains underpinned by a friendly, open atmosphere where women come together to form new friendships.
Rachel joined the group two years ago after the birth of her second child, when she started to find her experience as a mother of two "really socially isolating" as friends had no time to meet up outside of juggling work and childcare.
She said: "It was quite lonely for me. So I put into Facebook 'Hackney women' in an attempt to find something that would inspire me."
She added: "Having always thought that crafting and baking was cool but never being allowed to actually express that, because when you're a kid going out and clubbing is cool, that was never really for me. So now I feel like I've found my little niche."
Committee member Katherine Phipps, 38, agreed, saying: "I think one of the main reasons people come is for a bit of social activity but also something fun, and you learn something as well.
"We try to make the meetings a bit fun, along with some crafty stuff and some silly things."
It was appropriate then, that the evening ended with a ceremonial judging of the crafted pumpkins. The winning pumpkin, chosen by Rachel, was carved by group secretary Sophie Christiansen, 29, and Bethan Ecclestone, 34.
The group recently celebrated their 20th paid-for member, but are always looking to expand their ranks.
In characteristic adherence to a WI cornerstone, they can always be found at Hub 76 at 7pm on the third Wednesday of every month.
"It's one of the WI rules," Chloe says. "You have to meet at the same place at the same time so people can find you."
More information about Hackney Wicked Women and their monthly activities can be found on their Facebook and Instagram sites