48 bus to be withdrawn this weekend – as number 30 goes two-way on Wick Road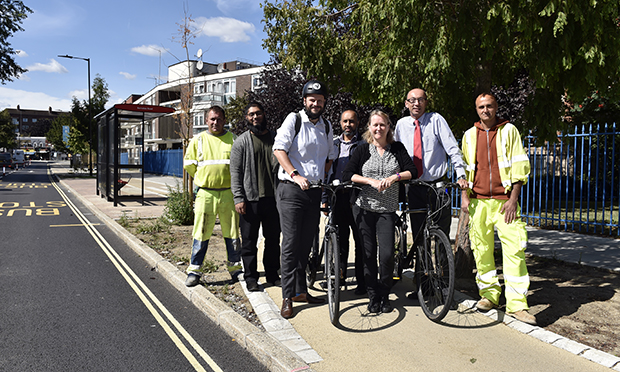 Transport for London (TfL) is to withdraw the number 48 bus from service this weekend – a decision that was met with anger locally when it was announced earlier this year.
Other changes to bus routes will see the number 30 start travelling both ways on Wick Road from tomorrow, following a council transformation designed to make the road better for walking and cycling.
Town Hall transport chief Jon Burke said on the loss of the 48: "People have been telling us that they're really concerned about the cumulative effect of cuts to buses in Hackney, which, for some residents, are the only way of getting around.
"Despite the council's objections and the negative impact it will have on many residents who rely on buses to get around the borough, TfL's decision to withdraw the 48 will leave the 55 as the only direct link between Lea Bridge Road and Shoreditch, leading to more overcrowding at peak times.
"Low emission, low cost public transit should be at the heart of London's attempts to rapidly decarbonise the transport system and improve air quality in our dangerously polluted capital city.
"Losing bus routes and bus miles represents a backwards step, which is why I have recently written to the Transport Commissioner to inform him Hackney Council will oppose any further cuts to services in the borough that we do not believe are justified."
The number 30's new route comes after Hackney Council introduced changes on Wick Road including protected cycle lanes, better pavements and over 40 new trees.
Two-way traffic on the road is also expected to lead to lower vehicle speeds and improved road safety.
As part of the changes, the 30 bus will no longer run eastbound via Kenton Road and Cassland Road, instead stopping at three new bus stops on Wick Road.
Mayor of Hackney, Philip Glanville visited the road recently to formally open it alongside contractor Volker Highways.
He said: "We've transformed Wick Road from a congested dual carriageway to a more livable street for walking and cycling – with wider pavements, protected cycle lanes and over 40 new trees.
"As a result of the changes, we welcome that TfL is rerouting the 30 bus so it takes a quicker, more direct route, improve journey times for residents and commuters travelling to Hackney Wick."