'We're not going anywhere': Graeae Theatre stands defiant after windows smashed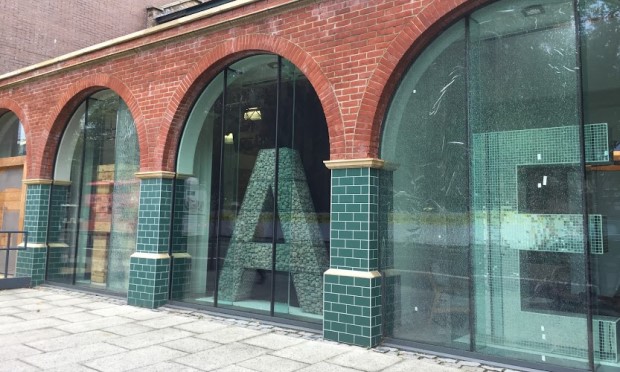 Hackney's Graeae Theatre Company has resolved to continue as normal after its Bradbury Studios on Kingsland Road fell victim to a potential act of vandalism at the end of last month.
Staff at the company, which supports D/deaf and disabled artists, arrived at 7.30am on 27 September to find three panes of glass on its building's front facade had been smashed, with cracks spread through the whole glass from single points of origin.
Graeae's CEO and artistic director, Jenny Sealey MBE, said that whilst the incident, which has been reported to police, had left Graeae feeling shocked and uncomfortable, the company was determined to carry on as usual.
She said: "Whether it's targeted at Graeae I don't know. But there's something very deliberate – this is hard glass and they've really gone for it, not just one window but three, so someone was absolutely hellbent on damaging our building."
The company experienced a similar incident last year, when one pane of glass was shattered.
Sealey added: "This is the second time this has happened and it makes us feel very uncomfortable. This is our home.
"It's very, very horrible that this has happened."
Since taking to Twitter to report the incident, the company has received an outpouring of support from the public and the drama community, including the National Theatre.
It is estimated that repairs will cost £50,000, and although Graeae hopes its insurance will cover it, supporters have already donated over £600.
Sealey said: "In the awfulness of all of this, the weird flipside is we feel very loved."
She added: "It's been a lovely reminder of how important we are to the theatre ecology and how important we are to Hackney."
None of the shattered glass has fallen from its frame, and it has since been secured with a safety film by emergency glaziers.
Bradbury Studios is home to rehearsal spaces, including a full lighting rig and a sprung dance floor, in addition to facilities for workshops, training and learning events and external hire.
Rehearsals are currently underway for Graeae's production of Winsom Pinnock's play One Under, which focuses on suicide among black men and will tour the country from October to December this year, finishing at Hackney's Arcola.
Graeae, which counts stars including Dame Emma Thompson among its patrons, is undaunted in its plan to celebrate its 40th anniversary next year.
Sealey said: "We will be having celebrations locally, nationally and internationally.
"We are part of the community here and we are not going anywhere – so that's part of our 40th birthday, being here, being in Hackney and being proud to be in Hackney."
Police are yet to give any updates on their investigation, and Graeae is appealing for any witnesses to share information.
Sealey added: "If anyone has seen anything, please, please let us know, because this cannot happen again – not just to us but the whole community in Hackney.
"We don't want this vandalism – there's enough awfulness in the world as it is, and in the UK with the politics, we could really do without this."
Donations to support Graeae's repair work can be made at graeae.org/your-support/ways-to-support