Council unveils plan to pare back waste collections in effort to boost recycling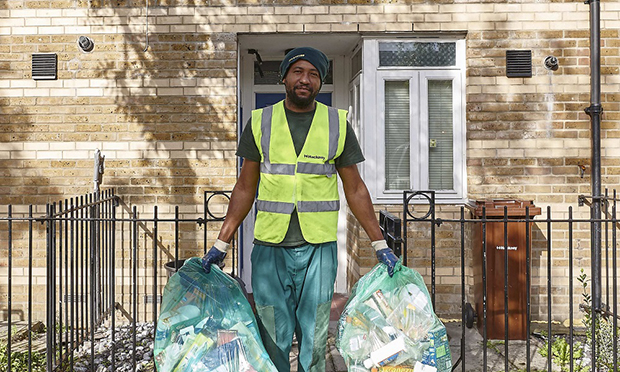 Hackney Council has put forward changes to waste collection in the borough in an effort to jumpstart plateauing recycling rates.
Residents are being asked for their thoughts on non-recyclable waste pick-ups moving from weekly to fortnightly – a move that has led to an increase in recycling in 13 other boroughs.
The hope is that people will be encouraged to think more carefully about what they throw away following the recent revelation that over half of Hackney's waste could instead be recycled or composted.
The proposals would see non-recyclable waste collections switched to every two weeks for street-level properties – generally houses, or houses that have been converted into flats – which currently use the green sacks. These make up around 42,000 of the borough's 110,000 households.
There would be no changes to existing weekly collections for recycling and food waste, or to collections for flats above shops or properties with communal bins, including estates and new-build blocks. 
The council is aiming for an uptick in recycling of 5,000 tonnes a year – the equivalent of 500 bin lorries.
Moving to fortnightly collections is a key requirement of the Mayor of London's environmental strategy, which all of the capital's local authorities are signed up to.
The proposals also include the provision of new bins for non-recyclable rubbish, with the council to collect only what is placed in the new bins, encouraging people to waste less and recycle more. 
The continuation of weekly recycling and food waste pick-ups means the Town Hall is not expecting to see immediate savings as a result of the changes.
However, with waste disposal costs set to increase in the coming years, it hopes that throwing away less rubbish will save it money in the longer term. 
Recycling rates in Hackney have risen incrementally from around 23 per cent in 2011/12 to 27.5 per cent in 2017/18.
The introduction in 2016 of a government-funded rewards scheme, which recently came to an end, saw rates briefly hit 30 per cent, but a council spokesperson said the programme had not had the desired long-term impact.
Town Hall waste chief Cllr Jon Burke said: "We recently passed a climate emergency motion, which commits the council to almost halving our emissions as a council by 2030 and delivering net zero emissions by 2040.
"These proposals would help us to achieve this ambitious goal by increasing recycling and reducing the amount of waste which is sent to be incinerated. 
"Hackney residents have already made great progress in increasing the amount they recycle – from one per cent in 1998 to around 28 per cent today, but over half the rubbish people currently throw away in Hackney could be recycled or composted. This needs to change if we're to reduce waste and address the climate emergency. 
"As we saw from the remarkable turnout from the children and people of Hackney during the recent climate strike, there is a big appetite from our residents to see the council do everything in its power to address the unfolding climate emergency.
"That's what these proposals represent, and I'd urge local people to have their say, in order to ensure they work for everyone."
To find out more about the proposals and have your say, visit consultation.hackney.gov.uk/waste-recycling/fortnightly-waste-collections-consultation/

The Town Hall has also sent out consultation packs to all households that would be affected by the proposals. 

For more information on what can and can't be recycled, head to hackney.gov.uk/green-sacks