Anju, Well Street, restaurant review: 'Inventive, delicious taste of Seoul'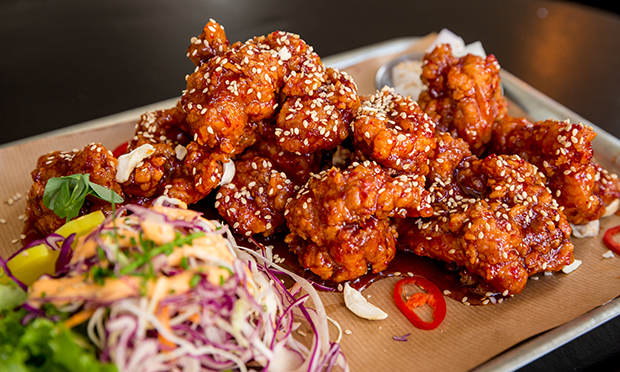 Walking into The Gun on Well Street – an old school East London pub built sometime in the 1860s – you might not consider it a likely home for a new Korean restaurant.
But Anju, which has held a residency in the Homerton local since August, seems to be the perfect match, given that its name can be translated as "food eaten with booze".
For some, this might conjure up the idea of greasy and stodgy food designed to soak up the effects of overindulgence, but the reality is far from it.
Although recommendations are available for the types of alcohol that would traditionally accompany the dishes in South Korea, Anju serves up fresh, inventive food, easily enjoyed with or without a drink.
The restaurant itself is above the pub so when we arrive, we are led up the stairs away from the bustling bar. The restaurant is simply decorated with white walls and wooden tables and a roof terrace gives it a light and airy feel.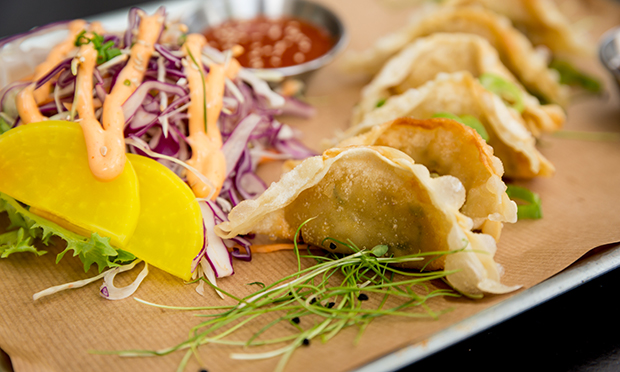 From where we are sitting, we can see into the open kitchen and are promptly greeted by Taewoo Kim, the chef behind the long-term residency, which is open every Wednesday to Sunday.
Having left home at 19 and embarked on a culinary tour of many different countries, Taewoo settled in London and began working in restaurants across the city.
Now with his own place, he is serving food inspired by his childhood growing up in Seoul.
From his recommendations, we end up ordering a large proportion of the menu and are reassured that we can take home anything we can't finish if our curiosity turns out to be too much for our stomachs to handle.
The first to arrive, served on silver trays reminiscent of an upmarket canteen, are the Korean fried chicken with honey butter glaze and the Korean fried cauliflower with vegan gochujang – a spicy fermented red chili paste sauce.
The deep and earthy flavour of the gochujang makes the cauliflower a worthy vegetarian alternative, but the fried chicken stands out.
It is absolutely delicious – the chicken is fresh and crispy and the honey butter glaze (complete with crunchy sesame seeds) complements it perfectly with just the right amount of sweetness. For anyone who is a fan of fried chicken, I highly recommend giving it a try.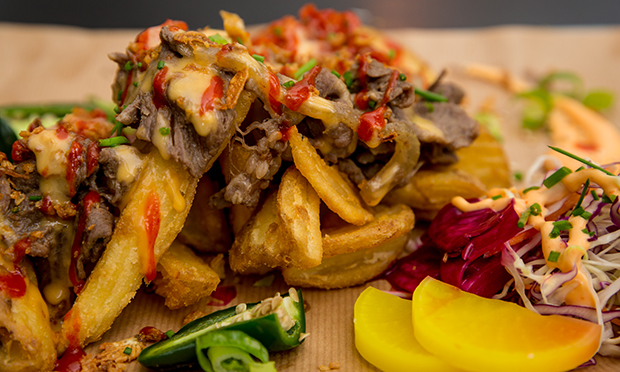 Next to arrive are the fried dumplings and the "Gangnam fries", named after the famous Seoul district.
We opt for the tofu version of both dishes, although chicken and beef options are available.
The dumplings are delightfully light and crispy, but the fries are unlike anything I've tried. Taewoo explains that they are the Anju speciality and it is not difficult to see why.
With spicy jalapeno pickle and tangy kimchi, they are bursting with unique flavour and miraculously, the fries still manage to be crispy despite being smothered in a delicious cheese sauce.
Imagine cheesy chips with a surprising, yet utterly welcome, twist.
We finish with a masterclass in authentic Korean cuisine with the flavour-packed "old school" bibimbap – a rice bowl bursting with tofu, mix salad, kimchi and a fried egg – and the Korean BBQ beef with a leafy (Ssam) salad and rice.
The short rib BBQ beef is slow cooked for 24 hours, making it beautifully tender, and is served in a silver tin to lock in the smokiness.
When opened, this gives the meat a real hearty depth of taste without being overbearing.
As predicted, we leave with our arms full of leftovers from our enthusiastic ordering. But following the wonderful service and delicious taste of Seoul at Anju, we can't wait to dig in again.