Hackney students turn hoteliers for a day to mark launch of global work experience partnership
Twenty-five students from Hackney got a glimpse of working life at a big hotel this month to mark the launch of a year-long drive to introduce youngsters to a career in hospitality.
The group from New City College spent a day at the 700-room Holiday Inn in Kensington, thanks to a new partnership between InterContinental Hotels Group (IHG) and Young Enterprise, part of Junior Achievement Worldwide (JAW) – one of the world's largest youth-serving NGOs.
The students were given a tour around the sprawling hotel before shadowing staff members and taking part in activities and workshops.
The day, called 'IHG First Look', culminated in a competition which saw the group design a flagship hotel aimed at young people, taking into consideration aspects such as branding and marketing.
It will be the first of many similar events after IHG announced a 12-month global partnership with JAW that will give more than 750 youngsters, in countries including the USA, France, Germany, Japan and China, an opportunity to gain work experience in hotels.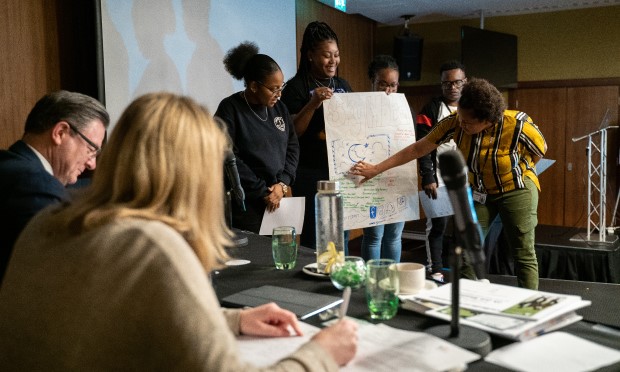 IHG says the programme will reinforce its contribution to the objectives of the UN's Sustainable Development Goals, which include a focus on decent work and economic growth.
JAW's CEO Asheesh Advani said: "Working with IHG gives us the opportunity to engage our students with the hospitality industry, which we know offers rich and varied opportunities in the world of work.
"Just like IHG, JAW is a global organization in more than 100 countries, and this sets us up well for what will be an inspiring and fruitful partnership that helps create pathways to employability and job creation in the tourism sector."
Zurab Pololikashvili, Secretary-General of the World Tourism Organization of the United Nations (UNWTO), added: "The tourism sector is an integral part of the global development agenda, driving economic growth and creating jobs, in particular for women and youth.
"UNWTO believes that private sector cooperation is essential if we are to realise tourism's true potential as a force for good.
"We warmly welcome this new initiative and are confident it will make a real difference to the lives of many young people.
"UNWTO also looks forward to working closely alongside IHG to create more and better opportunities for all."
For more information about the work of Junior Achievement Worldwide, head to jaworldwide.org