London Fields 'creative hub' up for demolition as recording studio speaks out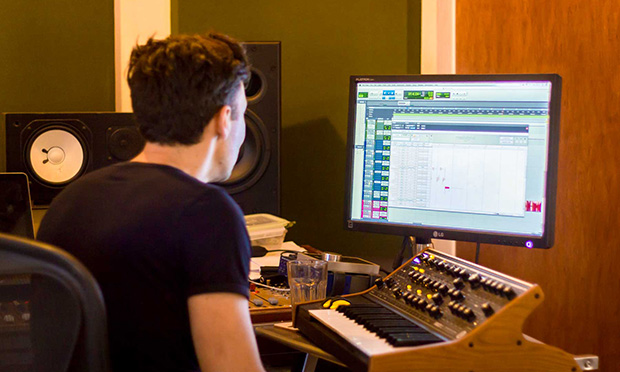 The planned demolition of a former industrial building housing a number of creative businesses is sparking an outcry amongst London Fields locals.
Hackney Council will decide next week on whether the Laundry Building, home to 26 workspaces covering music, arts, fashion and photography, will be pulled down in place of a new commercial workspace scheme with another 58 flats, none of which will be affordable housing.
Urchin Studios, which has worked with artists including Florence and the Machine, Flume, Bon Iver, FKA Twigs and Tom Odell, now warns that the plans are representative of creative industries facing a bleak future in the borough.
Urchin co-founder and executive director of the Music Producers' Guild Dan Cox said: "It goes without saying that I object to my business being demolished.
"It will mean the closure of the business as it exists currently. The core of what Urchin Studios is is that space, as well as myself and Matt who have run it for 13 years.
"The uniqueness of that space will disappear. You can't recreate that anywhere else, that space will be gone.
"We could potentially look at opening in a different location, but we wouldn't be moving it. We'd be building something else. In the wider London context, more and more studios closing down.
"I think it's very unlikely we'd do it in Hackney, because so many spaces like our building are being pulled down."
Just over 80 letters of objections have been received over the loss of the Laundry, co-founded in 2013 by Radiohead musician Ed O'Brien and Indian television businessman Raj Nayak.
Neighbours in the adjacent Monohaus building are also up in arms, raising their fears to the council over the loss of sunlight and privacy issues the new block would cause them.
The development has been proposed by Warburton Road LLP and The Laundry Building (Property) Ltd., of which Nayak is one of the directors.
Objectors have warned in planning documents submitted to the Town Hall that affordable spaces for creatives are on the wane, with the demolition of the London Fields site having the potential to "have a negative impact on
community, diversity, culture and spirit of Hackney".
The Hackney Society, whilst acknowledging that the site is suitable for the type of development proposed, sounded a note of caution over the "drab and unappetising" plans, saying that the brick colour chosen is "dull and lifeless…giv[ing] the building a dated 1960s appearance".
Council officers have said that 10 per cent of the planned 2,687 square metres of employment floorspace will be affordable, with 268 sq m to be provided at 80 per cent of market rent in the basement of the new building.
Hackney's planning sub-committee will decide the application on 2 October.