Death by Pizza, London Fields: 'Vegan pizza good enough for an Italian grandmother'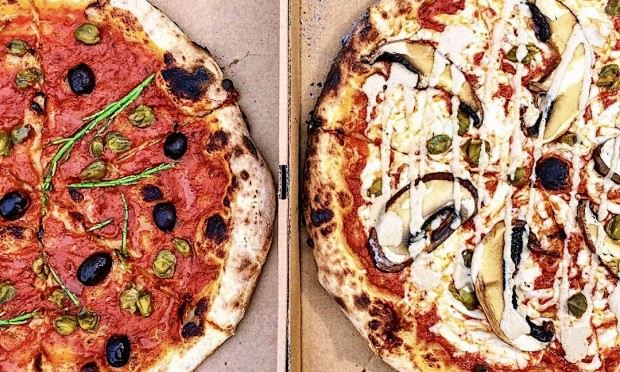 Just off London Fields, down an unsuspecting residential street and nestled between newly built blocks of flats and the railway is Netil Market.
It's home to a collection of permanent boutique stalls and street food shacks, with crafts and clothes traders that move in every Saturday.
But with a vegan burger bar, Mexican vegan street food and Death by Pizza – selling wood-fired vegan pizza – the market is fast becoming a hotspot for innovative and exciting meat and dairy-free alternatives.
When I arrive at Death by Pizza, it is a cold and drizzly Friday night, so the market is pretty empty bar a few Deliveroo drivers and people picking up pizzas to take home.
But the guys working behind the counter reassure me that it's always heaving on the weekend, and when I sit down on a sheltered balcony above the market to try the pizza, this isn't difficult to believe.
I am not quite transported to a warm town square in Naples, but I am genuinely surprised by how good it is.
I have to admit that I have always been slightly sceptical about vegan pizza.
After an experience with some of the most rubbery and inedible vegan cheese a few years ago, I have been quietly convinced that it could never be as good as the 'real thing'.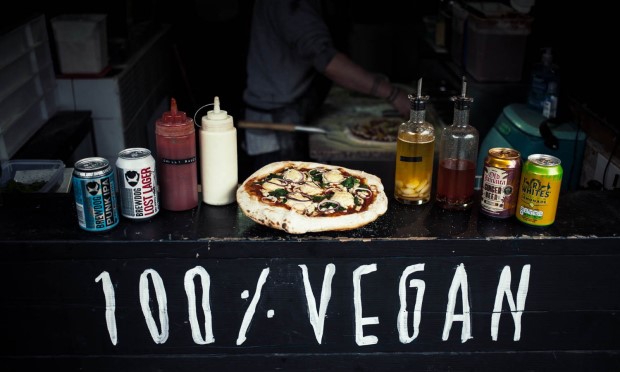 With the stall, founders Carla and Marco Casadei wanted to create a pizza so good that even an Italian grandmother would love it, and I think they can be confident that they've achieved this.
Death by Pizza pitched up in Netil Market in September last year and has been meeting the needs of vegans from Hackney and beyond since then with their seven gourmet pizzas – all with memorable names such as 'Dead Barbie', 'Butt Naked' and 'Holy Ghost'.
It is the latest venture from Carla and Marco, who also run Young Vegans, a vegan pie and mash shop in Camden.
All their mock meats and mock cheeses – their recipes include mozzarella, ricotta and parmesan – are made from scratch in their prep kitchen in Camden and all the vegetables are locally sourced.
Not only this, but Death by Pizza stands out for its experimental and unusual approach to pizza toppings, including samphire and BBQ sauce, making it much more appealing to non-vegans looking to try something new.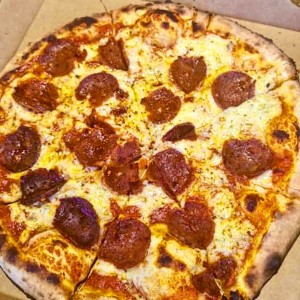 I opt for half 'Devil's Coglioni' – double seitan pepperoni, mozzarella, marinara sauce and basil – and half "Smoke House" – smoked mushrooms, capers, pine nut puree, mozzarella and marinara sauce, with a homemade garlic mayo dip thrown in.
The dough is delicious with an ideal crispy but chewy consistency and the chunky crusts are perfectly charred from the wood fire oven.
The garlic mayo dip is out of this world and I'm tempted to sneak the remainders of the pot into my bag to take home.
The 'Smoke House' stands out with its delicate blend of surprising flavours.
The smoky depth of the mushrooms, the sharp tang of the capers and the subtle creaminess of the pine nut puree creates a flavour that could rival any 'normal' pizza.
The mozzarella firmly crushes any fears I have about plant-based cheese, and I challenge anyone to be able to tell the difference.
However, the texture of the seitan pepperoni on the 'Devil's Coglioni' takes a bit of getting used to – it is thick and crumbly as opposed to juicy and crispy, and I find myself feeling slightly squeamish about the large chunks covering the pizza.
However, the flavour is spot on – smoky with a real kick – making it a sure-fire hit with any vegans missing their meat fix.
Although Death by Pizza hasn't convinced me to give up pepperoni pizza just yet, it has shown me that there are other delicious and more environmentally friendly options out there.
For plant-based converts and meat-eaters alike, it is definitely worth a visit.