Daubeney Primary's outdoor classroom moves a step closer after £1,000 pledge from Mayor of London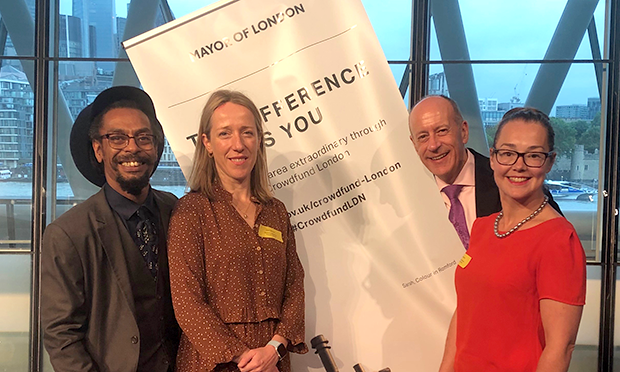 Parents and teachers at Daubeney Primary School in Homerton are celebrating a £1,000 grant from the Mayor of London towards their plan for an outdoor classroom.
The school is raising money to transform an underused part of its playground into a classroom and natural play area, and now needs just £800 to hit its target.
The proposals tie in with a wider project to greenify the school and the surrounding streets – with E5 postcode gardener and Citizen columnist Kate Poland working with residents and local groups such as Daubeney Fields Forever to help nature flourish.
Kate said: "It's great news that the Mayor of London is putting £1,000 into the outdoor classroom.
"More and more I see children without access to nature or who just don't feel it's their place, which is really sad.
"I hope having a natural play space will enable them explore the wonderful world of soil, insects, worms and other wonderful creatures, learn to love them and become their protectors in the future."
She urged people to "put a couple of pounds" in the pot if they can.
A statement on the crowdfunding page reads: "The Parent & Carer Teacher Association (PCTA) and School Sustainability Lead have been working with local collaborative design practice Co-DB as well as teachers, pupils and parents, to co-develop a plan for a currently underused part of the playground, to create a natural space for sanctuary, creativity and exploration.
"We will create distinct learning zones so the new garden can hold multiple groups at any one time and can be used both for whole-class teaching as well as a sanctuary space for small groups or individual pupils needing respite from the busy classroom environment."
One commenter, Eliza Lam, said: "Daubeney is home to more than 600 children from the local community – many of whom don't have easy access to green spaces.
"This much needed project will enable these children to create strong bonds with nature, improve learning and ultimately strengthen physical health and mental wellbeing of the local community."
Following the successful application, a delegation from Daubeney, including Head of School Greg Logan, attended the Crowdfund London Awards at City Hall on Tuesday evening.
To find out more about the outdoor classroom, and to donate, head to spacehive.com/greening-daubeney-primary-school