Hackney pupils show off their pedal power for 2019's Bike Around The Borough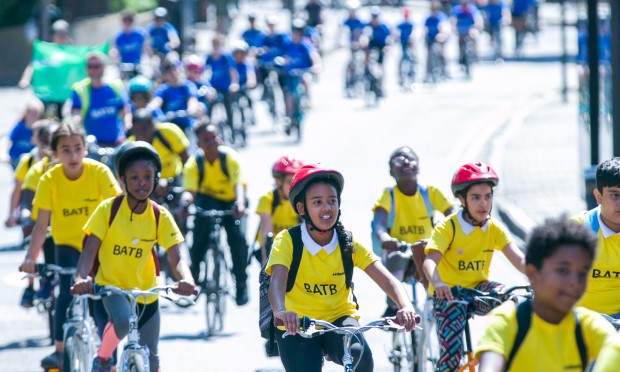 Nine hundred children from 42 schools across the borough took to the roads earlier this month for the ninth annual Bike Around The Borough.
Hackney's cycling celebration is the world's largest 'bike bus' – a group of riders pedalling together along a set route, picking people up as they go.
The nine-mile ride started at Hackney Downs and took in Clissold Park and Stoke Newington High Street before moving on to London Fields and past the Town Hall before returning to where it began.
The cyclists were supported by other schoolchildren at 'motivation stations', filled with flag-waving, cheering and drumming to spur them on.
Juni Harrison, a Year 5 pupil at Rushmore Primary, said: "It was really fun to cycle around Hackney and see places you know but also finding new places and views of London.
"Best of all it's not a race, it's a relaxing ride and you can chat with your friends."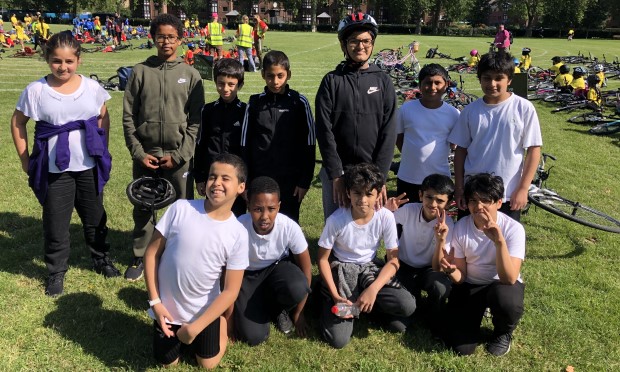 Children from the Olive School also took part, and principal Caterina Park said: "It was fantastic to see the pupils getting out into the fresh air and enjoying such a healthy, fun activity by exploring their community on bikes."
Bike Around the Borough is the council's showcase schools cycling event, and aims to give children the confidence and chance to explore their borough on two wheels.
The Town Hall's transport and public realm chief Cllr Jon Burke said: This is my first year doing Bike Around the Borough and it has been great to see how excited children are to join other schools and discover their borough by bike.
"It gives them a chance to build on the cycle training we offer and see how fun, healthy and sustainable cycling really is.
"I'd encourage anyone inspired by Bike Around the Borough, whether you're an adult or child, to take advantage of the cycling routes we have in Hackney."
Mayor Philip Glanville, who joined Speaker Kam Adams joined Cllr Burke on the ride, called it a "special day", and said of the schoolchildren: "They are so enthusiastic and inspirational. I can't wait to do it all again next year when it will be our tenth year!"
Find out more about cycling in Hackney, including free lessons, by visiting hackney.gov.uk/cycling