Huge pillar drops 10 floors at primary school building site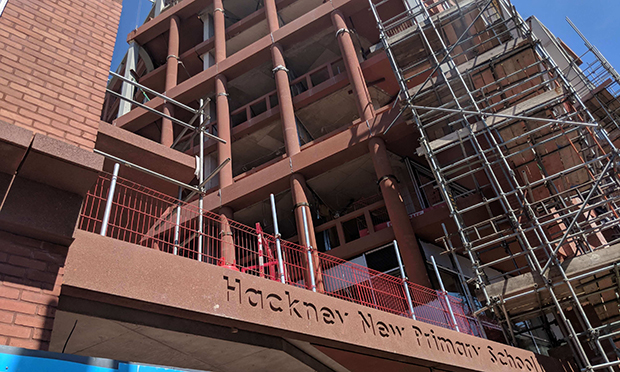 Footage has emerged on social media of the aftermath of a pillar dropping from the construction site of a new primary school building on Kingsland Road.
The new site for Hackney New Primary School, a joint project between property management company The Benyon Estate, real estate developer Thornsett and the Department for Education, had been slated for completion for September.
However, residents were expressing their alarm on Monday afternoon at footage which appears to show a column having fallen off the top of the building, having apparently damaged some scaffolding on the way down.
A pillar seems to have fallen off the top of a construction site where my daughter's school is being built! Hope noone was hurt!! Looks like it hit the scaffold tower on the way down! Scary! #downhamroad #haggerston pic.twitter.com/fgJOUfFpcu

— Ruth Lester (@mctav81) July 1, 2019
Witness Kapil Gupta said: "I believe the pillar was being mounted on the top of the building and wasn't fully secured yet, and it fell through the scaffolding [onto] the road.
"There was a lady in a Mini who just missed the pillar and was parked on the road for a while looking traumatised."
A spokesperson for Thornsett said: "Thornsett Structures Limited confirm there was an incident this afternoon in which no one was injured. This involved one of our specialist subcontractors.
"The incident has been reported to the Health and Safety Executive and a detailed investigation will be carried out."
A press release from the Benyon Estate written on June 6 reads: "Designed by architects Henley Halebrown, the school has 1,734 square metres of floor space set over two and three storeys, with its own roof garden and multi-use outdoor space.
"The main building is now watertight and contractors are making the final touches to the internal spaces."
Hackney New Primary School, which opened in 2017, is currently operating from temporary buildings at 81 Downham Road.
The Benyon Estate and Hackney Council were approached for comment, but had not responded by time of going to press.
EDIT: This article was updated at 21:47 on 01/07/2019.