Father of blind 10-year-old 'humiliated in Kafkaesque nightmare' over disabled parking bay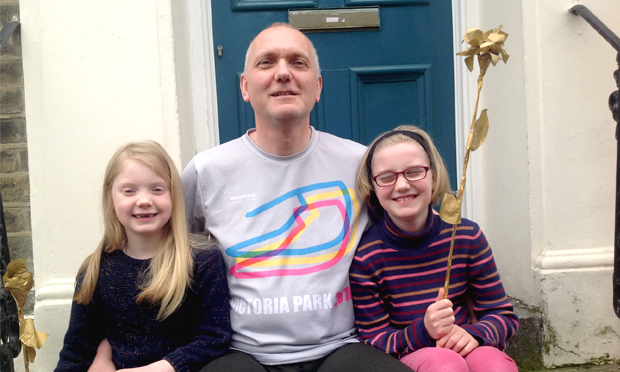 The father of a blind 10-year-old girl has been left feeling "humiliated" by Hackney Council's approach to the removal of a disabled parking bay on his street.
Adrian Peacock has described the "Kafkaesque nightmare" endured by him and his family after they contested the removal of the bay, which they had been using for three years.
The Town Hall initially responded by requesting that Peacock's daughter, Romilly, be pulled out of school to attend a 'walking test' appointment conducted by private company SHA Disability.
When Peacock pointed out that Blue Badge-holder Romilly has no problems walking except needing guidance, the appointment was promptly cancelled, with the Town Hall saying that she would therefore fail the test and there was no point in her attending.
Peacock said: "The effect of this has been quite distressing for us as we get passed as a buck between uncaring officials.
"It still seems to me a great shame that someone is going to come along with a roadburner and remove a resource that could be used by anybody, that we're not asking for explicitly and has been there for years that nobody has complained about. It just seems wilful.
"Hackney is holding up its hands about things like gender pay and discrimination, but they don't seem to be that bothered about treating disabled people well, especially children."
It is understood that the Town Hall originally told Peacock that there is "no set policy" regarding sight-impaired people's access to disabled bays.
Despite weeks of correspondence between the two sides, he only found out that, in the council's words, "sight impairment on its own does not qualify applicants for a parking bay", after the Citizen received it in a response on 27 June.
Peacock added: "Hackney appears to maintain that visual impairment is not a real disability at all, and that we are just using Romilly's condition as an excuse to obtain privileged parking access in a street subject to 'parking pressure'.
"This isn't about austerity or cuts, this is just the bloodymindedness of Hackney Council saying, 'We determine who's disabled.'
"I don't know how this policy is going to play out. If nothing else, the Citizenhas exposed a policy they seem to not want to be explicit about."
In correspondence seen by the Citizen, the Town Hall characterises the Peacocks' request to continue using the bay as being simply due to "the pressure of parking in your street".
The council's own criteria require applicants to demonstrate that the address where the bay is required does not have off-street parking.
Similar policies are operated in other councils, but Hackney's website currently does not make clear to residents that bays are reserved for those with severe mobility impairments, rather than for blind people.
The council does, however, invites applicants to get in touch in exceptional circumstances, after which point a mobility assessment will be booked.
Peacock pointed out that Romilly has been provided with a mobility teacher at school – by the council.
The family say they were also not applying for a new bay, but to continue using one already in existence.
According to the Town Hall, disabled parking bays are for residents who have severe difficulties walking, meaning that not all Blue Badge holders will qualify for a bay, as "the walking impairment threshold is higher than for the Blue Badge criteria".
The Department for Transport announced in 2018 that they would be extending the Blue Badge scheme, which currently helps those with severe walking or sight problems, to those with 'hidden disabilities', but these changes have not yet been put in place.
A Town Hall spokesperson said: "Hackney Council installs disabled bays where a Blue Badge holder's mobility impairment is severe enough to make it very difficult for them to walk even short distances.
"These bays are periodically reviewed in order to check that they are still being used. In this case, we found that the bay was no longer being used by the original applicant and put up an audit poster to allow other motorists that may have begun to use the bay, to submit an application to claim the bay, provided that they meet the disabled bay criteria.
"We were consequently contacted by Mr Peacock, and stopped the removal of the bay to give him time to submit an application form to us on behalf of his daughter, which was received and assessed.
"This decision is in line with the council's disabled bay criteria. An assessment was offered before the mobility team realised the basis of Romilly's badge eligibility. On speaking to the family before the appointment, it became clear that Romilly did not suffer a mobility impairment.
"Hackney Council is fully committed to installing disabled bays where a resident's mobility warrants a bay being installed, regardless of parking pressures on their street."