Peck Peck, Dalston, food review: 'Not just another greasy fast food joint'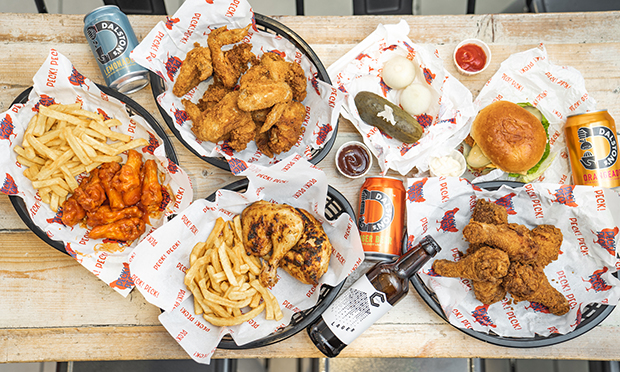 "Once you come here, you can't go back to Nando's or KFC."
Rasa Rassul, the manager of the newly opened Peck Peck on Graham Road is convinced that its chicken is better than the multinationals dotted all over Hackney's high streets.
And after trying it, I think she may be right.
Peck Peck is the latest addition to the successful Sutton & Sons family chain, and the first to serve chicken rather than fish and chips.
As soon as you enter, you can tell that Sutton & Sons are seasoned experts in creating relaxed and simple restaurants which appeal both to Hackney locals and to people from further afield.
They clearly know what they're doing.
The layout is like a classic chicken shop with plenty of seating, big menus on the wall and pop music playing in the background, but white wood tables, white wood panelled walls and a huge Union Jack mural across one wall give it a more rustic, country vibe.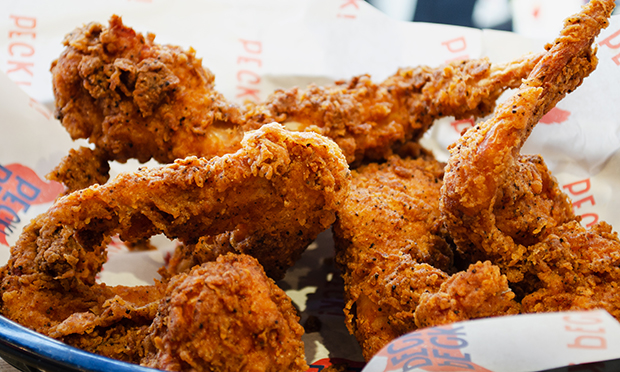 All the chicken served in the restaurant is 100 per cent British, free-range, halal, cooked on-site and made to order, which means every person who walks in is greeted with the delicious smell of fried chicken.
Because of this, we absolutely cannot wait to order and decide to go for a bit of everything.
Although there is one vegan option – a fried seitan burger – Peck Peck doesn't pretend to be for anyone other than dedicated chicken lovers.
We opt for flame-grilled chicken breast with mild seasoning – correctly predicting that we won't be able to handle anything higher up their five point spice scale – deluxe BBQ buffalo wings, "The classic" burger, fried chicken wings and sides of Peri Peri seasoned fries and mac 'n' cheese.
Everything arrives at once, causing us to momentarily regret quite such a wide-ranging order, but every element is delicious.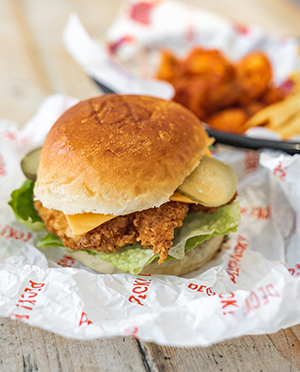 The burger, with fried chicken, lettuce, cheese, pickle, chilli mayo and a bun from Spence bakery up the road in Stoke Newington, is apparently one of the most popular dishes, and it is not difficult to see why.
The fried chicken is succulent and moreish, and the chilli mayo gives it a real kick.
The flame-grilled breast is zesty and full of flavour and it is clear that the chicken is fresh.
The mac 'n' cheese (although it does not look the most appetising) proves to also be bursting with taste and delightfully homemade.
The only slight disappointment is the fries, which were a bit limp, and the only dish that felt like something you'd get in your average chippy.
Despite this, all the food is of a high quality and it doesn't feel like just another greasy fast food restaurant. You could pop in here at the end of a boozy night out or for a relaxed weekday dinner.
A definite highlight is the impossibly crispy fried wings, which are made with a buttermilk marinated American-style crumb and are sensational.
Rasa however begs to differ, admitting that her vice is the BBQ buffalo wings.
She even shows us the stash of apples she keeps under the till to distract her from constantly dipping chips in the sweet homemade BBQ sauce.
It is easy to see how Peck Peck is already gaining such popularity only two months after opening.
There is a real friendly and local feel and Rasa, who has worked for the company for seven years, explains how the loyal customers all know her and have made sure to try this new venture for the company.
Even the drinks are sourced in the borough – the craft beer is from Crate Brewery in Hackney Wick and all soft drinks are from Dalston's Soda Company.
As we leave, Rasa tells us about one customer who (after only trying the chicken once) was so enamoured that the next time she was passing she rang up and asked for a drive-by delivery because she couldn't stop on the busy road.
That might just be the proof we need that after you've tried Peck Peck, you can't go anywhere else.