Biff's Jack Shack, Homerton, food review: 'Junk food to stop you missing meat'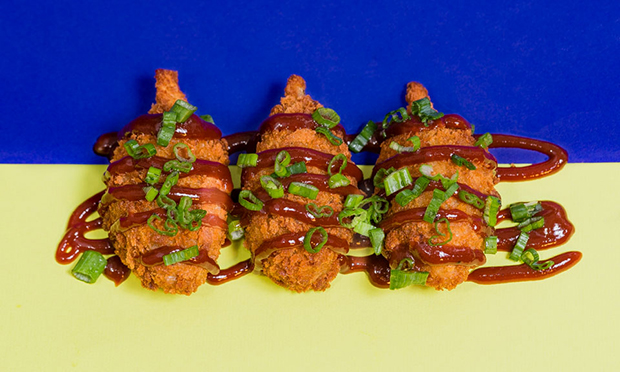 Biff's Jack Shack is a haven for vegan junk food lovers.
The name refers to the joint's use of jackfruit for all meat replacements, from burgers to spicy wings.
In a an old building, along with a supermarket and a cinema, you can find Biff's new permanent home – bringing 'filthy vegan junk food' to the hungry hipsters of Homerton.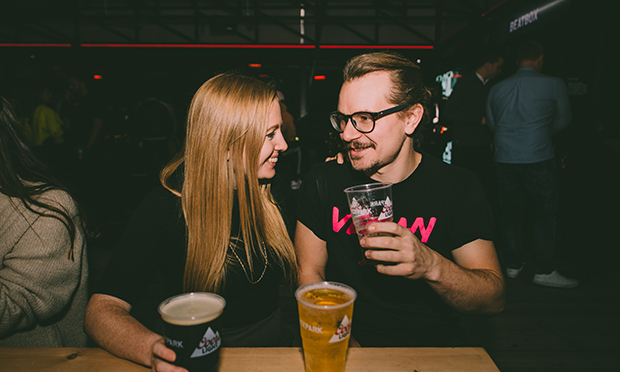 In late 2016, while transitioning to a full vegan diet, co-founder Biff Burrows was struggling to find junk food options that "hit the spot".
So he set about tracking down the perfect meat alternative.
He said: "After finding jackfruit, I was inspired by its texture and worked for three months on a recipe that replicated the fried chicken I loved so much."
Biff added that experimentation and risk make are a key part of the process for coming up with new recipes.
If you are someone who, like me, gets 'hangry' when you go about your weekly grocery shop, the location of Biff's Jack Shack in Hackney offers a perfect, vegan-friendly solution.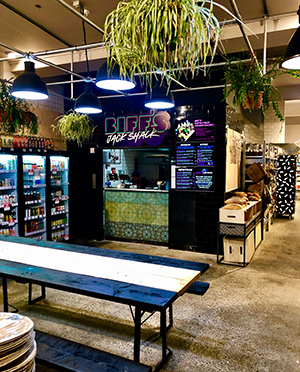 The stand can be found inside one of Homerton's principle vegan and organic supermarkets – Eat17's Spar on Chatsworth Road.
The Shack offers an array of burgers, wings, and fries (including a vegan-friendly poutine!).
Although some choices could be overpowering for those who prefer simple dishes, the ample choice means there is an option for everyone.
The stand-out burger is the Jack Bauer Tower of Power, named after Kiefer Sutherland's morally questionable counter-terrorism agent in hit series 24.
The name makes sense when you dig in to this double-decker with deep fried cheeze, a potato rosti, bacun, vegan aioli and ketchup – along with the crispy jackfruit patty. It definitely packs a punch.
The Big Jack burger also comes with an option of an intriguing "top secret" sauce that Biff's boldly claims will stop you missing real meat burgers.
The 'wingz' are also a great substitute for anyone who misses the bitesize kick of sauce-smothered chicken.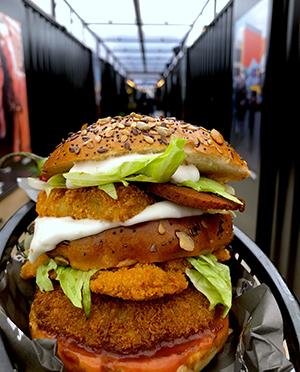 Biff's jackfruit versions, which each contain a sugar cane spear to replace the bone, come with all the varieties of goop you'd want – sticky BBQ, ranch dressing, sweet chilli, and of course, buffalo hot sauce. The latter definitely stops you missing the real thing.
The 'seitan bacun' in the Dirtbag Melt fries is deliciously fused with the 'melty cheeze' for a perfect mixture of carbs and dairy-free cheesiness.
And you can wash everything down with your pick of more than six brands of kombucha or an artisan beer.
Biff's junk food can usually be found in festivals and pop-up events, but the Homerton stall is a permanent addition to the growing range of vegan food offerings in East London.
Biff said: "Streetfood is still our spiritual home, but having a fixed address means we can guarantee to our customers that we will always be somewhere."
He says Eat 17 "promotes healthy and fresh products", with customers able to fill up reuseable containers for pulses, grains, nuts, dried fruit and various types of eco-detergent.
"This attracts a very forward thinking crowd that are either vegan or open to trying vegan food."
With a supermarket on hand, and an independent cinema, the Castle, on the floor above, Biff says he is happy to serve his street food in venue that offers so much.
"The cinema is such a wonderful building, and a perfect place for a drink and a catch-up, and we'll soon be serving the food upstairs in the cinema too. It's the perfect match!"