'History in the making': Hackney artist's Brexit gift 'delightfully received' by Prime Minister Theresa May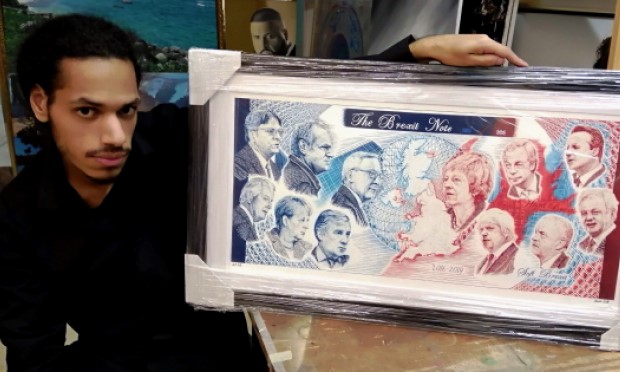 A Homerton artist's double-sided painting of a banknote featuring politicians closely associated with Brexit has been "delightfully received" by outgoing Prime Minister Theresa May.
Kevin Gill, 23, whose 2016 artwork of Barack Obama on a billion-dollar note won praise from the former president himself, started work on a piece exploring the UK's relationship with the European Union last December.
The Brexit Note shows Theresa May, Boris Johnson, Nigel Farage, David Davis, Jeremy Corbyn and David Cameron facing European leaders including Jean-Claude Juncker, Donald Tusk and Angela Merkel.
Splitting them is a map of the UK, divided into red and blue – the colours of the opposing referendum campaigns.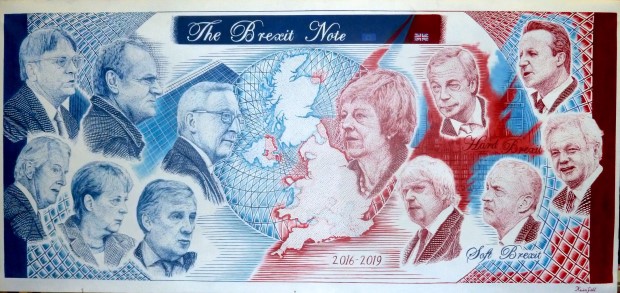 The reverse, a Euro note, focuses on the beginnings of Britain's ties to the EU, with some of the union's founding fathers lining up alongside former prime ministers Winston Churchill and Ted Heath, under whose premiership the UK joined in 1973.
It also details a list of treaties signed by the UK over the past 46 years as part of its commitment to the union.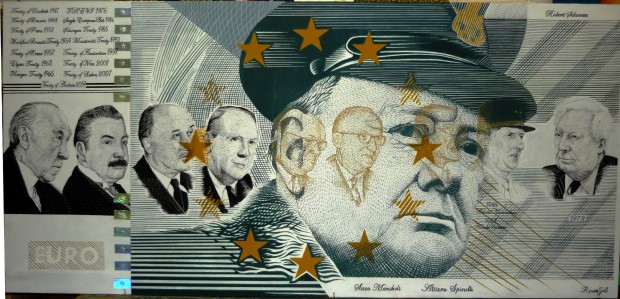 Hackney-born Kevin says the oil-on-canvas is intended as a "historical document" examining the UK's decision to sign up as well as the more recent divisions created by Brexit, rather than coming down on one side of the debate or the other.
He told the Citizen: "Look at where we are today – divides and splits. Look back at history and you can see why everyone came together."
It is this contrast that interests Kevin, who won't be drawn on whether he would like to see the UK remain or leave.
He is more concerned with the "time that has been wasted" on Brexit, symbolised by the image of Big Ben on The Brexit Note behind the British politicians.
After many "early mornings and late nights", Kevin finished the painting in February, in time for the UK's first planned departure date of 29 March.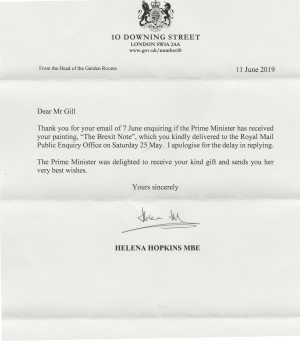 A couple of weeks prior, he sent a letter to Downing Street asking if the prime minister would accept a limited edition print of The Brexit Note as a gift, writing: "As Brexit determines the future of the UK and the European Union, I felt that it is significant to capture history in the making."
He was hoping to deliver the artwork in person, but was told last month, after going around the houses with Downing Street's myriad departments, that he should instead take it to the Westminster Post Office, which he did – just 24 hours before Theresa May announced her resignation.
Despite the tumultuous aftermath, and Downing Street busy with the visit of Donald Trump, Kevin received a letter on 11 June from the head of Number 10's garden rooms, Helena Hopkins MBE.
After apologising for the delay in responding, she wrote: "The Prime Minister was delighted to receive your gift and sends you her very best wishes."
Kevin hopes the original artwork will one day end up in a museum – a cultural artifact that documents, in a unique way, some of the most politically turbulent times in Britain's history.
He is in touch with the Brexit Party and Jeremy Corbyn's office to see if they will accept a print, and he wants to get a couple to Boris Johnson and Nigel Farage too.
For his next piece, he has his sights set on Donald Trump, while also working on paintings examining mental health and male suicide.
He paid tribute to his mentor and fellow Hackney artist Stik, who he says has been a "massive help" in advising him on which path to take with his work.
Stik, who was put in touch with Kevin a few years ago by local MP Meg Hillier, told the Citizen: "When I was starting out, singer Sheila Chandra gave me a lot of guidance, and it proved invaluable.
"What Kevin's doing is historically important, and all I've encouraged him to do is take himself seriously and treat his work with the respect it deserves, and he is taking me at my word. I'm very excited for him."
He added: "Although we're very different artists – I engage socially and he engages politically – we both engage all the same.
"Kevin's doing it in a way I could never do, and it's very powerful. He's a young person reflecting what he sees happening in the world, and he's doing it with dynamism and thoughtfulness.
"I'm honoured to know him."
For more of Kevin's work, or if you're interested in buying a print yourself, head to kevingillart.com