A Thousand Splendid Suns, Hackney Empire: 'Woes, fears and aspirations of Afghan women'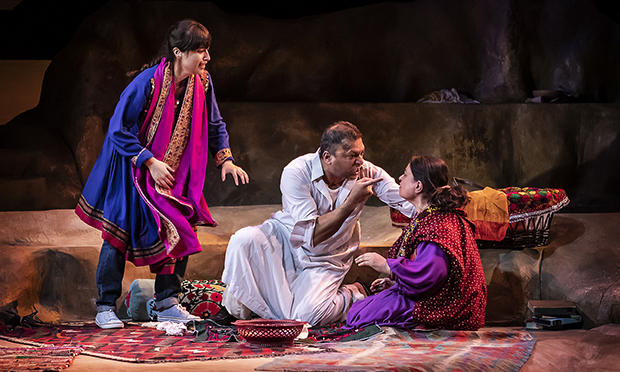 The adaptation of A Thousand Splendid Suns for a four-night run at the Hackney Empire is a beautiful translation of Khaled Hosseini's heart-wrenching words.
Hosseini's tales, of a war-torn Afghanistan, fill the stage with heartbreaking plot twists and a clear picture of a morbid reality far away from Hackney.
The play, based on the best-selling novel, tells the story of the unlikely friendship of two Afghan women, Mariam and Laila.
Mariam (played by Amina Zia) and Laila (Sujaya Dasgupta), soon become the stars of the show, portraying a friendship evolving through their violent husband, their rights taken from them, and the decay of the world around them as Afghanistan nears collapse.
Through the show, the character of Laila grows and evolves as she goes through losing her parents, marrying short-tempered Rasheed, and multiple child-births.
Sujaya Dasgupta portrays this evolution in a subtle but complex manner, growing more powerful with her character's age.
The story, which spanned different generations, as well as switching from past to present, must have been a complex endeavour to adapt for the stage.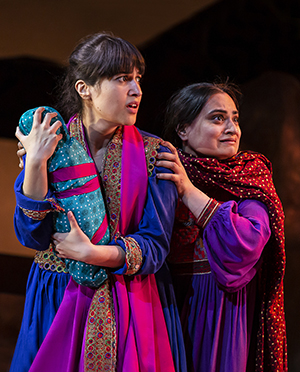 However, with a simple stage design which allowed for easy transformation, Roxana Silbert's direction transports the audience to Afghan's multiple landscapes.
Most of us will know Hosseini for writing The Kite Runner, his first bestseller, but A Thousand Splendid Suns comes at an auspicious time, as the play focuses on how women are affected through political changes and violent conflicts.
Playwright Ursula Rani Sarma, who adapted the novel for the US stage before bringing it to Europe, said: "I want the audience to leave with a sense of humanity, that despite the harsh reality that war has brought to places like this, there is a human spirit to survive and endure and there is a spirit of hope."
In the programme notes for the play, Khaled Hosseini explains that he wanted A Thousand Splendid Suns to have "a real-world aspect", saying: "What happened in Afghanistan is a war which is ongoing. And women suffered disproportionately – they suffered at every turn and they suffered deeper than men did in many ways.
"But also this is a story about family, sisterhood, love, friendship, overcoming the hardships of life – and these are not Afghan things, they are very universal experiences and wherever you come from you recognise them as human experiences."
Sarma skillfully adapts Hosseini's novel to translate all of the woes, fears, and aspirations of Afghan women.
She added: "It's about stripping away and not trying to get everything in – and that can be very nerve-wracking when you know how many millions of people all around the world talk about this book with such affection."
Hosseini hopes his books will give an insight into an Afghanistan that exists beyond Osama bin Laden and poppy production.
Some of the dialogue is spoken in Pashto – the official language of Afghanistan – which provides authenticity to the exchanges between characters.
The music and costumes anchor the actors to the set, in a whimsical use of colour and sound to transport the audiences to the streets of Kabul.
The script and the actors translate the pain of Hosseini's characters in a play which echoes the universal values of love, sisterhood, and resilience.
A Thousand Splendid Suns ran from 22-25 May at the Hackney Empire.