Feminists Don't Wear Pink, EartH, live podcast: 'There's no right or wrong way'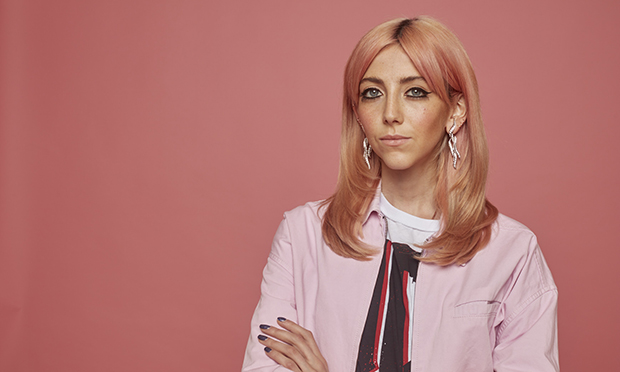 Coming out of Dalston Kingsland station, I don't need the map on my phone to work out the way to the venue.
Throngs of young women, some clutching copies of a bright pink hard-back book, many wearing pink, and all looking excited, fill the street.
These are all tell-tale signs that tell me that they are heading towards EartH for the Feminists Don't Wear Pink live podcast recording.
Since the publication of Feminists Don't Wear Pink (And Other Lies) in 2018, journalist and activist Scarlett Curtis has garnered a huge following for her campaigning against issues such as period poverty and FGM, and her penchant for all things pink.
Her hair, for example, is luminescent fuchsia.
The book, curated by Scarlett, is a collection of essays from 52 women about what feminism means to them.
Contributors include actors Saoirse Ronan and Jameela Jamil, comedian Lolly Adefope and writer Dolly Alderton.
For the tour – a four-stop journey across the UK – Scarlett has continued this conversation around the F-word, inviting special guests to take part in live discussions, recorded for her podcast of the same name.
For this final night, Scarlett interviewed TV and radio personality and Strictly Come Dancing judge Claudia Winkleman.
As Scarlett takes to the stage to introduce the show, she asks the crowd: "Who here would call themselves a feminist?"
There is a huge roar from the audience in response, signalling the affirmative.
"We're here to smash some of the lies that we've all been told," Scarlett says, prompting another passionate cheer.
It is this enthusiasm which carries the entire show.
Being in a packed theatre surrounded by women (and some men) eager and genuinely excited to discuss, debate and pick apart feminism in all its forms, I feel encouraged. The passion is infectious.
Before we even get to the main event, the show starts on a high with some brilliant stand-up from comedian (and contributor to the book) Grace Campbell.
This was a frank, audacious and hilarious exploration of being a young feminist and what it's like competing with Tony Blair for your father's attention (her dad is former spin doctor Alastair Campbell).
A particular highlight is a story about a brief and doomed rendezvous with Jeremy Corbyn's son.
For the main conversation, Scarlett and Claudia sit on comfy-looking chairs in front of a background of warm pink lights.
Between anecdotes about Claudia's husband and children, the women cover topics ranging from motherhood and childcare, bringing up a teenage daughter and women in the workplace to fashion and the benefits and pitfalls of social media, with Claudia crediting her mother for her introduction and lifelong commitment to feminism.
They move deftly between speaking about makeup fails and fake tan to the need for the representation of a wider range of voices in contemporary feminism, proving exactly what Feminists Don't Wear Pink set out to demonstrate – that there's no right or wrong way to be a feminist.
At 23, Scarlett has a remarkable confidence and awareness of the subject, whilst still managing to retain the lightness and relatability that has made her so popular among young women.
Claudia is open, honest and wickedly funny. Theirs is a club that feels welcoming and you can't help but want to be a part of.
At the end, members of the audience were invited to ask any questions.
One in particular stands out – from a 16-year-old girl in the middle of her GCSEs wanting advice about how to deal with boys at school making fun of her for calling herself a feminist.
This was the perfect proof of how much discussions like this are still very much needed, and the value and impact they can have, however small.
I left feeling uplifted and aware of the long way to go, but confident in the capable hands of the women on stage in front of me.