Proposals for free school's temporary blocks slammed as 'flawed' by Hackney Society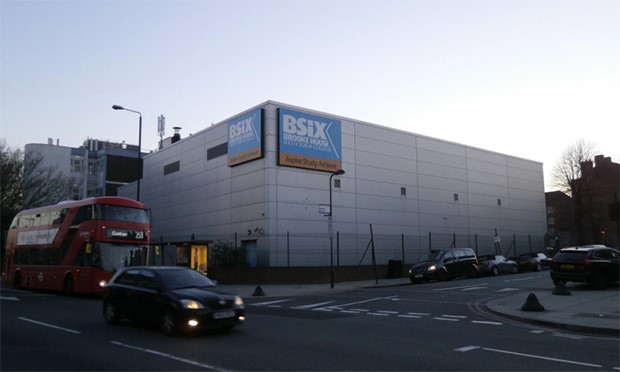 Councillors are being warned by heritage organisation The Hackney Society that plans to house a free school's students in temporary blocks in Hackney Downs are "flawed in many ways".
The three-storey block for pupils at The Olive School is to be built on land formerly owned by BSix Sixth Form College, a sale the college had reportedly been "browbeaten" into last year by the Department for Education (DfE).
Olive pupils are set to use the site while they wait for their permanent home, a former police station on Lower Clapton Road, to be made ready.
The proposals are designed to honour a planning condition which will see the school move into its new digs in staggered bursts, with full capacity planned for 2025.
The Hackney Society said: "This proposal is flawed in many ways. The design is perfunctory as befits such a low cost, utilitarian approach and results in poor quality teaching accommodation.
"The proposed temporary period is far too long for such a design and some pupils' entire junior school experience will be of these poor quality buildings not befitting a modern education.
"The need for this school hangs on a faulty premise – that the Olive School must build up its pupil numbers in advance of occupying the permanent site in the former police station. That is not the correct approach.
"The conditions imposed at the permanent site by the Planning Inspector demonstrate that the intensive school use is unproven and in no way suggests that a full complement of pupils be amassed ready to facilitate the phasing. Rather, the entire school estate must increase its intake gradually each year.
"If, as is suggested, the permanent site struggles with accommodating increasing numbers, there will be strong pressure for these prefabs to become permanent or for occupation to be extended for a further period which would be wholly unacceptable."
Hackney Council officers have said that the modular blocks, which will house up to 360 students for a period of six years, are considered "an acceptable standard of educational accommodation" given their temporary and constrained nature.
The old police station was bought by the DfE for £7.6m after London Mayor Boris Johnson closed it as part of cost-cutting measures in 2013, and given to the Olive School a year later.
The phased move into the premises was put in place as a result of concerns about the impact of traffic at the entrance of the school, which will eventually house 630 students.
Permission to remain at one of the free school's current temporary homes on Cazenove Road is nearing expiry, and its other site at Hackney University Technical College is described as "logistically problematic".
The Olive School have been approached for comment.