The Citizen Gardener: 'Much maligned ivy is great for nature'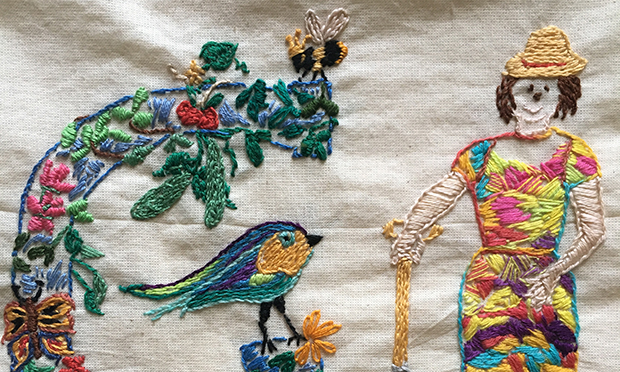 Community Garden Banner
A year ago a group of gardeners got together to try to get community growing spaces higher up the political agenda and created a Gardens Manifesto.
We did this because we could see that pressure on land made the less profitable economically (but rich socially and environmentally) scraps of land vulnerable to development.
There is always going to be a tension between the urgent need for housing and green spaces.
Hackney's population is expected to keep growing for the next 30 years, putting even more pressure on space for building – but community gardens provide shared space at a time of shrinking private space and deliver many benefits to individuals, the community and the environment so we think they need better protection.
As part of this campaign to highlight the importance of gardens we are making a banner to celebrate the plants and people who populate these community spaces – the people who keep them going and the people who find peace and wellbeing in them.
We also want to reflect the plants, birds and other wildlife that live in these spaces.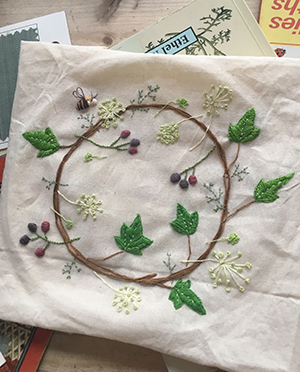 These photos show work from former gardeners at Cordwainers who wanted to tell the story of the garden and what it meant to them.
If you'd like to contribute to the banner, we'll be taking it round a number of public events over the summer.
The first is the Well St Common Festival (9 June), Beck Road street party (from 3pm on 23 June) and The Makers' Fete at Almorah Road Community Centre on 3 August.
You can also come along to our weekly embroidery classes on Monday evenings to learn new stitches and exchange ideas.
We'd like to reflect the different experiences, traditions, skills, heritages – and plants – of Hackney so would love to get lots of different groups involved. More Manifesto events coming up.
If you'd like to take part, email hello@cordwainersgrow.org.uk
'Inspirational' school crowdfunder
More and more research shows that access to green space is good for our mental and physical health. Only today I took myself off to a small wooded area of Haggerston Park to calm my anxious brain.
When young people are connected to nature, it has positive impacts on their education, mood, heath, and personal and social skills, and even helps them to become responsible citizens.
Many children, though, don't have gardens or access to safe green space, so Daubeney School in Homerton is renovating some outdoor space to make it greener and more attractive to children and teachers.
They have started crowdfunding to create an inspiring outdoor classroom – to create a natural space for sanctuary, creativity and exploration.
You can find it at bit.ly/2wBxNq4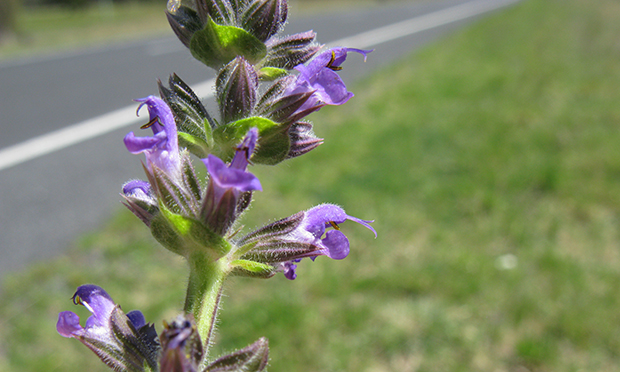 Plants and pollution
I've been reading some research into how plants can help combat the effects of pollution.
The Museum of London has partnered with the Citizen Sense research group to produce a useful toolkit for growing your own air quality garden: bit.ly/2WmSHZ7.
One of my favourite (and much maligned) plants is ivy. It's great for nature, providing habitat and food for birds and insects and it can also make a very effective barrier to pollution.
An ivy screen was shown to have contributed significantly to the reduction of pollution levels near a playground, with nitrogen dioxide lowered by between 24 to 36 per cent, and particulate matter down by between 38 to 41 per cent in the immediate proximity of the screen. (And no, it doesn't pull walls down – unless they are coming down anyway).
So plants can provide barriers to pollution but they also have other attributes.
Salvia's hairy leaves, for example, can trap particulates and absorb heavy metals such as zinc so that we don't have to breathe them.
So with residents and children in the Homerton High Street area, we are planning to help one garden bordering the main road offer better protection against air pollution.
I'll be running free after-school sessions on 11 and 25 June and 9 July focusing on the power of plants to protect us from pollution.
You find out more at cordwainersgrow.org.uk/workshops, or just come along at 3pm on any of those dates.
If anyone would like to help with some ground preparation and/or finding compost for the site, do get in touch.
Kate Poland is an award-winning community gardener. She was chosen to be the UK's first ever postcode gardener in E5 as part of Friends of the Earth's 10xGreener project.
For more information, head to cordwainersgrow.org.uk and friendsoftheearth.uk
Photos and captions courtesy of Kate Poland unless stated otherwise.