Judicial review of Hackney's controversial licensing policy 'struck out'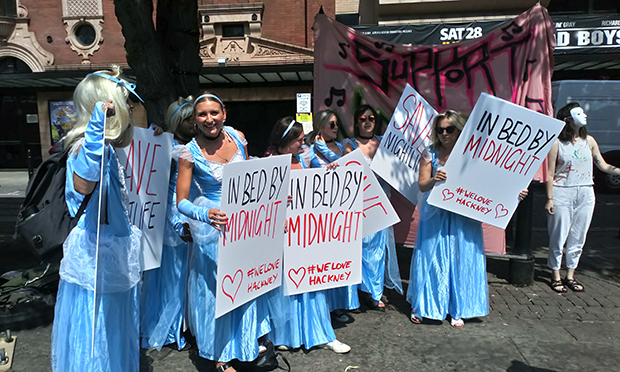 A judicial review brought by campaign group We Love Hackney (WLH) against the council's controversial licensing restrictions has been 'struck out', according to Town Hall legal officers.
The group had gone to court with objections to the extension of special policy areas in Dalston and Shoreditch which strive to limit opening hours for new venues to reduce the 'cumulative impact' of late night drinking on residents, which WLH are arguing impose "unworkable and unreasonable restraints on late-night operators".
The group had further argued that the imposition of licensing restrictions was prejudicial to the borough's LGBTQ+ community, pointing out that the bars and clubs of Hackney are 'important cultural spaces,' and that the Town Hall was failing in its public sector equality duty (PSED) as a result.
Mrs Justice Farbey said in her judgement: "[WLH] submitted orally and in writing that the claim raises important questions of law relating to the application of the PSED to licensing law, [and that] he questions have general and indeed national consequences. I reject that submission.
"[WLH] submitted that investors, workers and users of Hackney venues would be affected, as would persons with protected characteristics and anyone seeking a licence to serve or sell alcohol in the future.
"[WLH] no doubt described a large number of people. However, the group or groups to which [they refer] are amorphous and somewhat protean.
"It is possible that, if relief were granted, some more people would be able to socialise by the consumption of alcohol late at night and some further operators would contribute to the night-time economy.
"I am not persuaded on the evidence before me that any section of the community – whether residing, investing, working or socialising in Hackney – speaks with a uniform voice about the effects of the [licensing policy]."
We Love Hackney had applied for an order capping the amount of the council's legal fees for they could be liable if they lost, which was rejected by Mrs Justice Farbey, who said she had "sympathy for [the council's] submission that this is an industry-driven campaign with the resources to resurrect some form of challenge against the defendant if the present case does not proceed."
WLH have said that they were left "with no choice" but to vacate the hearing in June, which otherwise would have had them facing legal costs in the hundreds of thousands of pounds.
Evidence presented to the judgement by Hackney Council included a list of    WLH's directors, who include director of Street Feast Jonathan Downey,  television presenter and chef Griselda Erskine.
According to the judgment, Dan Beaumont, owner of Voodoo Ray's and Dalston Superstore, appears to have been one of those who formed the group, with Henry Dimbleby, co-founder of Leon Restaurants, also a supporter.
The group, established in 2015, has 4,341 registered supporters who indicate their support via social media. According to Downey, the company will "ultimately" be owned by Hackney residents.
Matt Sanders, director of property, campaigns and communities for Downey's company London Union and spokesperson for WLH, has said that 10 people so far have shares in the company, and has accused the council of using "financial muscle" to silence the group.
Sanders said: "We are enormously grateful to every single local resident and business who put their hand in their pockets to fund our case. Sadly, our pockets are nowhere near as deep as the council's, and without a cost capping order to limit costs on both sides, it is impossible to go ahead.
"The clamp down on nightlife was opposed by the overwhelming majority of residents, and is already having a damaging impact on our borough's culture and economy. A judge agreed that impact on minority groups should be scrutinised by the courts – but because of Hackney's aggressive actions that will no longer happen.
"We may have been bullied out of the courts, but we won't be bullied out of the debate. We want to show our council that the majority of local residents in Hackney support and use local nightlife and don't want to see it die. We will continue to make this case strongly."
WLH had applied for a cost-capping order (CCO) limiting its exposure to the council's legal costs as a result of the 'impecuniosity' of the company set up to fight the review, which was worth £10 at time of fighting the case.
Grounds for a judicial review were accepted by Mr Justice Lavender in 2018, though he had refused a previous application for the cost-capping order (CCO) in 2018.
Lavender refused the CCO on the basis that "the proceedings are not public interest proceedings. He considered that, even if they were, this would not be an appropriate case for a CCO because the claimant was formed by, among others, wealthy individuals who have a commercial interest in the litigation."
Farbey added in her judgement: "A number of well-resourced individuals have chosen to litigate the claim via an impecunious company which has taken possession of funds donated by members of the public.
"Given their individual and cumulative financial resources, I infer that the directors and other backers do not want to fund the litigation beyond the level of third party support, rather than that they are incapable of doing so.
"I do not accept on the evidence before me that the claimant would be forced to withdraw the claim through impecuniosity."
Butta Singh, Hackney's senior solicitor for licensing and corporate, has said that it will be a "challenge" to recover costs from WLH now that the review has been thrown out, as the company set up by the campaign group to pursue the claim is "worthless".
The group has met its initial crowdfunding target of £20,000 through individual donations by members of the public, and is currently pursuing a 'stretch target' of £53,000.
Singh said: "WLH's judicial review was struck out because they did not pay the monies which were ordered by the court with regard to a security of costs application that the council made to the High Court with regard to the judicial review.
"We wanted to protect our costs in the event that they were unsuccessful with their judicial review and the court sided with us on that. There was some crowdfunding in relation to this, but not enough to cover the council's costs that would have been incurred.
"So, essentially as they did not pay the money they needed to pay within 21 days, their judicial review was struck out. That doesn't preclude the council from continuously reviewing the policy."
Cllr Caroline Selman (Lab, Woodberry Down), cabinet member for community safety, policy and the voluntary sector, added: "The judge was very clear that [WLH] did have the means, and they chose to bring that review. One of the assertions they made was being denied access to justice, but the judge was very clear that they could have brought it themselves if they wanted to.
"We have always said that our aim is to balance the needs of our exciting, vibrant nightlife with the needs of residents, who are entitled to a good night's sleep. The policy was introduced after an extensive development process, during which we did a huge amount of listening, research and evidence gathering, and it is shaped by the views of visitors, licensees and local residents.
"We want to work with responsible licensees, who make a valuable contribution to the borough. The policy simply puts the onus on new applicants to demonstrate that they understand the pressures in each area and that by opening later their businesses will not have a negative impact to the relevant area. We are supporting them to demonstrate this and will continue to monitor the impact of the policy. Between August 2018 and April 2019, 23 licenses were approved within the SPA boundaries outside of the core hours, with another 38 elsewhere in the borough."
EDIT – This article was amended at 12:44 on 5 June 2019 to include comment from Cllr Caroline Selman.
EDIT – This article was amended at 15:12 on 11 June 2019. The original copy gave the incorrect impression that Dan Beaumont is one of We Love Hackney's directors.  The judgment cites him as appearing to be "one of those who formed We Love Hackney".