SEND protesters demand action as funding crisis 'spills into the open'
Hackney parents, accompanied by the borough's leading councillors, marched on Downing Street yesterday in protest against the levels of funding for children with special education needs and disabilities (SEND).
Hackney Special Education Crisis demonstrators were part of co-ordinated action across the country demanding their children receive full funding, as local authorities stare down a high-needs SEND gap of £1.6bn over the next two years, according to ISOS partnership figures.
Holding signs reading 'Fund Our Future' and 'End the SEND Crisis', parents used the rally to voice their outrage at the experiences of families and children with SEND as a result of funding arrangements instituted by the government in 2014.
Mother and campaigner Lisa Kelleher said: "I was marching yesterday with my four daughters (two have autism spectrum disorder) to protest against central governments inadequate levels of SEND funding. This is impacting a lot of children in Hackney.
"Schools are not receiving enough money to provide the proper support that a child with SEND needs and this means that a lot of children receive nothing. Parents have to fight for funding for their children, often having to go to tribunal.
"When you deny a child with special needs adequate funding, the effects are felt not only for that child, but also the rest of the class. Importantly, this funding is not ring-fenced specifically for the child, and this was an important part of yesterday's march."
The Hackney mum added that she was forced to fight for her daughter's right to an education, health and care plan (EHCP) through a tribunal, which secured her vital speech therapy support in school.
Kelleher said: "I understand how hard it is to fight for your child's right to education and go to tribunal, particularly when life already has its share of challenges when having a child with a disability."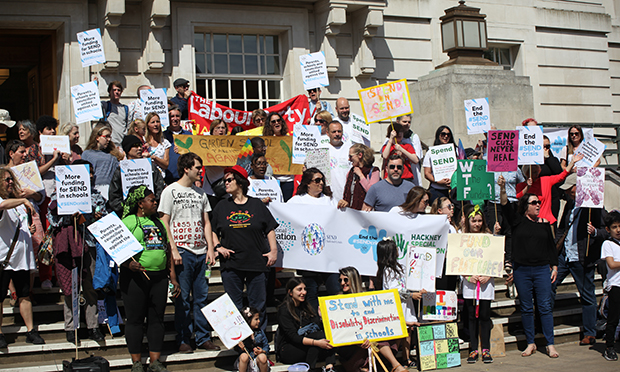 The Children and Families Act came into force in 2014, extending the special educational needs system to young people up to the age of 25 and introducing EHC plans, a council-assessed legal document entitling a young person to extra help so they can access education or training.
However, campaigners and councillors point out that funding has not risen concurrently with the age range for an EHCP being extended, forcing already cash-strapped local authorities to dip into their reserves and grants to find the funding for children with SEND.
According to Ofsted figures at May 2019, half of all local area SEND services have failed their Ofsted / Care Quality Commission inspection, with parental appeals to the special educational needs and disability tribunal increasing by 80 per cent since reforms to SEND funding were instituted.
@mayorofhackney @AnntoinetteBra1 @chrismylesk @Margaretgord – thank you for supporting our families today on both the #Hackney & Central London #SENDNationalCrisis rallies & marches today #OurKidsMatter pic.twitter.com/umnP18wc8T

— Hackney Special Education Crisis (@SENDcrisisHack) May 30, 2019
Cllr Chris Kennedy (Lab, Hackney Wick), cabinet member for families, early years and play, who joined the march, said: "Over the last few years, councils across the country have reached breaking point, and the pressures being felt by schools, local authorities and parents of some of our most vulnerable children and young adults are spilling into the open.
"Like a number of councils, Hackney was recently the subject of a judicial review into the way we fund EHCPs. It is shameful that government under-funding pitches hard-pressed parent-carers against local councils that are doing their best to provide support for some of their most vulnerable young people.
"It cannot be right that councils are being dragged to the verge of bankruptcy, and it cannot be right that parents and carers are being forced to take action against their local council out of sheer exasperation and desperation.
"We need properly funded provision, with Government funding linked to the number of EHCPs for which a local authority is responsible. It's not rocket science – it's a fair and sensible approach to funding."
Kennedy went on to accuse the government of "practically freezing" funding for pupils with EHCPs, with Hackney spending £52m in 2018/19 on high needs funding whilst only receiving £42.5m from central government.
According to the families cabinet member, Hackney's overspend is set to increase by about £1.7m each year, as the council struggles to fund the currently 1900 children and young people with an EHCP.
Poppy Rose, co-founder of SEND National Crisis, said: "It is an intolerable situation that means access to rights, equality, inclusion and the prospect of a bright future are being wrongfully denied to many thousands of disabled children. This is not just a national crisis; it is a national scandal."
Department for Education data shows an 11 per cent rise of children and young people on EHCPs since 2018.
Children and Families Minister Nadhim Zahawi said: "These statistics are concerning. EHCPs were introduced to provide personalised and tailored support for those children with more complex needs, but the 10 per cent increase in plans last year is a clear challenge for the SEN and disability system. We will use this data to follow up with local authorities who are not performing well to support and challenge them to improve.
"My ambition for children with additional needs is that they have the same opportunities to succeed in life as any other child and I am pleased to see that children with new plans are securing more placements in mainstream schools, reinforcing our belief that every school should be a school for a child with SEND, and that all schools should be inclusive.
"Whilst we have increased the total amount allocated to high needs funding to £6.3 billion this year, we recognise the pressures in the system and we are working with the sector ahead of the spending review to find a long term, sustainable solution for high needs funding."