Hackney Brewery to bring back Unicorn Rodeo charity beer for Pride 2019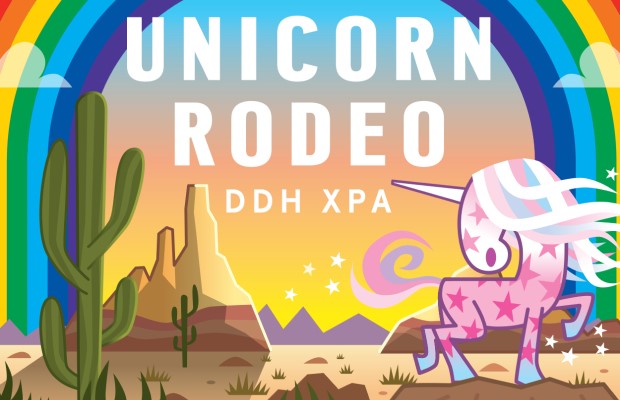 Hackney Brewery has announced it will re-release its popular Unicorn Rodeo beer in support of an LGBT+ charity for the 2019 Pride celebrations.
The four per cent pale ale, with striking artwork featuring a rainbow overlooking a unicorn in a desert, went down a treat when it was brewed for the festival last year.
This time out, the brewery has partnered with Switchboard, a helpline and messaging service for LGBT+ people which is marking its 45-year anniversary.

A portion of proceeds from sales of Unicorn Rodeo will boost the charity's coffers.
Pride in London was the beneficiary of the brewery's 2018 limited edition.
The beer is "double dry-hopped", which means hops are added during fermentation to instill punchier aromas, without any bitterness.
Simcoe, Mosiac and Citra hops are used to produce a beer that is "extra pale", and according to the brewery, a "perfect summer thirst-quencher".

The label was designed by Welsh artist Pete Fowler, best known for his work with Cardiff rockers Super Furry Animals.

Hackney Brewery co-founder Jon Swain said: "Last year, we released Unicorn Rodeo around Pride and were taken aback with the positive feedback and reception we received for both the beer and the partnership with Pride in London.
"This year we are re-releasing it and with LGBT+ charity Switchboard. Unicorn Rodeo is a fantastically drinkable beer and the cause is equally as fantastic."

Switchboard co-chair Natasha Walker added: "We're delighted that Hackney Brewery has chosen Switchboard – the LGBT+ Helpline to benefit from the sales of their beer Unicorn Rodeo.
"This partnership will not only help raise funds for Switchboard but also help raise awareness of the vital support that we provide 365 days a year – calm words when needed most."
Pride festivities kick off on 8 June, culminating in the parade through London on 6 July.
Unicorn Rodeo will be available on keg and in 440ml cans from the beginning of June.
It will also be for sale online through Hoppily or HonestBrew.
For more information about Switchboard and the work it does, head to switchboard.lgbt
To find out what's happening in the capital for this year's Pride, visit prideinlondon.org