Three 'inspiring' women celebrated at Mayor's Civic Awards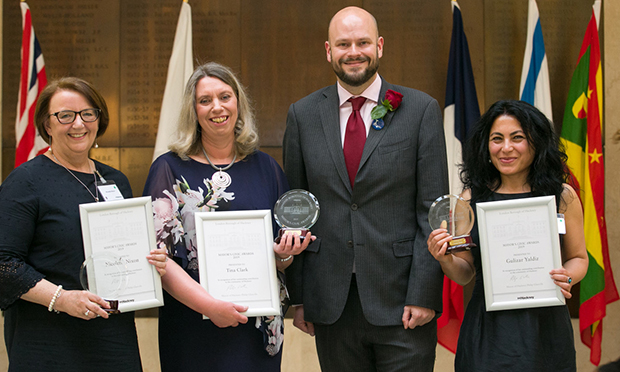 Three "incredible" community stalwarts were announced as the winners of the Mayor's Civic Awards 2019 this week.
Youth club founder and residents' group chair Nicolette Nixon, Pembury Estate lynchpin Tina Clark and Gulizar Yaldiz, a volunteer who supports the local Kurdish and Turkish communities, were recognised for their work.
All three women were presented with accolades by Mayor Philip Glanville at a ceremony at the Town Hall on 22 May.
The Civic Awards, now in their fourth year, are designed to shine a light on the borough's unsung heroes, the people who make Hackney a better place to live, work or study.
The council received more than 30 nominations this year, with the eventual winners facing down some stiff competition.

Nicolette Nixon is the chair of her local Tenants and Residents Association (TRA) and founder of the Gascoyne and Morningside youth club.
She first became active in the community when she joined the TRA in 1995, galvanised seeing her neighbourhood described as an 'estate of underachievers', which she didn't recognise at all.
She has since worked to ensure all residents on her estate have access to services and facilities that benefit them, and are not left behind by unfair assumptions.
Nixon helped set up a youth club and community centre in 1999 which still welcomes around 35 people every day after school.
She said: "When I was growing up on the estate there was nowhere for us to go and nothing to do, and when I grew up and saw young people still hanging around getting shouted at for playing, I knew something had to be done.
"I saw a disused hall and set about opening the youth club. I walked up to young people to ask them if they would come and what they would like to see there – they came along and it's still going strong 20 years on."
Nixon hopes her win will encourage more people to get involved in community life, adding: "There is no point complaining if you don't like something, you have got to put the time in, get out there and do something about it.
"Communities know best what is right for them, and when they come together and be proactive great change can happen."

Tina Clark is a facilities assistant on the Pembury Estate who goes above and beyond her day job to care for local people.
She can often be found chatting to residents who are feeling down, or offering advice to homeless people to make sure they are getting the help they need.
She also checks that older people in the community have food and heating during winter, and that any repairs in their homes have been carried out correctly.
One poignant moment saw her help paramedics deliver CPR to a resident who had collapsed on the estate.
The person made it to hospital, where they sadly passed away, but, thanks to Clark's efforts, not before their family was able to travel from abroad to say goodbye.
Clark said: "I think it's important to show compassion and not just walk on by.
"Even if it's just to stop for a chat or say hello, you should ask people if they are alright and see if you can help in some way, even if it's just to listen to people.
"Sharing a connection is always something nice you can do for other people."

Gulizar Yaldiz has volunteered to support Hackney's Kurds and Turks for the past 11 years.
Well known to locals, she is always on hand for a quick chat about any problems, or to point them in the right direction if they need access to services.
Recently, Yaldiz worked with women suffering from mental health issues and isolation to set up a cookery class, which has helped them get together, have fun and talk while enjoying a bite to eat.
She also set up a lunch club for older people and works with families to connect them to school services.
She said: "Volunteering is a great opportunity to understand yourself and the community around you.
"You can see the problems people are having and see how you can help them overcome these."

Mayor Glanville said: "It's great to be celebrating Hackney's community spirit and giving thanks to these three incredible women who are all active in standing up for their communities, taking action to help some of the most marginalised of our fellow citizens.
"The winners of the Civic Awards this year are so inspiring, and I hope their stories motivate even more people to become active citizens, campaigners and volunteers."