Stokey Vintage Café 'close to ruin' after roof collapse footage went viral – despite council since declaring it safe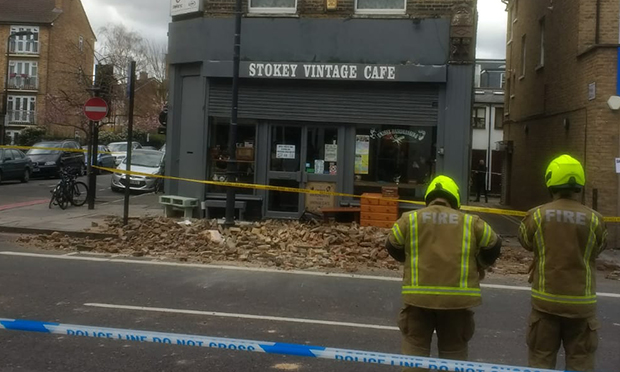 The manager of Stokey Vintage Café has made an emotional appeal for customers to return after footage of the building's roof collapsing went viral in March – leaving her business on the brink of closure.
Demet Sahin says people are still reluctant to walk on the pavement outside 101 Stoke Newington High Street, where the café rents out the ground floor, let alone come inside.
CCTV footage of a man narrowly escaping the falling bricks during gale force winds earlier this year garnered widespread media coverage.
Building control inspectors visited in the aftermath of the incident, and a council spokesperson this week told the Citizen it was "satisfied that the properties were not considered to be a danger to the public and appropriate repairs were in hand".
The exact cause of the collapse has not been revealed.
Sahin, whose brother also avoided the bricks by a couple of seconds after returning from outside, says she understands why people are scared.
She admits that she and her staff were a bit "creeped out" when they reopened the café, but insists the building is now safe.
She said: "Everything was going so well. Me and my dad always had the idea for a vintage shop and a café, and we opened up in February – my first time running my own business.
"We picked Stoke Newington because there's a great vintage culture there, and we were making £500 to £600 a day.
"Since the collapse, we are getting £30 to £50 a day, and although the landlord is helping us with the rent, we won't be able to keep up with bills for much longer.
"We had no bad feedback about the shop, the food or the service, but since this nightmare incident, I've been losing sleep. It has completely killed us."
Sahin was out when the roof fell, but her father and two staff members were inside, along with her brother.
The man caught on camera walking past the café as the bricks came down behind him later returned to let staff know he was fine.
Sahin says the man wasn't local to the area and didn't want any media attention.
A Hackney Council spokesperson said: "In Stoke Newington the council's building control team attended the building in immediate response to the masonry collapse to ensure there was no risk of further collapse, and to make sure measures were being put in place to secure public safety.
"The council was subsequently satisfied that the properties were not considered to be a danger to the public and appropriate repairs were in hand."
They added: "Responsibility for maintaining private buildings rests with the building owners. The council does not have a role or responsibility in maintaining private buildings.
"The council's building control team do step in under very specific dangerous structure legislation, but this is only triggered when there are immediate public safety concerns about a particular building, and is in direct response to reports to the council about potentially dangerous structures.

"Upon receiving any reports, the council will carry out inspections of potentially dangerous structures and will take any necessary actions in relation to these reports.

"This service is provided 24 hours per day and 365 days per year. However the council is not able to carry out general surveys across the borough."