School Streets: Town Hall launches blueprint so others can replicate clean air scheme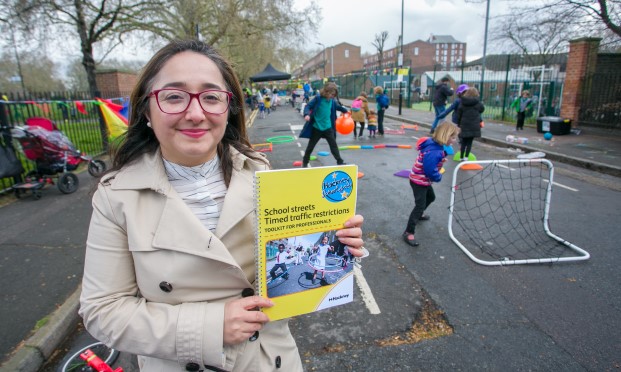 Hackney Council has produced a handy toolkit that councils across the country can use to implement their own School Streets schemes.
The strategy, first brought to the UK in 2015 by Edinburgh Council, sees traffic banned from roads outside schools at opening and closing times – improving air quality and making it safer and easier for children to walk and cycle in.
In June 2017, Hackney Council became the first local authority in England to launch a School Street.
Since then, it has since successfully implemented four more, with another two set to be brought in over the coming weeks.
The Town Hall says the proportion of children cycling to participating schools has increased by over 50 per cent and traffic has reduced by about two-thirds.
Seventeen School Streets are expected to be running in Hackney by 2022, covering around a third of the borough's primary schools.
The Town Hall's free step-by-step guide, known as the School Streets toolkit, will support councils nationwide in launching their own schemes.
It comes after Public Health England advised in March that idling outside school in a car should be banned.
Hackney's transport chief and deputy mayor Cllr Feryal Demirci said: "Our pioneering School Streets have been incredibly successful so far, with widespread support from children, parents, teachers and local people. 
"They also go so much further than simply banning idling outside schools – they make the streets outside places for everyone, tackle poor air quality and tackle the obesity crisis by making it easier for kids to walk or cycle to school.
"We've had lots of interest in School Streets from as far afield as Toronto and Singapore and feel that we have a duty to share our new toolkit with councils nationwide, as we want to see schools transformed and the school-run become a thing of the past."
A copy of Hackney's toolkit is being sent to councils across the country.
Sebright Primary, where a School Street was recently implemented, is set to welcome Transport Minister Jesse Norman tomorrow as part of charity Living Streets' Walk to School Week.
New research from Living Streets shows that over two-thirds of primary school parents in London are concerned about the levels of air pollution around their child's school.
The charity's senior director Jenni Wiggle: "This research shows that we're all becoming more aware of the dangers of air pollution on our health.
"What's concerning is that parents are put off doing the one thing which could drastically improve the air quality around their child's school.
"Walking to school is a positive action parents can take to help clean up our air.
"We hope to encourage as many families as possible to swap four wheels for two feet during Walk to School Week and see what difference it makes to their health and happiness."