Harlem Soul, Old Street, food review: 'A taste of New York without the faff of a flight'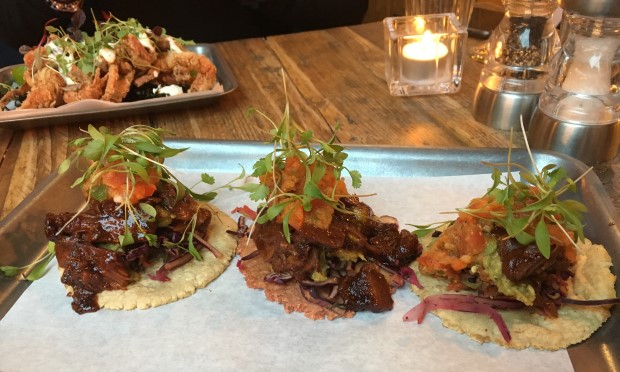 Fried chicken, Mac and cheese, burgers, nachos, wings, waffles and lots of melted cheese.
Trawling through the Instagram page of the newly opened Harlem Soul on Old Street seemed to promise a deep dive into the biggest, boldest – and frankly unhealthiest – type of stereotypical American cuisine.
Arriving at the restaurant on a quiet Sunday evening, I am apprehensive as to whether I will be able to get past the starter.
Harlem Soul has taken over the space which was once home to Boondocks, a diner specialising in "American home cooking".
Its reincarnation as Harlem Soul, according to the restaurant's website, "was created to share a celebration of urban America with London".
This influence hits you the moment you walk in. With a wooden bar running down the side of the room, funky interiors, hanging lights and street art covering the walls, the vibe is distinctly New York.
In fact, manager Kevin Brown tells me and my friend, as well as work from artists closer to home, graffiti legend Part One was flown in from the Big Apple to grace the walls with his creations.
With hip-hop, funk and R&B playing in the background, it feels like an all-American diner with the soul and soundtrack of city life thrown in.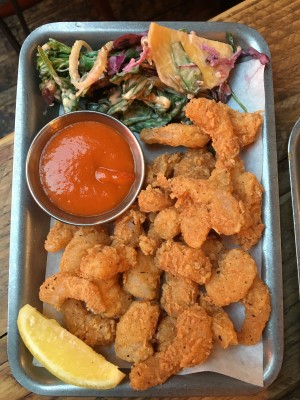 My anxieties start to disappear as I look through the jam-packed menu; there are plenty of vegetarian, vegan and gluten free options, a selection of salads and the menu is fully halal.
It's clear that careful consideration has been put in to cater for everyone.
We opt for three "sharers" for starters – blackened Cajun popcorn shrimp, crispy soft- shell crab (both gluten free) and a vegan "sassy" jackfruit taco with guacamole, dry slaw and roast pepper salsa, and can't help but feel a bit smug when our waitress tells us it's exactly what she would order if she was a customer.
The dishes are beautifully presented and with the first bite all my preconceptions and apprehensions go right out the window.
The restaurant only uses seasonal and sustainably sourced ingredients and it shows: the food is light, amazingly fresh and not in the slightest bit greasy.
The jackfruit taco has a depth of flavour and barbecue smokiness which could impress even the most devoted of meat eaters and the popcorn shrimp is frankly mind-blowing, with a roast red pepper ketchup that puts Heinz to shame.
Every detail has been thought through, but there is never a sense that it is trying too hard; Harlem Soul manages to be supremely cool without being the least bit intimidating.
The drinks menu, for example, is something to behold, with over 30 craft beers on offer from UK locations ranging from Cornwall to Yorkshire.
We decide to go for cocktails – "The Harlem" (gin, cherry liqueur and pineapple juice) and the lilac-tinged "Purple Rain" (vodka, lavender, elderflower and soda).
Both are delicious and I daresay go down well at the live music and poetry events which the restaurant throws a few nights a week in its underground event space.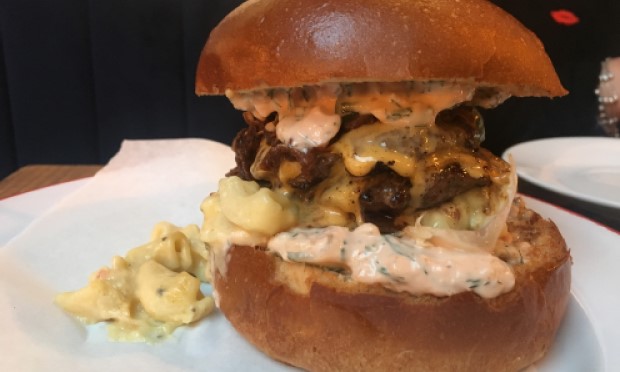 As the place begins to fill up – it is packed for a Sunday evening, testament to the following it is garnering only five weeks since opening – we are now excited about the main course.
Of course, it doesn't disappoint.
The fusion flavours of the Korean inspired "Soul To Seoul" burger – crispy spiced buttermilk chicken, pak choi, chilli pepper slaw, pickled red onion and coriander on a toasted brioche – are unusual but work beautifully.
We decide that pak choi should be a replacement for drab lettuce in all burgers from now on.
Next up is the "Harlem Soul" burger, the restaurant's signature dish.
Made up of two grilled beef patties, shredded short rib, American mac and cheese, house pickle and thousand island dressing on a toasted brioche, it is quite something.
However the tanginess of the dressing and the tenderness of the shredded rib make for a complex and inventive dish rather than pure carb overload.
Now total converts, we want to try everything on the menu. Our stomachs think otherwise, but we still manage to squeeze in an impossibly gooey and moreish vegan chocolate brownie to finish.
We leave on a high, excited about the prospect of coming back to try more of New York's "delicious, honest soul food". No plane ticket required.