'You're meant to protect me': Hundreds attend Clissold Park rally as council prepares to vote on road closures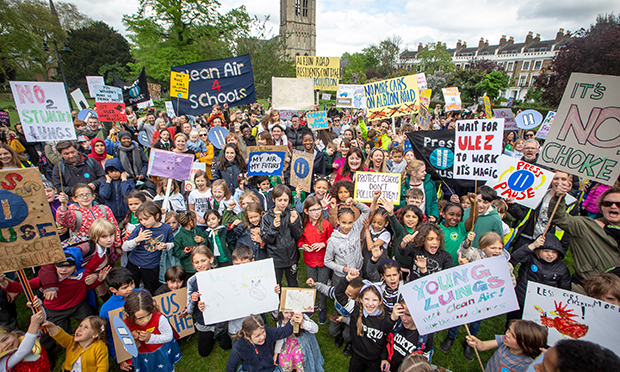 Almost 500 protesters armed with placards bearing slogans such as 'You're meant to protect me', 'You wouldn't make us drink dirty water' and 'Hands off my lungs' marched on Clissold Park in protest at a contentious scheme of road closures which has sparked fierce debate in the community.
Families from Grasmere, William Patten, Newington Green and St Mary's primary schools, as well as local nurseries, marched to the park on 26 April along Stoke Newington Church Street, which faces pollution rises if council closures to reduce rat-running along residential streets go ahead.
The council will vote this evening on a new consultation for the scheme to allow residents to comment on the Walford Road area closures after an independent air quality modelling report predicted significant rise in pollution on Crossway, as well as small rises for some of the borough's schools.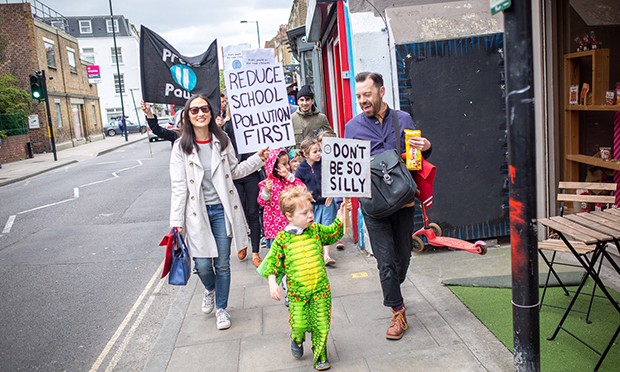 Matt Petzny, a member of the CleanAir4Schools (CA4S) campaign group, said: "To see so many little children and their families from so many schools speaking up for their right to clean air was incredibly moving.
"The idea of worsening pollution in already toxic playgrounds is abhorrent, especially knowing how vulnerable children are to pollution. At these levels, pollution is known to significantly increase the risk of stunted lung growth and life-threatening respiratory illnesses like asthma and pneumonia.
"Improvements to the buses means pollution on these streets would have been falling and these children would have been set for cleaner air – but the impact of the road closures is enough to undo that and make the air dirtier than it was before."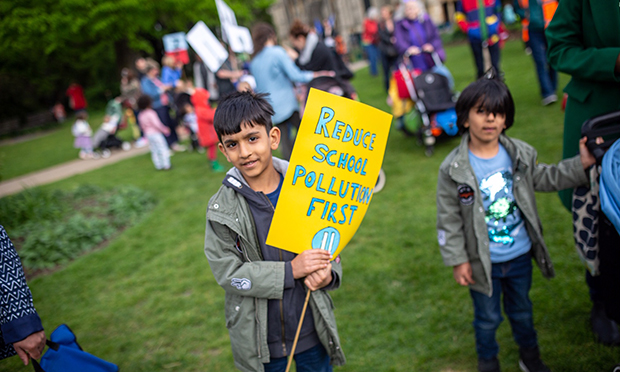 Families from Betty Layward, Shacklewell Primary and Stoke Newington School also joined the march.
The Town Hall's decision to reconsult, after school parents as well as almost 60 Church Street businesses protested the changes, has prompted recent counter-protests from Kids Sleep Safe (KSS), a group of Walford and Brighton Road residents who suffer from congestion on their streets.
KSS campaigner Anna Williams said: "I don't blame parents for coming out to protest against pollution on our streets. That's what all parents want to see.
"The problem is that some people running the CA4S campaign have made this all too personal. It seems to be more about fighting with councillors than working together as a community to see road safety and pollution tackled across the whole of Hackney.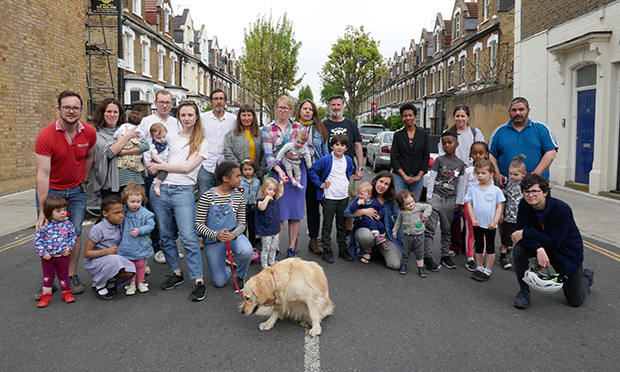 "We understand that traffic is too high on Church Street, but you can't begin to address it until you close these roads. By removing rat runs and reducing the convenience of short journeys, drivers have simply changed their behaviour.
Video footage of Walford Road congestion supplied by Kids Sleep Safe.
"As parents we want to see a safer and healthier Hackney for everyone. Rather than calling on the Council to pause or slow down, we should be working together to ensure they do even more and do it faster."
The Town Hall will decide whether to reconsult on Option B of its closure scheme, would see a permanent closure of Nevill Road between Osterley and Walford Roads; Clonbrock and Allen Roads at their junction with Nevill Road.
Consultation data on the plans released by the Town Hall shows that, of 2,231 people responding, 61 per cent opposed Option A, and 53 percent opposed Option B.
Crossway would see a "significant" increase in air pollution under the changes of 4.2 per cent, according to the modelling report.
The Town Hall says it is continuing to look at ways of improving air quality around William Patten, St Mary's and Grasmere schools, by installing green walls and an air quality forecasting system.
It is understood investigations are also ongoing into a variety of measures to reduce pollution on Church Street and Crossway by using width restrictions, HGV bans during peak hours, implementing a Low Emissions Neighbourhood for the entire Church Street area, and potentially widening Crossway's pavements.
If voted through at the coming 29 April cabinet meeting, the borough's elected councillors have delegated the final decision on whether to go ahead with the closures to the council officer in charge of neighbourhoods and housing, Kim Wright.
CA4S slammed this part of the decision as "unfair and undemocratic for such a contentious issue affecting child health".
Tom Knowles, an environmental scientist and CA4S member: "While we sympathise with Walford Road residents, other measures could solve the problems associated with rat-running without having such harmful consequences.
"These back streets are well below the legal pollution limit, while the streets that will suffer from extra traffic are illegally polluted.
"They're streets at the heart of community life with hundreds of residents, schools and where people gather for long periods outside. Choosing a solution that has such a negative impact on child health is irrational."
Cllr Feryal Demirci, Deputy Mayor of Hackney, said: "I understand residents' concerns about the impact the Walford Road proposals could have on air quality.
"That's why we commissioned independent air quality modelling and it's why on 29 April, following requests from residents to feed back on the proposals in light of this modelling, Cabinet approved further consultation on the scheme.
"This will ensure all residents can weigh up the benefits of the proposals alongside the modelling and the measures we're implementing to tackle pollution in Stoke Newington and across the borough."
EDIT: This article was updated at 16:02 on 30 April to include a statement from Cllr Feryal Demirci.