Hackney Wick fish boss to stand for Nigel Farage's Brexit Party in European elections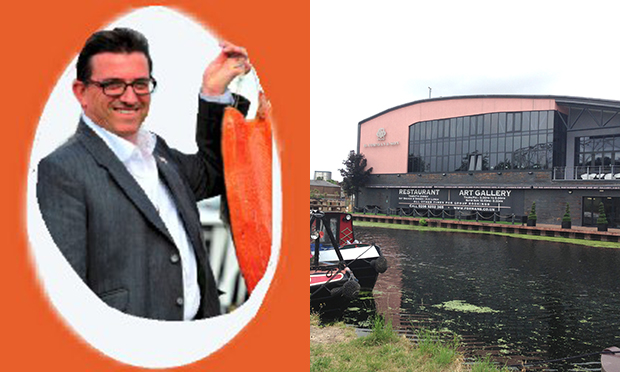 The owner of a salmon-smoking business in Hackney Wick has announced he is standing as an MEP for Nigel Farage's newly formed Brexit Party.
Lance Forman, who runs H. Forman & Son, housed in a pink, salmon-shaped building on Fish Island, says people have "totally disregarded" the referendum vote.
He says he is standing for the Brexit Party in an effort to "save democracy".
In a video posted on the party's Twitter feed, Forman said: "People are fed up with politicians. They are great at talking but they are hopeless at making decisions.
"I've been in business for 25 years, my family business. In business we have to make decisions, otherwise our business wouldn't survive.
"If we did what politicians did, we'd be out of business. It just wouldn't work.
"This isn't just about Europe and Brexit, this is about democracy." @LanceForman owner of H.Forman & Son on why he is standing for The Brexit Party. pic.twitter.com/b0JKghEbeV

— The Brexit Party (@brexitparty_uk) April 23, 2019
"Taking No Deal off the table is crazy. No businessperson in their right mind would do that, and any politician that believes we shouldn't be at the table in the first place.
"But the issue now has moved on. This isn't any more just about Europe and Brexit. This is about democracy.
"People are absolutely furious that are politicians have taken that vote and just thrown it away. They have totally disregarded it.
"So I'm standing for the Brexit Party to save democracy."
The EU's common fisheries policy (CFP), designed to protect the continent's waters from overfishing and ensure that the industry is sustainable, sets limits for the amount of fish its member countries are allowed to catch.
Nigel Farage has claimed in the past that the CFP has destroyed Britain's fishing industry.
H. Forman & Son is Britain's oldest salmon curer. Its headquarters on Fish Island was opened by former Mayor of London Boris Johnson in 2009 after it was forced to relocate ahead of the London 2012 Olympics.
Hackney had the third highest Remain vote in the UK in the 2016 referendum, with 78.5 per cent of those who voted opting to stay in the EU.
Update: this story was amended at 15:15 on Thursday 25 April to make clear that it was 78.5 per cent of the people who voted in the referendum who chose to Remain, and not 78.5 per cent of residents in the borough.