'Fore play in the bedroom: Hackney's Daniel Kramb on his upcoming drama – and it's unusually intimate backdrop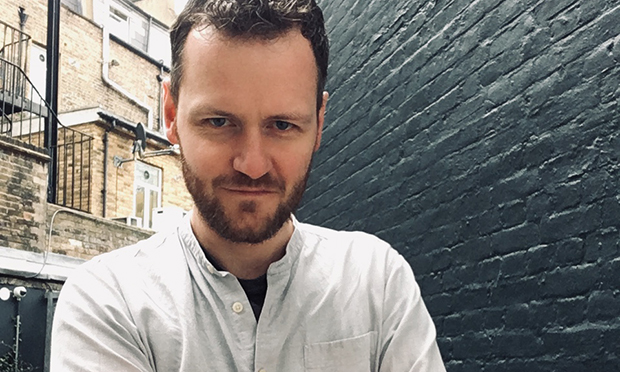 Hackney has always been a source of inspiration for writer Daniel Kramb, who has lived in the area for 15 years.
His latest work Look at Us, a collaboration with poet JJ Bola, may be the most intimately related to the borough to date.
Look at Us is an hour-long play set entirely in a Dalston bedroom.
It follows the relationship and faltering intimacy of an unnamed couple; she is black and was raised on a Hackney council estate, and he is white and the son of well-off parents.
On 6 June the play will make its debut in a rehearsed reading directed by Liisa Smith at Pages of Hackney bookshop, a venue that has supported Kramb since his first novel, the Hackney-based Dark Times, was published in 2010.
I met with Kramb to discuss his inspiration behind the play.
"I was getting very interested in an image I was thinking about a lot at the time, of a couple in bed together, barely ever leaving the house, and what it would be like to invade this very private, closed-off space, and look in."
This was in April 2016, when the creative process for Look at Us began, after Kramb had just published his third novel Central, about life in the heart of London.
He explains how he spent much of the long writing process for the novel in isolation, prompting him to search for someone to collaborate with on his next project.
"I really strongly wanted to get someone in early on to work together and not be on my own all the time," he says.
This sense of loneliness is very much at play in Look at Us, with the couple cut off from everything beyond the four walls of their bedroom.
"We spend our lives in big cities, very often quite lonely and we don't really talk too much about it – there's still a stigma around loneliness," Kramb explains.
"I think it's important that we talk about isolation and that we tell each other 'You're not alone'.
"You might be spending all your nights and days in bed, but so are we."
After writing the first draft of the play in only two weeks, Kramb reached out on social media for anyone interested in the collaboration and JJ Bola got in touch.
Kramb remembers the instant connection between them at their first meeting.
"I can still see us sitting there because it was one of those meetings where we just felt that we completely understood each other and we both got what we were trying to do."
In the early stages, Kramb says the pair focused on developing the protagonists: "It's a simple set-up so we had to put even more effort into the depth of the characters."
The project is the first time both writers have been involved in a play, and he is excited about this dive into the world of theatre: "I always wanted to write a play and usually the way I do things is I don't think too much, and I just jump in and try. I'm the kind of writer who likes to try new things."
He describes the collaborative process, which saw Bola contribute original poetry which the characters read throughout the course of the piece, as "both of us sharing in the writing, feeding into the script according to our own strengths".
Kramb himself published a collection of verse – Timid Takes – in 2013, and he feels there is a "poetic touch" to Look at Us: "It's not usual in a play to just watch two people in their bed, just being."
But this bed, Kramb explains, "becomes a battlefield" throughout the course of the play.
In going public with the piece with the rehearsed reading, the writers are hoping that the spirit of collaboration which has been a part of the project since the beginning will continue through feedback and responses from the audience.
"It will be really interesting to see how people react," Kramb says. "It might work or it might not work. We're just putting it out there."
Although the audience will not see the physical interaction between the couple in the rehearsed reading – "there's a lot there which is not spoken, just in how they move with each other" – a comprehensive script will help them imagine it.
By keeping the play short, the writers are hoping to target a particular group: "We wanted it to be the kind of play that people will come to see who don't usually go to the theatre. It's a play about young people and we want young people to come and see it."
One element of that is social media; the only interaction the couple has with the outside world is through their phones.
"I really wanted to explore the effects social media has on our lives," explains Kramb.
"They're sitting in a bed and they're really isolated but at the same time they're looking at their phones all the time, so voices come at them, influencing them even if they're not necessarily aware of it."
Kramb hopes that the play will be "like seeing yourself on a stage", and ultimately, he wants audience members to come away come away from it "feeling less alone".
Where does he see the play going next?
Ideally, he says, a bedroom in Dalston.
"We fell in love with the idea of doing it in an unusual space. It's set in a bedroom so why not do it in an actual bedroom? That's a whole other experience for the audience.
"You'd be very close to the bed, so it feels like as the audience you really are invading their space and looking into two people's lives in a way you never get to do in real life."
No concrete plans have been made yet, but Kramb isn't afraid of making the audience feel a bit uncomfortable: "It's so close it almost hurts at times and you can only do that in theatre."
Look at Us by Daniel Kramb and JJ Bola will be performed in a rehearsed reading at Pages of Hackney on 6 June.
For more information, or to book tickets, head to pagesofhackney.co.uk