Extinction Rebellion: Hackney rebels blockade Marble Arch as campaign demands government action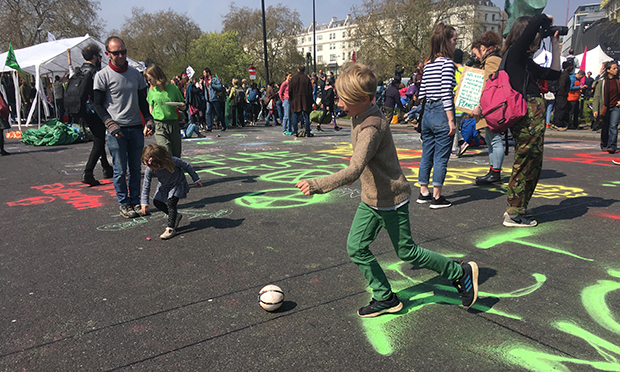 The Hackney contingent of Extinction Rebellion (XR) brought Marble Arch to a standstill in their campaign to effect a rapid policy shift from government on climate change.
Over 100 arrests were made of XR members through the night and early hours of this morning of the climate protesters blockading Parliament Square, Oxford Circus, Waterloo Bridge, with protesters from Hackney manning the roadblock at Marble Arch.
Hackney XR spokesperson Alex Armitage, who chalked out a football pitch and refereed a match of 12 young people on the Marble Arch gyratory as Met Police officers cheered, said that 15 April, the first day of XR's non-violent civil disobedience, had been peaceful throughout, but predicted that tensions could rise.
Armitage said: "I hope this peaceful atmosphere continues, but at the same time, we are a rebellion and we're trying to force the government into change.
"I predict that things won't be peaceful and happy for much longer once the real economic disruption starts to bite.
"One of the main things about XR is we're a non-violent movement and we're repreenting everyone, exactly hte opposite of the gilet jaune protests in France which attracted a lot of men of fighting age.
"We want families, minorities, people with disabilities, young and old, because climate change is going to affect us all.
"The idea is you continue blocking the roads until the government agrees to our demands.
"This kind of thing happened in Tahrir Square in Cairo during the Arab Spring, and helped the Polish people throw off the chains of communism in 1989, when people came to city centres and stayed there non-violently until the government changed.
"Anyone who wants to come along and support the movement is also welcome – it's all about getting as many bodies down into the centre of London as possible, and showing the government that theyre going to have to change."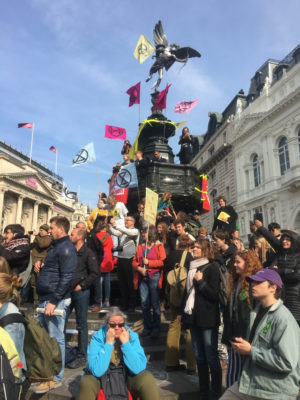 Protesters have been trained by XR in de-escalation of violence, with rebels armed with food and leaflets on the campaign to hand to inconvenienced drivers as they wait.
Armitage added that roadblocks are to be maintained at ten-minute intervals with demonstrators manning them 24 hours day to achieve maximum disruption for deliveries made at night.
The XR spokesperson went on to praise Hackney Council for the work it had undertaken to combat the effects of climate change, including the Town Hall's recently-launched energy company, but called for bolder action to "reclaim our streets" from cars to reduce the carbon impact of the borough's transport network.
Armitage said: "We have a situation in Hackney where less than a third of families have a car, yet cars completely rule our public space, so we need to see much bolder action on reclaiming our streets nad rducing the carbon emissions from transport."
Alastair Binnie-Lubbock of Hackney Green Party added: "It's so great to see so many people from Hackney turn up to the climate rebellion protests.
"It proves that regular people are taking the biggest threat to our continued existence on this planet and the associated social and environmental injustices seriously where politicians are not.
"People are showing that we can and must transition to a different and just economy for future generations and for the survival of our living, interconnected planet. We can do it and we can do it joyfully full of hope and determination."
A recent Intergovernmental Panel on Climate Change (IPCC) report highlighted the stark risks of even a 1.5 degree rise in global temperatures, with Hackney Council joining other London boroughs to declare a 'climate emergency' back in February.
Binnie-Lubbock added that climate emergency declarations need a 2030 deadline for to match the IPCC report warning the planet has 12 years for the worst impacts to be mitigated.
The protests attracted unconditional support from top councillors in the borough, with the Town Hall's energy chief Cllr Jon Burke praising the protesters in their role on putting pressure on politicians to enact bold change.
Cllr Burke said: "I think we have to be as uncompromising in the defence of our children's future as the fossil fuel, plastics, and animal agriculture industries clearly are in defending a system that has taken us to the brink of climate change catastrophe.
"I support Extinction Rebellion's acts of mass, peaceful civil disobedience to give the very real prospect of global warming-induced civilisational breakdown the political attention it deserves.
"Extinction Rebellion are on the right side of history, and they have an important role to play in ensuring that the politicians who all too readily back more roads, airports expansion, and an increasingly extreme cycle of consumerism are held to account – and eventually replaced – for the ecological vandalism they have enabled."
Over 4,000 people nationally have committed to being arrested as part of the demonstrations, according to XR, which Armitage states has a universalist message not confined to any one political party to reflect the fact that climate change will affect everyone.
XR have said that they plan to start blockading public transport infastructure , with protestors holding up the tube network by holding doors open.
In a statement today, Chief Superintendent Colin Wingrove said:"We need to ensure we are striking the right balance between allowing the right to a peaceful protest, while ensuring disruption to communities is kept to a minimum.
"We are mindful of the impact the demonstrations are having on the local communities and are working hard with partners including TfL to keep London moving and open for businesses and visitors alike.
"At this time, ongoing demonstrations are causing serious disruptions to public transport, local businesses and Londoners who wish to go about their daily business."
A condition was imposed on the evening of 15 April stipulating that protestors should only demonstrate within Marble Arch, with 55 bus routes closed and 500,000 people affected so far by the activity, according to the Met.
At time of writing, 122 arrests were known to have been made, the majority of which were for public order offences and highway obstruction.
EDIT: This article was updated at 17:24 on 17 April. Alex Armitage was initially incorrectly quoted as an Extinction Rebellion co-ordinator.