Local children's author on her 'shock' at winning prestigious Waterstones award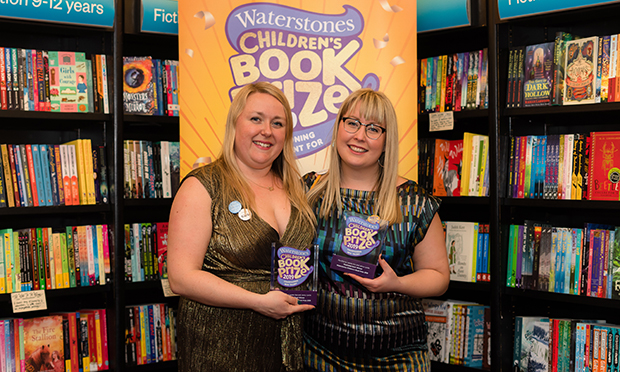 It's over a decade since Lauren Ace ran the children's section of a Waterstones in Exeter, where she was studying drama at university.
She knew the job well, having started as a "Sunday girl" in another branch close to her childhood home in Swansea at the age of seventeen.
It was during that time that Ace picked up an appreciation for what parents and their kids looked for in a book – as did a later stint as a publicist for Waterstones Children's Laureate Julia Donaldson, who she calls the "queen of picture books".
Now 34 and living in Dalston, Ace spoke to the Citizen on the back of a twist-of-fate triumph in the Illustrated Books category at the Waterstones Children's Book Prize on 21 March.
She shared the highly regarded accolade with illustrator Jenny Løvlie for their work on The Girls, a picture book that follows the lives of four friends from childhood to adulthood.
Asked about her first reaction to the win, the self-effacing writer said: "Shock! I've just been sent the picture of me and Jenny after winning, and Jenny's just open-mouthed.
"We were up against five really good books, and obviously you hope you'll win but it still came as a huge surprise."
Ace and Lovlie had never worked together before collaborating on The Girls, but fittingly, for a tale whose overarching theme is friendship, the pair formed a tight bond.
"Through working on the book and spending time together at events, she has become a true friend," says Ace.
The pair are already in early discussions about a sequel, The Boys, which Ace, who still works full-time, is hoping to release next summer.
"If I can get my act together," she jokes.
She says The Boys will be "a tribute to male friendship, created by two women".
Despite some initial reservations, she and Jenny came to the conclusion: "When has a man ever said he couldn't write about women?"
For now though, Ace is enjoying the success of The Girls, which is inspired by her own friends, who despite taking different paths in life, remain very close.
"All of my friends have been around since I was three years old," she says.
"One in particular has been through uni with me, then moving to London. Up until a year ago, our mums still lived opposite one other in Swansea.
"And we've sort of collected people along the way. Most of us are in our early thirties now."
The Girls has been incredibly well-received, but Ace, despite telling herself not to read any online comments, has picked up on a couple that say it's more a book for adults than kids.
And her response?
"That is hugely underestimating children, who are often fascinated by the idea of what will happen when they're older. And they enjoy working out which character they'll be like."
Ace says living in Hackney also played a big part in the book.
"I grew up in South Wales, and it was not as diverse as it is here," she says. "I live opposite a school now, so I see kids from all ethnicities and backgrounds together, and I wanted to have that diversity in the book.
"Obviously when you look at me and Jenny, we're two blonde, white women, but diversity will not extend to creators unless children see themselves represented in books, because it's the characters that young children relate to and draw inspiration from."
She says individuality is another "really important aspect" of The Girls.
"One of the characters is in a same-sex relationship – because one of my friends in real life is.
"Often in children's books you'll see stories about two mummies or two daddies, but you never really see the child go through that journey or consider it very deeply."
It's a message that speaks to Ace's thoughtfulness, something that comes across in all her answers, including her reply when asked what she is planning to do with her share of the £2,000 prize.
"It sounds boring but I'm going to save it. I've got a little book-related pot that I'm putting to one side.
"I'll never be able to afford a place in Hackney if I don't start saving!"
Ace is more excited about Waterstones' commitment to supporting her work – another benefit of winning.
"All the previous winners were at the ceremony, and you recognise just how much this award means. I see their books in Waterstones shops all the time.
"And I've already had calls telling me to get on with writing the sequel because people are wanting to put orders in!"