Shush, this is a building site!: Recording studio 'reassured' by promise of quiet construction tests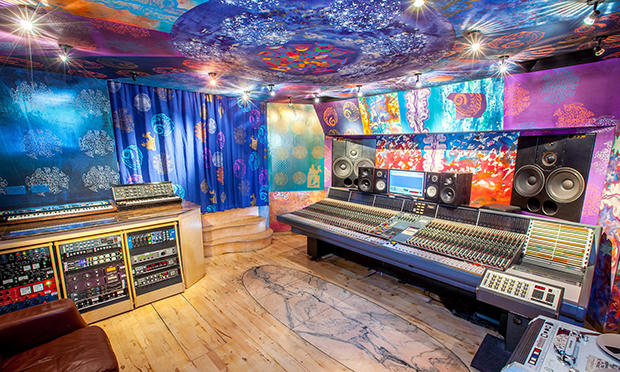 A campaign to save a historic Shoreditch recording studio from destruction from noisy building work next door has cautiously welcomed promises from their neighbours to test quiet construction methods.
Almost 6,000 people have signed a petition to protect Strongroom Studios from up to 18 months of "structure-borne noise", which the venue says has the potential to destroy its business if works go ahead unchecked.
Now, after what the Town Hall says has been "a considerable amount of correspondence" between themselves and Strongroom, tests are to be carried out by developers Curtain Road Properties to ascertain whether work can be done quietly enough.
Jon Darby, representing Strongroom Studios, said: "There is simply no need for such an impactful, six-storey office block when employment floorspace could be provided in a much more sensitive manner.
"The proposed development threatens hundreds of jobs associated with Strongroom. Our primary concern is noise and vibration through the structure.
"We're relieved that officers have now imposed conditions to protect Strongroom from potentially catastrophic impacts during construction."
Acoustic expert Jim Griffiths added: "The concern that we have is structure-borne noise. It's very hard to predict what that impact will be. The applicant's predictions show significant increase on the current conditions.
"In my view, given the high risk of structure-borne sound generally agreed by all parties and the scale and severity, Strongroom must be an integral part of the noise and management process."
The recording studio objected to the proposal for a new office block next door "in totality", but asked for conditions of noise level from the works to be "fearlessly enforced" if the application were to be agreed.
Strongroom has spoken out on the potential loss of earnings and jobs, but has also raised serious concerns over the threat of the vibration from construction on rare and fragile recording equipment, as well as the throwing of their courtyard into shade.
The planning consultation attracted a response from the Mayor of London's Culture and Creativity Team, which pointed out that the Strongroom Bar is classed as one of London's 94 grassroots music venues.
According to the Mayor, a third of such venues have been lost in London since 2006.
The Spice Girls, the Prodigy, Nick Cave, Radiohead, Björk, and Depeche Mode are just some of the acts who have passed through Strongroom Studios in its over 30-year history since it was started up by Richard Boote in a disused zip factory on Curtain Road in 1984.
Investigating how tests would be carried out by developers, Cllr Vincent Stops (Lab, Hackney Central) asked: "So these guys will go around hitting things and you'll see what the response is from the building, and if this testing can't be met, the applicant will walk away, and you accept that?"
The applicant agreed, saying that concrete did not have to be "bashed", which would cause significant noise, but could be "bent and flexed" instead.
Curtain Road Properties are to return to the planning sub-committee in the coming months to review whether works under these circumstance were "achievable," which representatives of Strongroom said they found "reassuring".
The developers intend their new building to provide a total of 4,784 square metres of workspace suitable for those "working in the Tech City Cluster", with 8.1 per cent of the new workspace provided at 70 per cent of the market rate.
The office block's planned appearance has also come in for criticism, with a submission from the Hackney Society stating that the appearance of the building was "discordant and confusing".