Supervisor removed from Morning Lane roadworks following alleged assault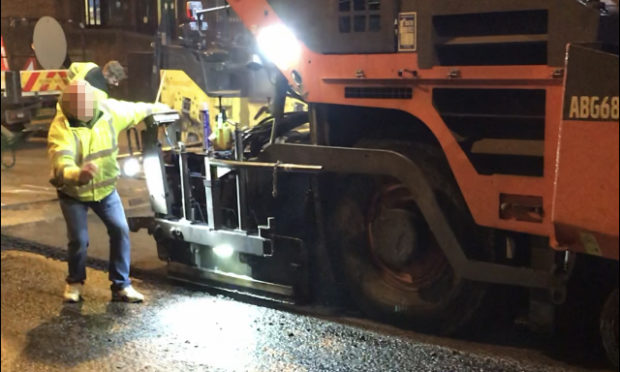 The supervisor for a highway subcontractor by the Town Hall has been removed from the council's contract following allegations of an assault on a member of the public.
The victim, who does not want to be named, alleges that a worker for Marlborough "pushed him aggressively" and knocked his phone out of his hand.
The incident is understood to have taken place after the victim started filming a Marlborough employee's footwear as evidence to submit to the council of a potential health and safety violation.
The victim said: "As I left my flat I noticed a man working with heavy plant in the road wearing white trainers.
"I took out my phone and started filming. My thinking was that Hackney Council might like to know about health and safety violations taking place.
"Almost immediately this man made an obscene hand gesture at me, then called me a "fucking twat" and explained to his colleagues that he was wearing trainers as he had left his boots in his truck.
"He then approached me aggressively. I said 'Don't touch me' and he then knocked the phone out of my hand and pushed me aggressively in the chest. I was very shaken up and quite scared."
A Marlborough Highways spokesperson said: "We are aware of the alleged incident and are taking it very seriously. It is under investigation in accordance to our company procedures and we will not comment further at this stage."
A Hackney Council spokesperson said: "We are currently undertaking a detailed investigation and review into the alleged assault and a health and safety violation that occurred on Wednesday 27 February 2019.
"The alleged incident took place during a major carriageway resurfacing scheme the council were implementing in Morning Lane, E9.
"These essential maintenance works were completed during the evening and early hours of the morning for five consecutive days and commenced on Monday 25th February 2019.
"These works were being undertaken during these hours so that the project would be completed in a shorter time frame and to minimise traffic disruption that would have been caused had the works been completed during the working day.
"During the course of the investigation, the supervisor for the contractor at the centre of the allegations has been removed from the Hackney contract. Council staff will assist the police with their enquiries should it be required."
A Metropolitan Police spokesperson said: "Police were called at 9.58pm on Wednesday 27 February to reports of a man assaulted on Morning Lane, E9. Officers from attended spoke to the victim – who was not injured.
"He alleged that he was walking along the road, when he spotted a workman on the road without the correct protective clothing on.
"He decided to record this on his phone. It was at this point the suspect walked over to the victim, assaulted him and knocked his phone from his hand. No arrests have been made. Enquiries continue."