Read it and weep: Restaurant for book lovers denied alcohol licence over Shoreditch nightlife fears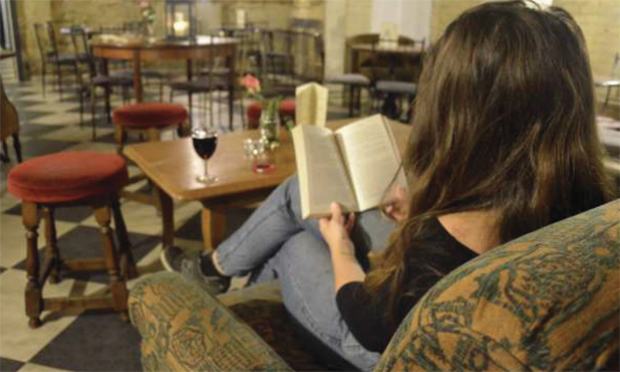 A Shoreditch restaurant which pairs books with its menu items has been denied an alcohol licence after councillors predicted it would add to the "cumulative impact" on the area's nightlife.
The Grapevine on Shoreditch High Street, which celebrates the value of a "hearty book, low stress levels and much needed 'me time'", had applied to serve wine with its food, with a 10pm closing time.
However, despite meeting councillors' requests to ensure both floors of the business were food-led, residents' warnings of an area at "saturation point" carried the day.
A resident addressing the meeting said: "After people have had two or three glasses of wine in this place, you can't control when exactly they're going to leave or how nicely they do so.
"Whether they throw up on the steps of the business next door or on my own front doorstep, once they leave they're free to go to another premises.
"You can't control people's behaviour, so it's not so much what they do in that venue, whether they're reading a book or otherwise, it's the cumulative problem we have in the Shoreditch Triangle.
"If it was somewhere on the outskirts in another area, that wouldn't be a problem. We're at saturation point. It's just too many people, and too many licensed premises."
The resident, who declined to give his name, described problems with late-night buskers, attracted by the money-making potential of Shoreditch party-goers, playing Oasis hits at high volume late at night to crowds of "hundreds of people".
Owner Giovanna Hussain, who has invested £150,000 into the business, has been ferrying glasses of wine from her other venue, the nearby Cornershop Bar, for more than two years.
She said: "When I go into The Grapevine, I have to lower my voice, because it's that kind of vibe in the venue. I train staff in all the licensing objectives.
"Pizza Pilgrims just down the road has been given a premises licence, and they are a heavily food-led venue. That's what we intend to do and focus on.
"The small amount of people who come in, come in and leave at staggered times. I've been in Shoreditch ten years, and I'm thinking if I do anything silly, that's my livelihood. I don't know what else you want me to say."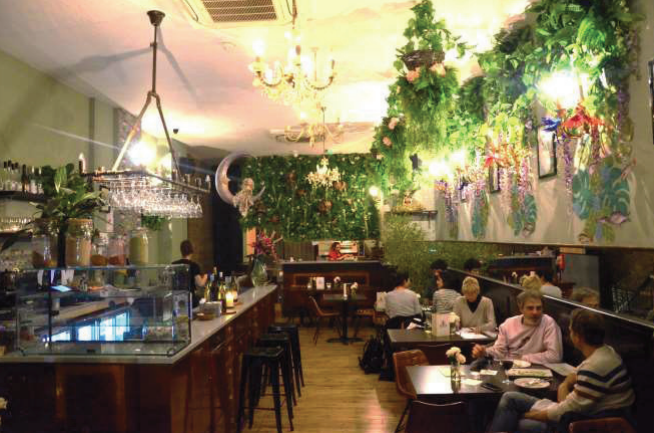 The applicant added that she is an active member of voluntary organisation for licensee best practice Pubwatch, and has "grown up" in the licensing business in Hackney, starting her first business in her early 20s.
Barrister Sarah Le Fevre also pointed out that Hussain had received "extremely positive commentary" from Hoxton's licensing sergeant describing her as "one of the best in Hoxton, in fact borough-wide".
Material submitted as part of the licensing application reads: "Whilst we appreciate the hectic day to day life one leads, we are proud to present our unique traditional reading room nestled in the busy streets of Shoreditch.
"Our bookshelves hold fiction and nonfiction books divided into categories such as romance, thrillers, mystery or travel."
The library concept of The Grapevine's business model also has a charitable element, with organisations such as the Children Literacy Charity and Read Easy Hackney offered the venue to host their events free of charge, as well as arranging book launches for budding authors.
Cllr Sharon Patrick (Lab, Kings Park), said: "I think it's the cumulative impact. The Grapevine will only be open till 10pm, but people will come in and have a meal, and I'm sure behave perfectly at your venue, but they're then in the area.
"That is part of why we have the Special Policy Area. Each new venue, whatever it does, if it's a book club, poetry venue, a restaurant even.
"They bring people into the area, and then they stay in the area, and that adds to the cumulative impact."
Addressing Ms Hussain, Cllr Sem Moema (Lab, Hackney Downs), mayoral adviser on private renting and housing affordability, said: "I appreciate this is quite difficult. I don't want you to think that we are making a decision around this particular policy to judge your character.
"We are purely looking at the operation of the premises, which has moved from it being potentially a bit of a clubby-type bar, to a restaurant, which is good.
"Our interest is how the premises might operate for the benefit of the licensee but also for the people that live next to it and the businesses next door."
The 26 February meeting of Hackney's licensing sub-committee even saw debate as to the attractive potential of the venue's name.
The resident in attendance at the meeting said: "The name 'The Grapevine' is a wine bar. It's plain as day. The people who wander into Shoreditch will not know that it's not a wine bar."
Ms Hussain made clear that the naming of the bar was inspired by Marvin Gaye classic 'I Heard It Through The Grapevine'.
She said: "It's my dad's favourite song. My parents are not here, so it's kind of a personal thing. That's why I called it The Grapevine."
Hackney Council's controversial licensing restrictions received national attention last year, with campaign groups warning that the new rules would act as an effective "ban" on new premises.