Local author's Alaskan salmon odyssey nets him prestigious literary prize
An author who lives on a 100-year-old Dutch barge on the River Lea says he is "thrilled" after winning a highly regarded award for his debut book Kings of the Yukon.
Adam Weymouth was named Sunday Times Young Writer of the Year in a ceremony at the London Library on 6 December for the epic tale of his 2,000-mile adventure along the Yukon River to chart the life of the king salmon.
The literary accolade, awarded to the best work of fiction, non-fiction or poetry by a British or Irish author aged between 18 and 35, has a history of spotting up-and-coming talent, with previous winners including Zadie Smith, Simon Armitage and Sarah Waters.
Weymouth told the Citizen: "I'm completely stunned, and thrilled. This was such a personal project for me, and whilst I've always believed that this is a story that is relevant far beyond the Yukon and the salmon's role in it, that the judges have believed in this book as well feels wonderfully validating.
"It's a fantastic list of past winners to be alongside – some, such as William Fiennes, have been a massive inspiration for me – and it makes me feel really inspired as I move on to the next project."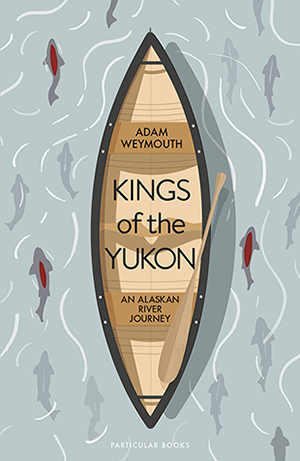 Judging this year's prize were novelists Kamila Shamsie and Susan Hill, along with Sunday Times literary editor Andrew Holgate.
The panel was unanimous in backing Weymouth, with Holgate saying: "It feels as if we have found, ready minted and hidden in plain sight, a really outstanding new contemporary British voice – one who literary editors (myself included; I plead guilty) almost completely failed to spot on publication."
Shamsie said of the book: "Dazzling, often in unexpected ways. Adam Weymouth is a wonderful travel writer, nature writer, adventure writer – along the way, he is also a nuanced examiner of some of the world's most fraught and urgent questions about the interconnectedness of people and the natural world."
Weymouth was up against formidable competition to become the 20th winner of the prize.
Also in the running were Imogen Hermes Gowar for her debut novel The Mermaid and Mrs Hancock, Laura Freeman for her memoir The Reading Cure, and Man Booker-shortlisted Fiona Mozley for Elmet, her Yorkshire-set story of a family trying to find their place at the margins of society.
The Young Writer of the Year Award is sponsored by literary agency Peters Fraser + Dunlop and run in association with the University of Warwick – home to a celebrated writing programme.
Weymouth, in addition to prize money of £5,000, will get the opportunity to take up a 10-week residential course with the programme.
You can read the Citizen's review of Kings of the Yukon here