Hotpod Yoga – a yoga experience like no other, situated in the heart of London Fields
Are you ready for a yoga experience like no other? An immersive 60 minute yoga flow, based inside a heated, inflatable studio.
Hotpod Yoga's been delivering hot yoga to East Londoners since its launch in 2013. They have since gone on to inflate in over 50 locations worldwide, becoming Europe's largest yoga business, but Hackney will always hold a special place in their hearts as their first Hotpod home. Last year, they opened up a new studio on Mentmore Terrace, just 2 minutes walk from London Fields Station, and have quickly become an established local favourite.
Hotpod Yoga encourages customers to adopt a 'yoga designed for real life', leaning away from today's stereotype of bendy Instagram goddesses and green juice guzzlers. Instead, attendees are encouraged to adopt a yoga centred around their life; to stretch out the office hunch, release the cyclist's hamstring, revive the partied-out festival-goer and realign the childbearing arm – to supercharge real life!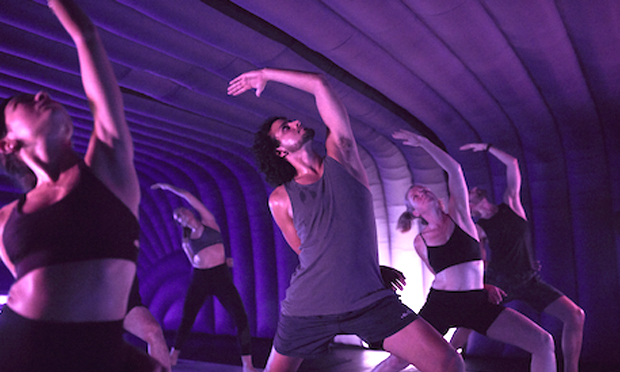 Classes are held in their signature, 26-person, inflatable studios, otherwise known as pods. Heated to 37 degrees, these pods provide the perfect environment to zip away from the screens, stresses and situations outside, allowing you to enjoy a good sweaty stretch, leaving you relaxed, recharged and ready for life.
With daily classes starting from 6.30am and running until 9.30pm, there are plenty of options to find a class that fits into your day. Mats are provided and there are showers and changing rooms to help you freshen up afterwards.
Classes are designed for all levels, from the complete beginner to the long-term yoga-goer, enabling anyone to step inside the warmth of the pod for an intense hit of yoga – leaving you looser, calmer and able to take on the rest of the day.
New to Hotpod? Try out the Intro Offer which entitles you to 7 days of unlimited hot yoga classes in any of their London studios (Hackney, Brixton and Notting Hill) for just £15 – the perfect way to really immersive yourself into the Hotpod Yoga experience. After that class passes are priced at £14 for a single class, £60 for a 5 class pass and £110 for a 10 class pass. There are multiple membership options, ranging from £40 for a mini-membership to £100 for an unlimited membership.
---
Hotpod Yoga would love to offer all Hackney Citizen readers their first class free! To redeem it, use the code HOTHC when purchasing a single class pass at www.hotpodyoga.com
---
See you in the pod!
Hotpod Yoga
Arch 406, Mentmore Terrace, London, E8 3PH