Open Geffrye: Museum of the Home pauses closure for Chelsea Fringe and cheese events
The Geffrye Museum has been closed for most of the year, and its main exhibiting spaces will remain so until early 2020. However, news has emerged of a pair of events next month that make the most of the verdant space of their front lawn.
The first is of a horticultural bent; coming as it does on 19 May and thus mere days before the Chelsea Flower Show itself, Chelsea Fringe at the Geffrye will be a welcome (and free of charge) taster for the green-fingered, as well as providing a busy day of activities and workshops for the less-committed fan of urban gardens.
The workshops include tea blending with Well Street herb-thusiasts Hackney Herbal, flower headdress-making with Wild Abundance, and a chance to have a crack at vegetable carving, all facilitated by the vegetable artists who'll be familiar to anyone who has been down to the Lambeth Country Show in Brockwell Park.
More passive attendees will be able to play lawn games, check out living tree sculptures (hewn by East London-based Israeli Meital Tzabari), pick up some plants or herbs to take home – or just lounge around in a deckchair drinking botanical cocktails, if the weather's right.
The event in the Geffrye grounds runs from 10am until 6pm, but from 11am to noon, there'll be a mass exodus, as there's a chance to flower up your bike and put petal to the metal on what the Geffrye are calling the Tour de Plants.
This is a free, guided cycle open to all – even those without bikes, as cycle-share company Ofo will be dropping off a fair few to use. Participants will glide around some of the greenest spots in our corner of the capital, before returning to the Geffrye for quizzes and practical help for cyclists.
---
The second May event, running over the bank holiday weekend of Saturday 26th to Monday 28th, is the third outing of The London Cheese Project, a festival of all things stringy, gooey, crumbly, and generally cheeseish.
It's the organisers' view that "trend chasers" are obscuring a genuine cheese revolution in the UK, as co-founder Kristen Schnepp argues:
"Cheesemakers love a good cheese pun as much as anyone, but there is a concern the real story of Britain's cheese renaissance is being overshadowed by 'brielliant' headlines, dubious #sluttyforcheese hashtags and events that don't deliver what they promise" – likely a dig at last Christmas' 'disastrous' Giant Cheese Board event.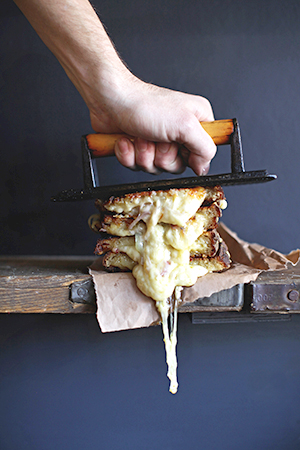 What the Cheese Project are promising is the chance to "connect with, and learn from" artisan cheesemakers and their moreish products. These will cover broad cheesy ground: blue cheese from Tottenham courtesy of Wildes, the Mexican queso of Gringa Dairy, and some ace pairing too, like Fourpure craft beer and the chilli-infused honey of Wilder Kitchen. There'll also be street food, including Broadway Market favourites Butchies fried chicken, mozzarella-making with West Londoners La Latteria, an even what is ominously trailed as "a wall of cheddar".
Tickets for The London Cheese Project are £5 + booking fee from their Design My Night site, and opening hours over the long weekend will be 10:30am – 8:30pm.