Homebrewing: Forest Road brewer gives advice on how to make it WORK
With Hackney fast becoming the epicentre of the UK craft beer movement, you may have been forgiven for thinking that there wasn't possibly room for another brewery or pale ale in East London.
However, Boston-born brewer Pete Brown had other ideas. After beginning its journey in the backyard of Brown's shared house on Forest Road, Dalston (where he says he was "dropped by the Spareroom stork") Forest Road Brewing Co. has just secured new premises in London Fields, and Brown says things have only just got started for his no nonsense tipple: WORK.
Luckily for aspiring brewers, he's keen to give some tips.
Since the only necessary ingredients in beer are water, yeast, barley and hops; some argue that there is a certain element of 'art' that comes into play when striving for a great tasting beer.
But Brown argues that good beer is as much about science as it is artistry, and urges wannabe brewers to make sure that they do their research. And then, maybe, do it again, as in his opinion homebrewer bloggers "usually don't know what they're talking about.)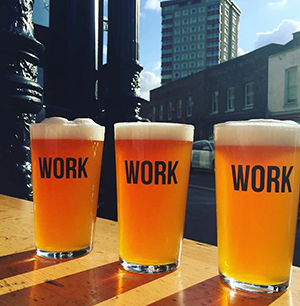 Any beer worth its hops contains only the freshest ingredients, and Brown recommends that brewers smell and taste everything that goes into the batch: "If it smells weird going in, it's certainly going to smell weird coming out".
A common error in first-time brews is impatience. "A lot of first-time brewers will make a batch and then ignore the instruction that says 'the beer must ferment at 19°', put the yeast in before it's cooled down, and then the batch ends up tasting like nail polish and they never try it again."
When getting into the mechanics of the brew, Brown stressed that homebrewers should ensure that their wort is fully aerated. If oxygen isn't available, then splashing the wort excessively with water for as long as possible can do the trick: "O2 is the main yeast nutrient the critters need to reproduce to a population big enough to to sort your beautiful beer out."
Successful brewing, like baking, is a game of accurate measures and precision. Brown says that it is the minute details which can often be overlooked by brewers starting out that can make all the difference in acquiring a clean and crisp taste. "Hygiene, hygiene, hygiene: always keep it clean.
"Even one human hair is enough to destroy a batch of would-be beautiful beer. Always wear gloves, wash and sterilise everything. Don't be sloppy."
While precision, fresh ingredients and hygiene are all important, a certain amount of trial and error is required to achieve that unique and individual taste. "Aromas and flavours are transformed into brand new molecular components through the mysterious brewing process web, meaning the way the hops smell before is very different to the way they smell in the finished beer", says Brown.
Therefore it is essential to taste, learn and change one variable as well recording organoleptic experiences for reference: "If you change every ingredient every time you'll never learn what each individual component is doing".
Homebrew kits with the capacity to produce up to four litres of beer are available on the market for as little as £40. However for the brewing process to work as efficiently as possible, Brown argues that at least 20 litres is required, and advises brewers to invest in a pH meter (which themselves cost around 40 nicker.)
Forest Road Brewing Company also has a homebrew costing and resource document for those who want to get cracking. It can be found by e-mailing yo@forestroad.co.uk.
Once your bevvy is ready, there's one last, crucial thing to consider, in the words of Brown: "[Don't give it] some soppy name like "Forest Road Pale Ale", that's some homebrewer boring shit".
Forest Road Brewing Co.'s new taproom is now open Thursdays and Fridays from 5-11pm, at 1348 Netil Lane, E8 3RL