Safari Festival returns to Shoreditch on 12 August to celebrate 'the comic world's freaks and one-offs'
DC and Marvel Comics have their appeal, but they're not really Hackney, are they? For example, the pompous Captain America would presumably be laughed out of town in a second, and Aquaman wouldn't make it far down Regent's Canal without contracting diphtheria or worse.
For something truer to the Hackney spirit, there's Safari Festival, the annual, free, one-day extravaganza that this year lands at Protein Studios in Shoreditch on Saturday 12 August.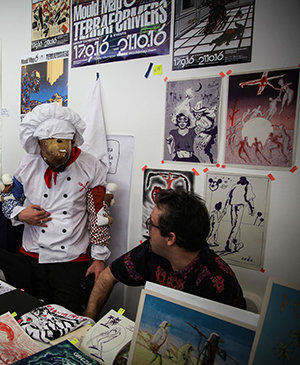 I met with Tom Oldham of Breakdown Press, the people behind Safari and an independent London comics publisher in their own right, just before he set out on a rainy mission to coat East London in Safari posters and flyers. He started by explaining the genesis of Safari to me.
"There wasn't a comics show to represent the sort of work we like in the UK…more progressive, slightly more avant garde work, stuff that's visually interesting and exciting, and is able to use the comics language well and has a strong narrative. There was a hole where that should be."
Whereas Europe and the U.S. have a culture of more do-it-yourself shows, Oldham worries that the UK scene is often in hock to "the trappings of mainstream publishers – whether that's literary adaptations, celebrity biography comics or superhero things."
Safari's curation process is set up to swerve such concerns, motivated instead by the feeling that "this person needs to have a platform to get their work out."
Exhibitors
Although "there are some common threads", Safari features a wide variety of styles, ideas and perspectives.
Starting off with UK based artists: the folks behind the gossamer geometrics of the Silica Burn anthologies will be in attendance, including the award winning Liam Cobb and his "architectural sci-fi."
On the flip side of the coin, Milton Keynes' Wai Wai Pang will present her newest work, the playfully suburban Ripples – her mission, according to her website: "I want to show you nice things."
Shaky Kane, formerly of behemoths 2000AD and Judge Dredd, has an approach much more grounded in Americana and so-called Silver Age comics (right down to the speech balloons) – he'll have his new, years in the making collection Good News Bible with him at Safari '17, published by Breakdown Press themselves.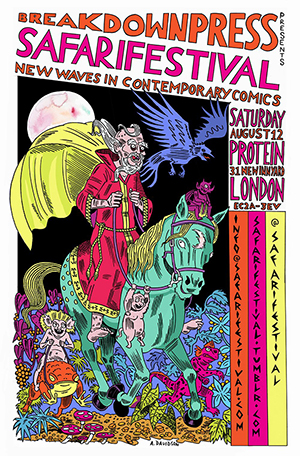 Another Breakdown artist is Jonathan Chandler ("a unique man", says Oldham) whose new third entry in his John's Worth series features more trademark depictions of machismo and biological/psychosexual horror. (Oldham assures me "there is a warmth there" in among the flesh and parasites.)
From further afield come U.S. exhibitors like the Chicago-based Anya Davidson, whose vivid and accessible work made her the idea choice for designing the Safari poster (see right) and New York's Bergen Street Press, whose alumni Charles Forsman created graphic novel The End of the Fucking World, soon to be a live action Netflix/Channel 4 TV series.
Party
Managing all of these exhibitors could have many reaching for the nerve pills, but Oldham has a background in live music promotion and also ran a record label called No Pain In Pop (who released Grimes' 2010 debut Geidi Primes in the UK alongside releases by the likes of Echo Lake, and Nite Jewel.)
Having gotten into comics after reading David Mazzucchelli's seminal graphic novel Asterios Polyp ("it turned the key to all this other stuff "), he now finds that world "a lot less stressful" than music – "you're dealing with much more in-control egos… My entire life now is a holiday from promoting gigs!"
Perhaps this helps give Safari its laid back, creative atmosphere – a party for the comic world's freaks and one-offs.
Come down – as Oldham promises, "there's stuff there that will blow your fucking mind."
Safari Festival
Saturday 12 August
Protein Studios
31 New Inn Yard, EC2A 3EY