Broadway Market's most enigmatic furniture shop: we talk to the shopkeeper/owner of Broadway Retro
"I have no social media presence, I've got no name outside the shop, I'm mainly shut, and I've got no webpage."
It's not something you expect to hear from a shop owner nowadays, especially one with premises on Broadway Market, the home of artisanal crafts and the #farmersmarket.
But Sarah Bancroft of Broadway Retro is winding down at the end of a storied shopkeeping career, which has taken in pitches all over Hackney, Islington and Central London. Plus, as Bancroft noted when I met her in her shop, she was "not your typical shopkeeper" to begin with.
Broadway Retro, nestled unceremoniously between Pavilion Bakery ("British craft food with a nod to Sri Lanka" according to its Twitter) and a jewellry shop towards the Haggerston end of Broadway Market, has slimline opening hours of 10:30am to 5pm on Saturdays and 1pm to 4pm on Sundays (or by appointment).
Customers who do make it into the unmarked shop – from interior designers seeking inspiration to people just doing up their front room – are treated to a beautiful array of mid-century furniture and other items, much of which Bancroft has painstakingly restored.
She partners with friends on things like the marvelous and unusual lighting displays, a practice she's always embraced ever since her days selling "hippy beds" and mattresses. She holds small art exhibitions, for acquaintances and basically any other interested party. Beyond that, it's just her, sanding and polishing away.
Bancroft is clearly a strong, sharply intelligent woman, and no shirker. So what does she do all week?
"My passion is going out and finding [my goods]," she explained. "I was brought up going to jumble sales and charity shops, and my mum, from a very early age, put quality into my hand.
"She [would say] 'Feel what that's like, and go and find me something that feels like that'. So lots of the time, I don't know what it is, I just know it's good."
Beyond spending sprees and her demanding restoration work, Bancroft also works on the administration of Broadway Market.
This has had recent "tough times": the death of an executive director, people leaving, and the clearing of a "massive" VAT bill have hampered the community reinvestment activities of Broadway Market Projects CIC and its associated residents' association, of which Bancroft is an active member.
But this is work she's very keen on getting up and running again, so that "people know it's a community market and we do try and reinvest".
"It's a very different crowd – you've got these people who come on Saturday and can pay £4 for a loaf of bread, and we're in the middle of a whole load of social housing, where the people can't afford to use this market…[Reinvestment] softens the blow."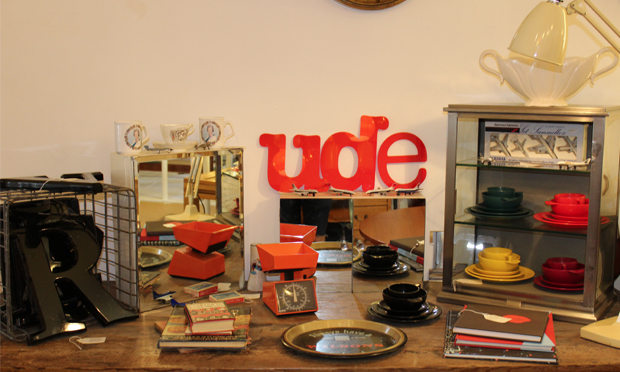 Broadway Retro opened in 2004, alongside the market itself, but Bancroft herself returned to Hackney in 1983. "My family were saying 'Why are you coming back here? We've tried very hard to get out of here!'" she laughs.
But she had – and has – a love for the place, especially its history, which she knows well. "If you look at the history of Hackney, [it] was always a very affluent area. The idea that the East End was really poor, that's only in the last 150 years.
"Pepys used to come on Sundays to look at the mansions, at the beautiful places people lived. And if you look at the maps of around here, in 1795 this was a field."
Bancroft knows her local history, and told me about the council's 1968 compulsory purchase of pretty much the entire area, from Mare Street to Queensbridge Road, for slum clearance.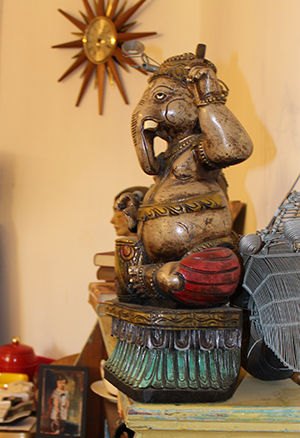 While public campaigning saved Broadway Market, the council let much of the rest of the area "rot", and the blight – compounded by the closure of The Queen Elizabeth Children's Hospital on Hackney Road in 1997 – lasted into the 2000s.
Recently, Broadway Retro has seen its own slump.
"At the minute, honestly trade has just dropped off a cliff, since the election got called," Bancroft said. "All the uncertainty. And with all the tragedies we've had recently, people aren't really thinking about how they want a table. It goes down the list."
Perhaps her minimalist promotion strategy is part of this too. But I get the feeling that Bancroft recognises something: in Hackney especially, it's worth the effort to seek out and support things that go beyond modernity.
Broadway Retro
16 Broadway Market, E8 4QJ
07858 771 803