Honest Burgers, Dalston, restaurant review
Bradbury Street in Dalston, currently festooned with roadworks that bisect it, has the air of a street in waiting. The buzzy cafes and vintage shops house proprietors who don't yet know what impact Crossrail's upcoming new Dalston Station will have – or even whether or not it's due to land on their doorstep. Into this anxious landscape comes Honest Burgers, the chain that paid its dues in Brixton Market and now has twenty branches across the city.
Honest have a history of working with suppliers local to their branches, at least when it comes to their draft, bottled and (the suddenly ubiquitous) 330ml-canned beers. True to form, my first request is for a post-work pint to finish its short journey from the 40ft Brewery (just round the corner on Abbott Street) to Honest's pumps, to my eager embrace.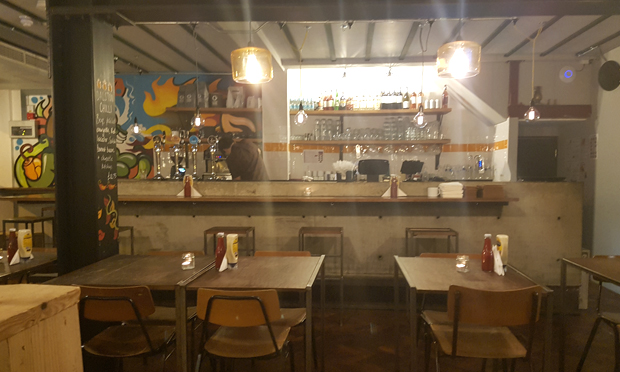 Brewed with a new American hop called Lemon Drop, the 40ft Larger (so-called for it's large flavour – it's actually an example of the Kölsch beer style) goes down incredibly smoothly. It's as refreshing a beer as I've ever had: pure crispness followed by a rounded, semi-fruity bitterness, and with a pure, clean taste to the very last drop.
Full disclosure: I have visited the Honest Burgers in Peckham many a time, normally on hungover Saturdays and once with my parents to show them 'those fancy burgers they have now.' So I know the basic menu quite well, and a furtive glance at the table to my side confirms that the onion rings are the same puffy taste bombs that I've previously devoured. I opt for the coleslaw – always a dependable and delectable mix of fresh and creamy, with sharp apple layered in – on top of the main attraction: the Dalston Chilli burger.
Honest have partnered with local firm Dalston Chillis to create this burger, as well as the hot sauce that comes with it for spice-heads to slather on. This sauce is used to caramelise the Scotch Bonnet bacon, which is in truth the star of the burger. The imparted chilli flavour has that almost fruity tang and, while it won't blow your head off, lovely acrid, volcanic notes are also present in the perfectly cooked bacon.
Spiceophobes note: the Red Leicester cheese shows its milky worth in bringing the heat down a couple of notches. With the homemade pickled courgettes and thick beef patty, we're firmly back in 'normal' burger territory, and this is considered Honest's home turf for a reason – predictably divine. Vinegary chipotle ketchup seeps into the brioche bun pleasingly, not adding much but a nice touch all the same.
I find rosemary to be an ingredient that you have to be in the mood for, but Honest's signature herby chips go really well with the Chilli burger. However, those of you who can do burgers without chips (heretics!) will be sated – as a nearby diner exclaims, "for such a small thing, it's very filling."
With Bradbury Street denizens waiting to hear about the future of their businesses, Honest's arrival and community-spirited approach to fast-food is a boon.